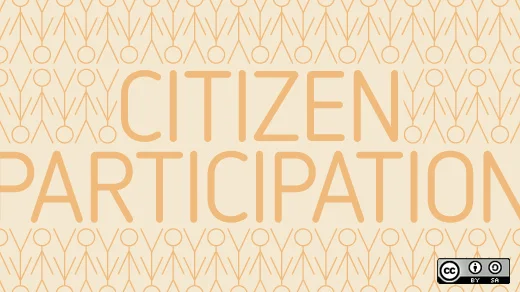 In the Netherlands a community of civil servants has developed an open source platform for collaboration within the public sector. What began as a team of four has grown to over 75,000 registered users. What happened? And, why was open source key to the project's success?
Society is rapidly changing. One change is the tremendous development of Internet and Web-based tools. These tools have opened up new ways for collaboration and sharing information. This is a big change for our society and democracy, having an impact on our politics. How does government change along with it?
A need to change the way government organizations worked and civil servants interacted too could not be ignored. Take for example, politicians resigning because of one tweet! Meanwhile, government organizations continually face the challenge of doing more with less funds. I think this increased the need to cooperate and share knowledge; it was not longer feasible for smaller communities to maintain knowledge on their own.
The question became: How do we cooperate in an efficient manner?
In the Netherlands, we have over 500 different government organizations: departments, city councils, provinces, and so on. All these organizations have their own information and communications technology (ICT) environment. So, with a growing network and discussions around multiple themes, it became clear that one of the basic requirements for cooperating efficiently is having a government-wide platform for people to communicate and work from.
So, a small team of four started Pleio for Dutch civil servants and citizens to meet each other, have discussions, and work together on things that matter to them.
(Pleio translates loosely in English to "government square.")
As in real life, citizens and government officials work together across various teams, groups, and networks to think about and do work on projects that matter. Using the Pleio online platform, citizens and government officials can find and then engage with the right people to collaborate on a project or problem.
What does open source have to do with it?
Open source technology combined with community engagement are the keys to success for Pleio. Open source veterans are probably not surprised.
Pleio is built on the open source networking engine Elgg and allows for enormous flexibilty. One of the unique aspects of Pleio is that it is a multi-site platform. It is easy to switch between various subsites: just click on the button next to the Pleio logo. And, by building with Elgg, Pleio was able to begin with a low budget because there was no need to pay for software licenses.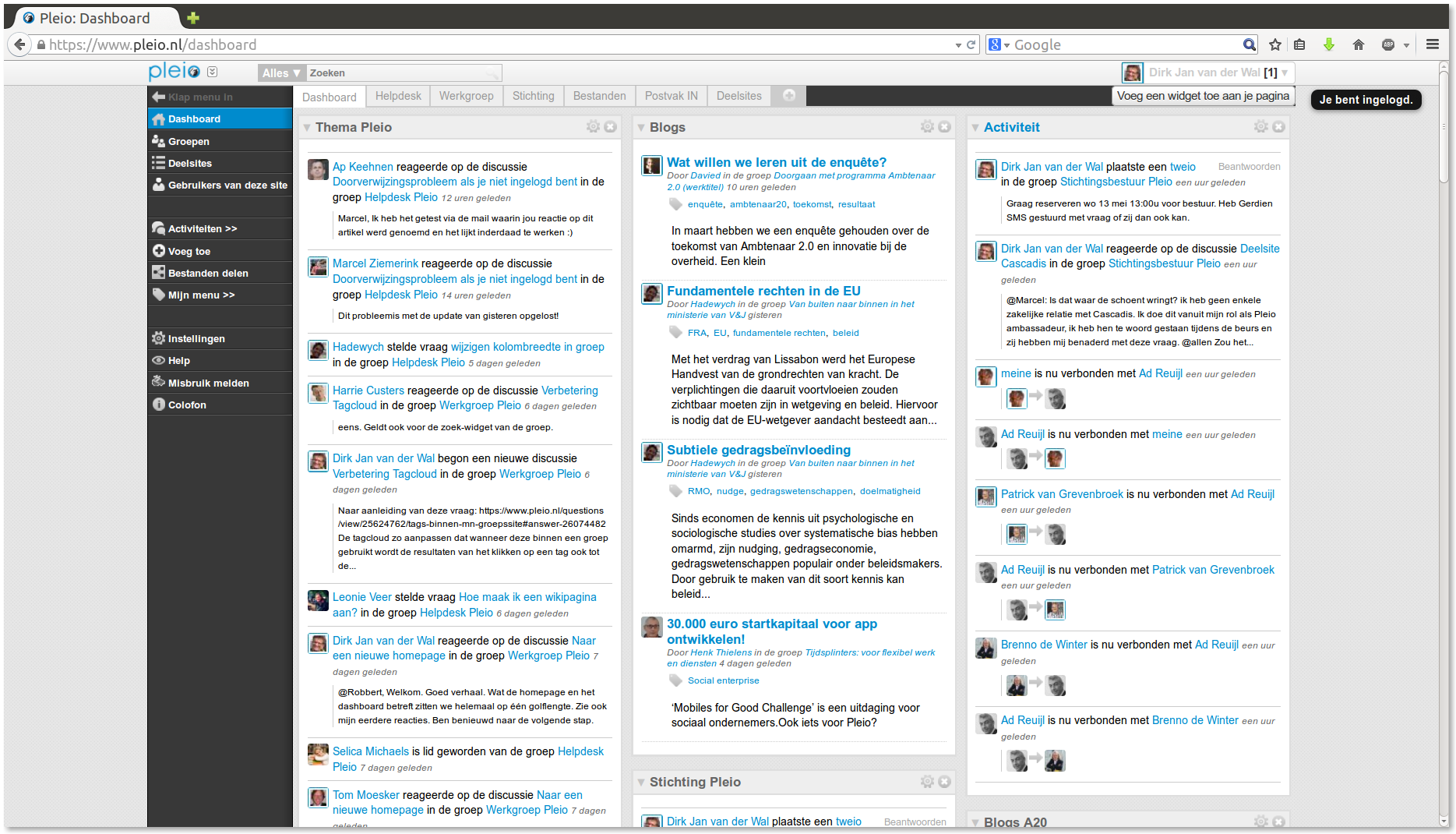 For more examples of projects and people on Pleio view this slideshare.
Pleio is a platform that inheriently needs to be able to freely share all further developments with members of the Pleio (and Elgg) community. New plugins built for Pleio by one organization are available for all other organizations because the development has already been done. Governments using open source recognize the value of open source because it allows them to freely share and build on existing technology. With Pleio and Elgg, this means we are able to maintain and develop the platform at a very low cost, which is essential during times of shrinking budgets.
Today, for me and in my professional life, Pleio is the hub for my work. I use it to manage my projects and value the flexibility and robust features. The dashboard presents everything I need to know and use, and it can be modified according to the needs of each user.
The number of visitors to the site has risen to over 84,000 unique visitors per month and 843,664 page views as of March 2014. And, Pleio has generated interest from other countries within Europe as well as Canada, Australia, and the United States. Pleio's number of registered users keeps growing, which is a clear indicator that the citizens and government officials of the Netherlands appreciate the ability to connect and share information.
To connect with me and get involved, contact me on Pleio, Twitter, or LinkedIn.
---
View the complete collection of stories for Open Government Week.
My professional life revolves around project management. Meanwhile, I haven gained more than 20 years experience in that field of expertise. Recently, I started my own business next to being a civil servant for 12 years. My company GRrIP is all about project management and Pleio, an open source collaboration platform build for cooperation by, for, and with civil servants.

This work is licensed under a Creative Commons Attribution-Share Alike 4.0 International License.