Dr. John D. Halamka, is Chief Information Officer of Beth Israel Deaconess Medical Center, a practicing emergency physician, and holds several other positions, which are listed on his profile at his Geek Doctor blog. According to Halamka, his datacenter "holds a couple of petabytes of healthcare data for 3 million patients, and the entire infrastructure is run on Red Hat technologies. So I have multiple datacenters, multiple clusters of Linux servers, and we haven't had downtime in a couple of years. I think the answer today is, no CIO in healthcare is afraid of open source."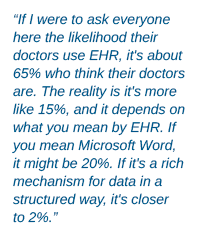 Halamka joined the Open Your World forum to talk about "The Stimulus and Standards."
About a year and a half ago, President Obama signed the American Recovery and Reinvestment Act, a $787 billion stimulus package for the US. In that act is $30 billion for healthcare IT. It includes a series of grants, specifications for standards, "meaningful use," and the idea that we're going to decide which products are good enough to achieve the goals we have for this country.
In 2011, the federal regulations around that $30 billion require a set of open standards, techniques, and removal of data silos that will evolve to even more in 2013. The emphasis is on migrating from proprietary and closed infrastructures.
There are about 25 different projects every doctor will have to do for this open data sharing, and what's going to make it work are the open standards. People coming together to solve problems as a community. Working together and not in silos. Open standards are the key to interoperability.
It's about care coordination, about getting the right care, at the right time, at the right cost.
To hear Dr. Halamka discuss the future of healthcare, the stimulus, and standards, listen to his archived talk. You can also download his presentation slides.
Ruth Suehle is the community leadership manager for Red Hat's Open Source and Standards team. She's co-author of Raspberry Pi Hacks (O'Reilly, December 2013) and a senior editor at GeekMom, a site for those who find their joy in both geekery and parenting.

This work is licensed under a Creative Commons Attribution-Share Alike 3.0 Unported License.