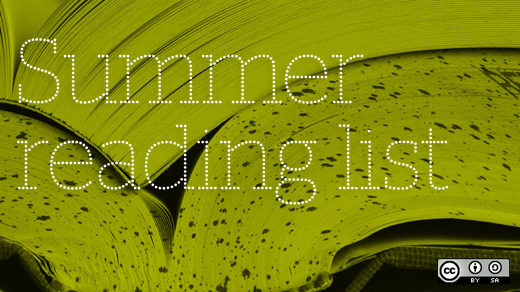 We asked opensource.com contributors for their recommendations for some can't-miss summer reading. Some books are new. Some are recent favorites. All offer examples of how the open source way is being employed in areas beyond technology. From coaching individuals to unite as a team, exploring the future of management, to delving deeper into the design process, these books can offer incredible insight and a great end to the summer. Enjoy.


---
Wooden on Leadership: How to Create a Winning Organization
By John Wooden and Steve Jamison
Recommended by DeLisa Alexander
John Wooden won more NCAA championships than anyone. A lot more. He was a hall of famer as both a coach and a player, and built one of the most winning, most storied careers in basketball history by getting "maximum effort from each of his players in the manner that best served the team."
But the secret to his success was never a secret. He shared his "open source code" of leadership with anyone who was interested. This book is the lasting artifact of that sharing, and it comes as no surprise that a lot of Wooden's maxims ("If you're not making mistakes, then you're not doing anything," "I'm positive that a doer makes mistakes," "Do not let what you cannot do interfere with what you can do") dovetail nicely with open source principles.
Linchpin
By Seth Godin
Recommended by Jeff Mackanic
A great new book by Seth Godin. "The only way to get what you're worth is to stand out, to exert emotional labor, to be seen as indispensable, and to produce interactions that organizations and people care about deeply." A couple of key points that jumped out to me:
1. Steve Jobs: "Real artists ship." You have to deliver. You have to publish. You have to get it out the door.
2. The Resistance: Your Lizard Brain. A great discussion on the fears and excuses that prevent people from delivering.
How does Seth get so much done? "By forcing myself to do absolutely no busywork tasks in between bouts with the work, I remove the best excuse the resistance has. I don't go to meetings. I don't write memos. I don't have a staff. I don't commute. The goal is to strip away anything that looks productive but doesn't involve shipping. "
Give it a read. I think you will enjoy it. Be indispensable.
Cognitive Surplus
By Clay Shirky
Recommended by Rebecca Fernandez
Since the postwar suburban boom, nearly every American has taken on a part-time job to fill the excess in leisure time. We come home from our paying jobs and settle in for a second shift--in front of the television. But fear not, couch potatoes, Shirky has good news for you. That much maligned up-and-coming generation, the Millenials, are turning this "cognitive surplus" toward more productive, collaborative pursuits... on the Internet.
Shirky explores the projects coming out of the Web and makes the (somewhat convincing) case that even those strange World of Warcraft-playing adults who sit in their basements pretending to be elves may be doing something valuable with their time.
Drive: The Surprising Truth About What Motivates Us
By Daniel Pink
Recommended by Jonathan Opp
Daniel Pink has long been one of our heroes for his ideas about bringing right-brain thinking to the world of business. Creativity, design, storytelling—these were once concepts rarely talked about in business schools. Not any more. To compete, we need to stop struggling to "think outside the box" and forget the box existed in the first place.
In his most recent book, "Drive," Pink goes to the heart of what really moves us. Doing work that gives us purpose, lets us have autonomy, and that leads us toward mastery. Just like the need for right-brain business thinking, it's one of those brilliant ideas we've always felt instinctively to be true. It just took a very compelling messenger to show the way.
The Future of Management
By Gary Hamel
Recommended by Chris Grams
Of all of the people talking or writing about the future of business, no one has more street cred than Gary Hamel. We've written about him many times, and his book, The Future of Management, is one of the most inspiring and meaningful business books of the last 10 years. In it he describes how the management model developed in the late 19th and early 20th century and integral to the success of the industrial revolution is starting to show signs of wear. It's time for re-invention--using principles like open source, meritocracy, transparency, leadership culture.

The "Future of Management" was named Amazon's best business book of 2007. And knowing Hamel has called open source one of the greatest management innovations of the 21st century, it's easy to see why we haven't stopped talking about it since.
The Public Domain: Enclosing the Commons of the Mind
By James Boyle
Recommended by Rob Tiller
James Boyles' latest book, The Public Domain, argues that preserving and developing a commons of ideas is vital to our art, culture, and science. The book is a lively introduction to some big problems of intellectual property law. The discussion ranges from Thomas Jefferson's warning that intellectual property can hinder innovation through the the Digital Millennium Copyright Act to current efforts to extend copyright protection to databases. In between there are entertaining discussions of how collaboration has resulted in new discoveries and art, including mashups.
You can download it for free or support the author by buying the traditional paper version.
The Design of Design: Essays from a Computer Scientist
By Fred Brooks
Recommended by Michael Tiemann
Fred Brooks is the author of The Mythical Man-Month and one of the most famous computer scientists and software managers in the world. And as he treats this subject, he delves into the design of the design of open source software. The perspectives that Brooks brings to many design problems, ranging from the design of the A380 to the design of the Comanche Helicopter to the design of operating systems old and new are engaging. More importantly, he eviscerates some really bad designs--many of which we struggle against every day--and in so doing, promises to liberate those who can now see them as flawed and search for alternatives.
His writing is economical, elegant, accessible, and authoritative. His stance is earnest and authentic. His examples are relevant and essential. And his topic is absolutely vital to the proper construction of our 21st century economy.
Open Government: Collaboration, Transparency, and Participation in Practice
By Daniel Lathrop and Laurel Roma
Recommended by Ruth Suehle
In February, O'Reilly published this collection of 34 essays edited by Daniel Lathrop and Laurel Ruma. Tim O'Reilly even has his own chapter in the book on "Government as a Platform." Each piece is a suggestion of how to promote or implement an open government philosophy, from public access to data and communication with consitituents to APIs for encouraging outside research with government data.
It's a good read for those interested in transparency, privacy, as they relate to government data and issues. You might not agree with every page, but you're certain to find something to think about. And if you didn't previously think you cared much about open government, this is a good place to start.
I am President + Partner at New Kind, a branding agency that specializes in helping open source and SaaS technology companies grow. Formerly Sr. Manager, Brand Communications + Design at Red Hat, and prior to that, held communications roles at IBM and Gateway. Find Jonathan on LinkedIn.

This work is licensed under a Creative Commons Attribution-Share Alike 3.0 Unported License.