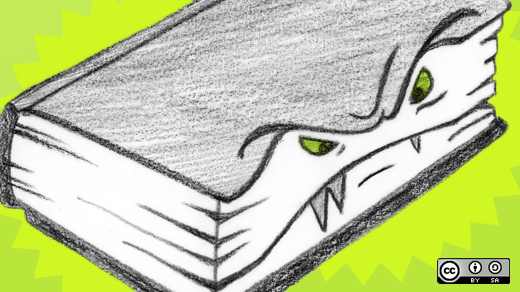 Anybody who reads knows the publishing industry has changed. We mourn over print media though we read happily from the strangely pleasant matte screen of the Kindle. We long for our thick summer magazines as we're catching quick bites from PDAs and tiny laptops. Even people who love books--and I mean /love books/ in a way that's perhaps a little strange--find themselves faced with new-media ways of doing old-creative things and opportunity where the new road leads.
Some of my favorite authors (Cory Doctorow)--like some of my favorite musical artists (NIN)--release work openly (some with truly open licenses). They trust that although not every fan will become a customer, treating customers like criminals (and imposing crazy lock-down on their "property") isn't a better option for making them buy--or for keeping them as fans. Technology, always a game-changer.
But it doesn't just change the game for those who are already successful. The ability to publish and re-publish today's streamlined digital media opens doors for everyone.  Ever wondered how it all works?
The folks who published Thoughtcrime Experiments, a collection of Creative Commons licensed science fiction short stories, also published a detailed report of their process. Not just what they did, but why and how. They analyzed their slush pile (the stack of manuscripts from which they'd choose nine to publish) and charted the qualitative results. They kept track of what they spent and what they spent it on, when and where they advertised for submissions, and which requests garnered the biggest spikes in submissions. They asked writers specifically to submit stories that had been rejected before and charted the number of rejections that their selected works amassed before being--finally--chosen.
"Our aim was to find mind-breakingly good science fiction/fantasy stories that other editors had rejected, and release them into the commons for readers to enjoy." --Sumana Harihareswara, editor, Thoughtcrime Experiments
"Like the best science, Thoughtcrime Experiments was born of hubris and a desire to show them all." --Leonard Richardson
Thousands and thousands of writers toil away, telling their stories. And most of them--perhaps with good reason if you look at the charts of "yes" versus "no" and "hell no" responses from the editors working through submissions for Thoughtcrime--never make it out into the world. It takes some confidence to send away something so personal for judgement, and of all the pieces submitted, few are published and even fewer are published widely.
Anyone can, at some expense, publish their own work in the way they see fit. Evidence of this? Fan fiction. Authors may despise it, publishing companies may try to get rid of it, but it's authored and published at an astounding rate, and organized collections of fanfic (in any combination you can imagine) exist all over the web. Not sure about this? Type the name of your favorite fictional character and the word "fanfic" into any search engine. We take no responsibility for what you might find doing so, but I'd almost guarantee you'll find something, no matter how obscure the work.
What makes life easy for fan-fiction fans also helps any author. They can make their work available on the web, offered up in a journal or blog or as a downloadable document in common formats. Many applications and tools help ready files for ebook readers, and quite a few companies (including Amazon's CreateSpace1, which is what the editors for Thoughtcrime used) offer relatively inexpensive options for custom print publishing (and may include services that help the author list their book with retailers and libraries).
But the search-engine hunt for fan fiction isn't as simply replicated for other works. How would you search, for example, for post-apocalyptic science fiction, maybe with robots, that's also open source and available in the format you like best? You might turn up a few hits, but unless you know the author, or some specifics of the story (like a title or main character's name) you'd have to wade through a lot of off-topic returns. If you're looking for genre fiction, but don't know what you want exactly, the search may be even tougher.
The print publishing industry has a Books in Print database that it provides to bookstores and libraries, but many freely published works aren't included. Anyone can apply (and pay the fee for) an ISBN2, and then list the publication in Books in Print--but that's the old way of doing it, a bit expensive, and rather like putting your needle into the haystack, since it contains many different types of publications and doesn't seem to quite know what to do with things that are published only digitally (though it includes things like websites and online magazines).
We found Thoughtcrime because someone suggested it to us. A friendly recommendation may still be the best way to find great things to read, but lacking that, you have to rely on one of the many collections or companies that provide an index of the kinds of works you like. We might have a few suggestions--and we'd love to hear yours.
There are quite a few online libraries--collections of classic works that no longer fall under modern copyright--and perusing them can help fill in gaps in your classical lit knowledge. Project Gutenberg and the online collection of books at UPenn are both resources in this vein. (The collection and accompanying essay of banned books at UPenn is a really fun read--perfect for summer vacation.)
But those are works you already know, not ones you might like to know. You can find more modern books (on mostly technical topics) at O'Reilly's Open Books or a ton of (mostly) non-fiction works at Internet Archives Community Texts
It's a bit harder to find (high-quality) modern fiction, but if you're looking for sci-fi, it seems to have a natural home on the web. Companies willing to experiment with online publishing, like Tor books or Baen, may have online works from their in-house authors. Tor includes well-known authors like Doctorow, Charles Strauss, and Ray Fawkes; Baen has contributions from popular folks like Mercedes Lackey and David Weber--though admittedly the Baen site is a little retro.
The one space found lacking is just the space that Thoughtcrime editors sought to fill--though there's mechanism after mechanism for publishing online, few self-publishing writers get the benefit of a helpful editor's critical review and analysis. Webzines that first flourished in the 1990s provide some editing effort, though many of them have dubious criteria for inclusion (or are a pet project of a single author). But the vast majority of those have gone silent, though some skeletal collections remain online. You can cast the dice (taking on the role of the editor) and sift through those, or the Google science fiction and fantasy archives, or you can look for more collections like Thoughtcrime.
Here's three we found--one still quite active, one inactive, and one that is still in-process:
Fantastique of Literature -- This is a Creative Commons CC-BY-SA collection, still in the submissions phase, with the first issue planned for Winter 2010. They have applied for a Catalyst Grant from Creative Commons to support their work.

Dark Planet -- Though the site's no longer active (the maintainer is a published author with her own site separate from the collection), it's still up and contains a healthy number of stories.

Planet Magazine -- One of the more extensive pure-sci-fi/fantasy collections, Planet Magazine's been online since 1994. Issues from 1994-2004 were published quarterly and are listed in the archives. Everything since is in blog format and accessible from the main page.
We'd love to find more--and the best way is to ask our friends. So, opensource.com readers--where do you find open fiction? It can be sci-fi, fantasy, detective stories, romance--any genre, as long as it's good, openly licensed, and available online. Let us know in the comments. And happy reading!
1CreateSpace is Amazon's self-publishing arm, made up of the formerly-known CustomFlix Labs and BookSurge--DVD-on-demand and self-publishing/distribution companies started in 2002 and 2000 (respectively) and acquired by Amazon in 2005.
2There are also several other unique numerical identifiers for books--including several issued (at no charge) by the Library of Congress, to help libraries and booksellers identify and organize works. The Dewey Decimal System is a classification based on content and author, and used for shelving order, and is not related to either the Library of Congress or ISBN numbers. It is, in fact, a proprietary ordering system used for organizational purposes.
Editor, writer, and developer. I wear many hats, including the red one. Graduate of UNC-Chapel Hill School of Journalism; long-time interest in all things geeky. Editor of Red Hat Magazine and grizzled industry veteran, including time as an archivist for SunSITE UNC (now ibiblio.org) and ten-plus years at my current gig. I love:

This work is licensed under a Creative Commons Attribution-Share Alike 3.0 Unported License.