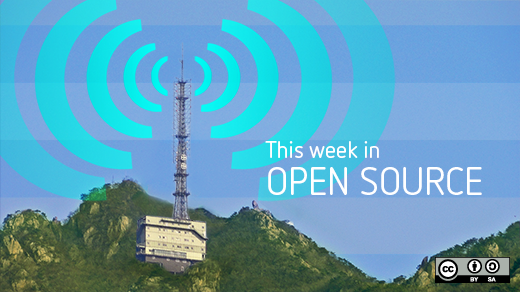 Open source news for your reading pleasure.
November 11 - 15, 2013
We scoured the web for some of this week's most interesting open source-related news stories so you don't have to. Here's what we found:
Words most likely to inspire
"One of the most transformative platforms for innovation is open source. The solution to helping solve problems in the world not just technology problems but social and political problems can and should benefit from open source." That comes from Mark Hinkle, senior director of open source solutions at Citrix, in his "Open Source: A Platform for Innovation" post on Wired.com. Hinkle is no stranger to inspiring the open source masses. Earlier this year he wooed OSCON attendees with a keynote, saying: "Open source has won, let's look to the future." Read his Wired.com column for a spoonful of open source inspiration.
World's most open source beehive
Bees are dying around the world, and their disappearance could have dire effects on the crops that feed us. Open Source Beehives is doing its part to help the bees with an open source beehives project, a collaborative effort to build, monitor, and track the health and behavior of bee colonies as they develop. Popular Science has more details, and/or check out the video below to see how the beehives are put together (and drool over the awesome CNC machine they use). The beehive files are available on GitHub.


Most confusing TV show name
Popular news anchor León Krauze recently launched a new TV show called "Open Source" on the new cable entertainment and news channel Fusion. The show first caught my eye when @OpenSourceTV showed up in my Twitter feed this week as someone I might want to follow. But I soon learned the show has little to do with the kind of open source we talk about here. The L.A. Times reported this week that the nightly bilingual show will feature a combination of pop culture and news aimed at Latino millennials. Of course, if Krauze does want to talk open source software, we'd be happy to be a guest.
Most likely way to get college students to contribute to open source
Facebook announced an expansion of a program that pairs university computer science students with open source projects for college credit. ReadWrite reports that the program will be made available to 22 colleges around the world starting in winter 2014. I'd like to think that many of these students would be seeking out opportunities to contribute to open source projects anyway, but the added carrot of college credit can certainly help.
Most creative way to explain SELinux policy enforcement

In case you missed it, Daniel Walsh and Máirín Duffy collaborated to create a series of dog and cat cartoons to explain the SELinux policy model. Even if you literally don't know what "SELinux" is, you must take 45 seconds out of your day to scroll through this post. There is no way you will get to the end of it without smiling (and learning something).
What did I miss? What open source-related news stories piqued your interest this week? Don't keep them to yourself. Share them in the comments!
Ginny Hamilton was a community manager for EnterprisersProject.com, an online publication and community focused on how CIOs and IT leaders create business value through information technology. A former journalist, Ginny is passionate about local politics, journalism, technology, and social media.

This work is licensed under a Creative Commons Attribution-Share Alike 3.0 Unported License.