Tizen's open source mobile OS
Hacking on Tizen produces several apps
Subscribe now
Get the highlights in your inbox every week.
Fresh out of five days at OSCON and all the fun events around Portland that week, a group of devoted hackers came to our Tizen Devlab and Hack to check out Tizen's open source, HTML5-based mobile OS, which is being brought to the world by the Linux Foundation with support from Samsung and Intel.
A talented, diverse, and devoted group stayed for the entire weekend to make great apps and compete in a short hackathon. The group was packed with punch developing apps for everything from video playlists to budgeting tools to vehicle operations interfaces.
The judges—which included Cloud 4's Lyza Danger Gardener and SendGrid's Adam Duvander—had a tough time choosing a winner and were deliberating for a quite a long time.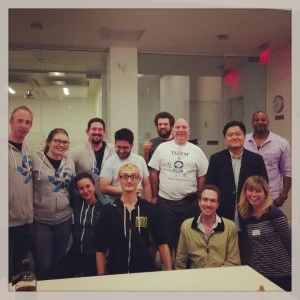 We'd like to congratulate our winners:
Grand Prize: Duncan Beevers—DMaze
Runner Up: Jakob Perry and Emilie Nouveau—Boomzbox
Best Ported App: Jeremy Sher—PDX Transit Tracker
Special thanks to Urban Airship and our wonderful hostess Barb Stark! We'll have more Tizen action soon in other cities worldwide, so stay tuned!
Originally posted on the BeMyApp blog. Reposted under Creative Commons.