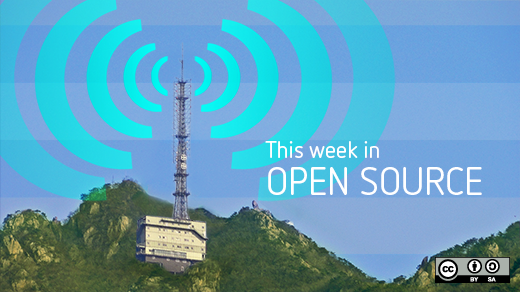 Open source news this week: September 16 - 20, 2013
---
What other open source-related news stories did you read about this week? Share them with us in the comments section. Follow us on Twitter where we share these stories in real time.
---
And the winners are... This week InfoWorld.com announced the winners of its Best of Open Source Software Awards, aka Bossies, which call out 120 top projects in seven categories. The article accompanying the awards takes a look at open source trends spotted this year, although notes that the tradition of sharing and cross-fertilization is pervasive in the winner's circle. It was cool to see that several of the open source applicants singled out by InfoWorld.com have also been highlighted on Opensource.com in recent months including Feng Office, Project Libre, and edX. Check out the full list of award winners.
Billion with a 'B.' Chances are you've already heard that IBM pledged this week to invest $1 billion (yes billion) to promote Linux development over the next five years. The announcement was made at LinuxCon by IBM Fellow and VP of Power Development Brad McCredie who said the money "will be applied to various product research, design, development, ecosystem skills, and go-to-market programs for clients, developers, Business Partners, entrepreneurs, academics, and students." More specifically, Big Blue wants to help clients take advantage of big data and cloud computing "with modern systems built to handle the new wave of applications coming to the data center in the post-PC era." It's not the first time IBM has pledged a billion bucks to Linux. For a look back at IBM's years of Linux commitment, check out this slideshow from eWeek.
State of the kernal. In other LinuxCon news, the Linux Foundation released its annual Linux Kernel Development report this week. Among the findings is that Linux is becoming more mobile than ever, reports ReadWrite. The report also found that the rate of contributions is increasing, with an average of 7.14 changes being made to the kernel each hour, or roughly 171 changes every day. Want to review the report yourself? Fill out this form to download a copy from the Linux Foundation.
"Settling feeds trolls." That seems to be the motto of FindTheBest CEO Kevin O'Connor who recently pledged to spend $1 million from his personal coffers to fight a patent suit. O'Connor says the suit is being brought on by a patent troll, and he wants to fight back instead of settling the case for $50,000. It's a bold move considering many business owners don't even talk about being sued publicly, nonetheless pledge their personal wealth to fight it. Ars Technica has the full story on O'Connor's legal strategy.
Time for new business cards. A couple of open source pros made headlines this week with their recent job moves. Jean-Baptiste Queru, Google's Technical Lead for the Android Open Source Project (AOSP), announced via Twitter that he just started a new job at Yahoo. GigaOM has details on why Queru, aka JBQ, may have made the move, citing frustrations with hardware partners and driver support. Meanwhile, Wired has the scoop on Bill Hilf's move from Microsoft to HP. Hilf reportedly introduced Microsoft to open source back in 2004, and has left to "transform HP into a serious cloud player."
Ginny Hamilton was a community manager for EnterprisersProject.com, an online publication and community focused on how CIOs and IT leaders create business value through information technology. A former journalist, Ginny is passionate about local politics, journalism, technology, and social media.

This work is licensed under a Creative Commons Attribution-Share Alike 3.0 Unported License.