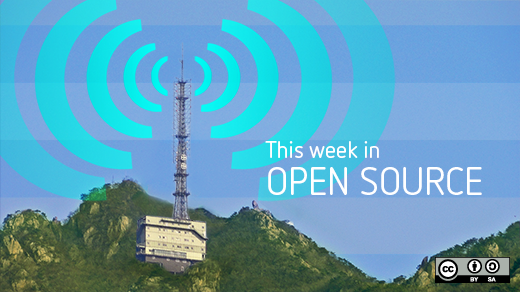 In this week's edition of our open source news roundup, we take a look at the the future of Linux, Google's Internet of Things (IoT) standard, a new Code.org crowdfunding campaign, and more!
Open source news for your reading pleasure.
October 4 - 10, 2014
The future of Linux is thin
At Tech Republic this week, Matt Asay writes about the future of Linux. Quoted in the article is CoreOS founder and CEO Alex Polvi who says Linux has become fat. "As Linux workloads become ever more specialized, the need for a general purpose Linux distribution declines," writes Asay. He concludes that "Linux, in short, becomes a very thin service for modern developers. CoreOS is worth watching." Asay writes, "Rather than a general purpose Linux with lots of functionality but also unnecessary cruft... thin Linux distributions that do one thing well, like serving email. While not a new idea, it has gained considerable currency in the last few months with the rise of Docker and CoreOS."
Google releases open standard for IoT
Josh Ong at The Next Web writes about Google's open source Physical Web standard. It's an attempt by Google to put an open standard in place to connect to devices such as vending machines, posters, and bus stops. This release includes an Android App, with an iOS app is coming in the future. On Tech Week Europe, it's reiterated that the Physical Web standard is not the first standard for the Internet of Things. The industry already introduced Google's open Nest API, Apple's homeKit API, the Open Interconnect Consortium, and more. It should be interesting to see how these standards will develop and be adopted.
Code.org launches crowdfunding campaign to bring 'Hour of Code' to 100 million students
Also at The Next Web, author Nick Summers covers the story of Code.org's crowdfunding campaign to bring 100 million students to its Hour of Code program. Code.org is a nonprofit "that wants to make computer science widely available in schools." The organization uses open source and open standard programming languages to teach students to code, such as HTML and Scratch. Companies like Microsoft and Google, as well as individuals like Bill Gates and the co-founder of LinkedIn, Reid Hoffman, agreed to match donations up to $2.5 million.
Creative Commons policies grow in New Zealand schools
At the Creative Commons blog, Matt McGregor writes about New Zealand schools putting policies in place with a commitment to include Creative Common licensing. According to the article, there are somewhere between 50 and 100 schools in New Zealand who share resources on a Creative Common license. "The adoption of open policy in schools coincides with similar moves in the local heritage and research sectors, and follows the continuing integration of CC licensing in central government."
Open source's "shallow bugs" theory hasn't been Shellshocked
Matt Asay, writing for Tech Republic, looks back at recent security incidents like Heartblead and Shellshock in relation to Linus Law and the "many eyeballs" mantra. He writes that you cannot fix what you cannot see. The gist of this short security story can be taken from its quotes. "Simon Phipps explains, we are at the vendor's mercy in case of a security exploit, and the vendor can only hire so many eyeballs." And Steven J. Vaughan-Nichols, who says, "The open source method remains as good as ever when used correctly." Or, as Asay writes, "...open source remains a better way to build and deploy software, we're able to tackle the problem—together—because we have access to the source."
In other news
Thanks, as always, to Opensource.com staff members and moderators for their help this week. Make sure to check out our event calendar, to see what's happening next week in open source.

This work is licensed under a Creative Commons Attribution-Share Alike 4.0 International License.