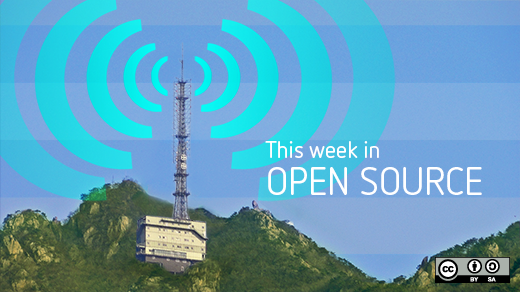 In this week's edition of our open source news roundup, we take a look at Firefox's 10 anniversary, Microsoft open sources more of .NET, copyleft.org announced, and more!
Open source news for your reading pleasure.
November 8 - 14, 2014
Firefox turns 10
What a difference a decade makes. This week, the Firefox web browser turned 10. That anniversary, though, marked something more than the birth of a web browser. It marked a push by Mozilla to try to keep the web open. In this blog post, Mozilla's CEO Chris Beard reflects on where Mozilla and Firefox have been, and where they're going.
Elsewhere on the web, Mozilla's Mitchell Baker writes at re/code about Mozilla and Firefox's work to create an open internet. And Mashable has put together a timeline with fun facts and notable accomplishments.
Microsoft open sources more of .NET
Microsoft's relationship with the open source community has definitely morphed in recent years. Where the company was once very antagonstic towards open source, it's gradually warming up to it. This week, in a surprise move, Microsoft has open sourced more of .NET. As Mary-Jo Foley writes at ZDNet, "Microsoft will port the core server-side .NET runtime so that it runs across Windows, Linux, and the Mac."
The company is focusing on the server side of the equation and on developers with this move. Talking to Soma Somasegar, the Corporate Vice President of Microsoft's Developer Division, Foley notes that "Microsoft is not planning to open source the client side .NET stack, which means certain pieces like the Windows Presentation Foundation (WPF) and Windows Forms won't be going open source."
Software Freedom Conservancy and Free Software Foundation announce 'copyleft.org'
Earlier this year, the Software Freedom Conservancy embarked on a project to create a comprehensive tutorial and guide to copyleft (a strategy to foster and encourage the right to copy, share, modify, and improve creative works). This week, that initiative found a new home. That home, copyleft.org, is also a "now home to a collaborative community to share and improve information about copyleft licenses, especially the GNU General Public License (GPL), and best compliance practices."
Joyent releases its core technology as open source
Many of us know that the list of companies who use open source in their technology stacks is growing steadily. Over at InfoWorld, Simon Phipps writes that Joyent (a software and services firm) is "stepping up to the next level of open source in its business model. Open source has been a part of the company all along, but the company has announced its core technologies are going open source too."
"Significantly, the modern and flexible MPLv2 (Mozilla Public License version 2) is the copyright license for the code," writes Phipps. And this move, along with the choice of license, isn't deterring potential partners. Both Pivotal and Docker (two app platforms) are continuing to work with Joyent and its technology.
Why you should release your technology under an open source license
For many companies, releasing their technology under an open source license is tantamount to giving away the keys to the front door. Over at VentureBeat, Jordan Novet talks to Brian Cantrill of Joyent, and Cantrill offers three great reasons for companies to open source their tech.
As Cantrill explains, open source "serves as sales outreach without cold calls", acts "as a marketing campaign without advertisements," and broadens a company's "hiring channel during a blazingly hot market for software talent."
In other news
A big thanks, as always, to staff members Jen Wike Huger and moderators Robin Muilwijk and Joshua Holm for their help this week.
I'm a long-time user of free/open source software, and write various things for both fun and profit. I don't take myself all that seriously and I do all of my own stunts.

This work is licensed under a Creative Commons Attribution-Share Alike 4.0 International License.