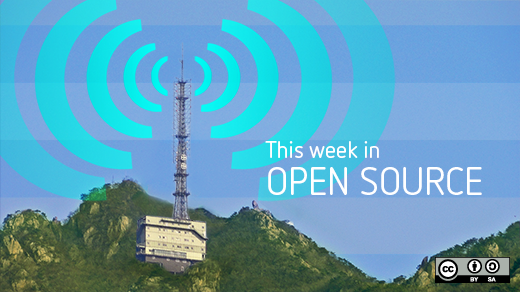 Open source news for your reading pleasure.
February 17 - 21, 2014
In this week's edition of our open source news roundup, we look at great news for Linux gamers, Wikipedia sticking to their open roots, and two great open hardware projects that might just help us reinvent the future.
Linux gaming steams ahead
Fans of Linux gaming are having a great year. Steam has dramatically increased the number of games with Linux support available through their service. Though there is some disagreement about the exact number of games now available for Linux (some say 530, while others were only able to find 333 games when searching the catalog), there is no doubt that either figure is a huge improvement over the 60 available on the service this time last year. With many people listing PC gaming as the top obstacle keeping them from switching to an open source operating system, this is certainly welcome news. And Linux users have already shown that they're willing to support gaming with their wallets; just look at the most recent Humble Bundle, where Linux users continue to be the top-dollar contributors.
Knitting an open source future
Not satisfied with the clothing choices at your local shopping outlet? Why not knit your own alternative with an open source knitting machine! Combining an open source hardware platform for doing the knitting, an open source software program for designing the output, and an online community where users can exchange patterns and remix eachother's work, OpenKnit allows users to hack their wardrobes with yarn.
Braille printing with Lego and open source software
Braille printers are expensive, and for many people with vision disabilies, the cost is simply too high. Enter twelve-year-old Shubham Bannerjee, who created a braille printer using open source software, a Lego Mindstorms kits, and a few common items from his local hardware store. While the total price of $350 may seem high, when compared to the over $2,000 of many commercial systems, this open alternative may bring access to more people than ever.
FLOSS codecs rock the vote at Wikimedia
Wikimedia has long been a champion of open file formats, hosting tens of thousands of video files Ogg Theora and WebM formats. But they recently opened up the question to the Wikimedia editor community for a vote of whether to consider adding support for the H.264 format as well. The community responded loud and clear: stick to open formats. While some open formats face challenges in browser adoption, Wikimedia plans to continue their analysis of the feedback they received in order to ensure that they are maximizing their educational reach while also sticking to their open principles.
I use technology to make the world more open. Linux desktop enthusiast. Map/geospatial nerd. Raspberry Pi tinkerer. Data analysis and visualization geek. Occasional coder. Sysadmin. Web maker. Red Hatter since 2013.

This work is licensed under a Creative Commons Attribution-Share Alike 3.0 Unported License.