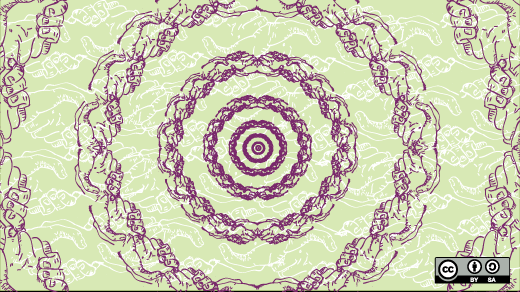 Beatrice Martini is the Event Manager at Open Knowledge. With a successful event behind her, the Open Knowledge Conference in Geneva (2013), she is now organizing the Open Knowledge Festival in Berlin that will take place July 15 - 17.
Agenda hacking at the Open KnowledgeTeam retreat. Cambridge, UK. Photo by Open Knowledge. (CC BY 2.0)
She has a passion for technology and design. Moving from Italy to Berlin has taken Beatrice to the heart of technology in Europe. But, it was a trip to Stockholm, Sweden that led her to join Open Knowledge.
In this interview, she shares with me what a regular day at Open Knowledge looks like, highlights from the Open Knowledge Conference, and what she envisions for the upcoming Open Knowledge Festival.
How did you get involved in open data and come to work for Open Knowledge?
I was born in Italy and have been living in Berlin since 2008. I have always been very interested in technology and design.
When I was a teenager I got in touch with the punk-hardcore scene and was thrilled to discover the power of Do-It-Yourself (DIY) culture. It meant freedom of information, communication, and distribution. I started my own fanzine (of which I published 3 issues and printed hundreds of copies), searched and read as many self-published zines and flyers as I could, and eventually launched a small distribution focusing on zines and 7" tapes by folks with like-minded thoughts on feminism and gender rights (a passion of mine which always burns in my heart). Doing this gave me the opportunity to spend a lot of time in front of a screen typing on a keyboard and meeting people who were building sites, coding, and sometimes talking about open source—a new topic which made something ring in my ear.
Technology and design university education in Italy wasn't particularly attractive at the time. So, I got a master degree in Harp Performance and Music Studies (I had been playing since I was 4), which offered me the chance to spend a lot of time in libraries, refine my research skills, and travel.
A couple of weeks after my master dissertation I moved to Berlin. Berlin is very different from Italy (and also from the rest of Germany); technology was everywhere, and the city was full of people passionate about coding, programming, learning, and discussing digital politics. It was whirlwind: I got a job in an IT start-up, at first as content manager, then as project manager, and I loved working with software developers. Then one night at a party a girl invited me to join a group of folks who were meeting a few days after to talk about ways to help others learn how to code and I found myself at my first meeting of the new-born OpenTechSchool (OTS), a community initiative (all volunteer work, no money involved) promoting tech and tech-related workshops and meetups for people of all genders and backgrounds (cue: see my interest in intersectionality emerging here). We started organising workshops and meetups for beginners who wanted to learn how to code and generally learn more about technology, from software to hardware.
Then, I was interested in learning more about tech project management and convinced my boss to let me go to Stockholm for two months to attend a post-grad project management course at Hyper Island. While there, I lived in a co-living space with other 10 folks (8 of which were developers), launched the local OTS chapter and organised events in offices and schools in town. One day I found the job advertisement to join Open Knowledge. And everything—from my political beliefs to my love for facilitating productive gatherings that blow people's minds to my will to take more action towards freedom of information, knowledge, learning, and tech—came together. I applied, we liked each other, and we started working together.
Can you tell us what a regular day at Open Knowledge looks like, what kind of programs or events you manage, and the community challenges you meet daily?
The staff of Open Knowledge is based in four continents. We all work remotely in different time zones. I used to work in an office and I really like the opportunities offered by remote working, such as relocating to a different country for some time while continuing to work in a new enriching environment. As Events Manager at Oopen Knowledge, I am responsible for our entire global events strategy—from designing our Open Knowledge events formats and documenting best practices and tips for our community (see our handbooks), to teaming up with other organisations to run key events and leading the teams organising our main international gatherings, namely the Open Knowledge Conference and the Open Knowledge Festival.
A regular work day usually takes place in the studio room in my apartment in Berlin. It involves a lot of thinking, writing, researching, and communicating via e-mails, Skype, Grove (the tool we use for internal chat rooms), and Twitter. Research is a key part of my work: I'm always looking for events and techniques to learn from and be inspired by, and even if I am professionally working as event manager and facilitator I am always glad to offer my support as a volunteer for events organised by other people. On the ground learning and giving back to the community are priceless opportunities that I always try to seize.
Currently, I'm mainly focused on the Open Knowledge Festival, which will take place in Berlin from July 15 - 17, 2014. As we're finalising the most efficient use of the venue space, my desk is covered by floor plans and notes on mobile walls. One of my key responsibilities is programme curatorship, which is my favourite part of the job. It just comes natural to me to read, search, watch, and see as much as possible on the topics close to my heart (open knowledge, freedom, human rights, politics, and activism). To have the chance to use all this knowledge in my work is truly rewarding. This year I'm particularly honoured to have the opportunity to discuss content ideas with some fabulous Advisory Board members such as Allen Gunn (Aspiration), Michelle Thorne (Mozilla), and Kate Chapman (Humanitarian OpenStreetMap). And to collaborate with terrific Programme Team members who kindly accepted our invitation to join the venture. The festival is going to be a blast.
Talking open source software and Arduino-powered jackets at Mozilla Festival. London, UK. Photo by Sammy James Dodds. (CC BY 2.0)
In addition to the work on the core project at any given time, I also focus on other events we organise or partake in as Open Knowledge (examples of these cases, respectively, would be School of Data workshops or the annual and community-powered Open Data Day which we join enthusiastically every year). Also, events for supporting and mentoring the Open Knowledge community (in particular our Open Knowledge Local and Working Groups). The latest challenges we're working on regards how to communicate, document, and co-design events with our community more effectively and rewardingly.
We are currently working on a strategy about how events will be showcased and featured on our brand new site and on the organisation's wiki. I'm doing research for two new types of events we'd like to offer to our community: a hands-on and grassroots gathering which would aim to bring us all together (in person and online) in the five continents on the same weekend, once a year; and a new format for an Open Knowledge event to be mentored by us, owned by the community, and able to pop up in different regions in the world, more agilely than a structurally complex format like a big conference or festival.
Looking at the big picture, I'd like to establish the Open Knowledge events as the type of gatherings that leave you enriched, having learned something new, helped others learn, and solidified a desire to think, discuss, and, most importantly, make more. I am striving to make Open Knowledge events different from any other event you might have experienced, powering you up with the force of the crowd, because together we are stronger.
You co-led the Open Knowledge Conference in Geneva in 2013. This had a clear goal: open data expanding geographically and into other sectors. From your experience, can you tell us in which sectors and areas you see open data becoming (more) available? What other developments do you see?
The Open Knowledge Conference is a type of event primarily organised by Open Knowledge Local Groups , an Initiative or Chapter, in collaboration with Open Knowledge itself. It can be more formal than other events we run (like festivals and camps), with a centrally-planned 2 - 3 day conference with a specific focus (such as a topic or local emphasis). In 2013, we teamed up with our Swiss chapter, Opendata.ch, and organised the event in Geneva, a major site for the United Nations and many other international institutions. My role was to lead organisation and programme curation from the Open Knowledge side.
We gathered to discuss the goals of the event in early 2013. In the last few years we had seen open data initiatives grow from a small handful to hundreds all around the world. We'd seen open data become important in areas such as governance, accountability, transparency, security, research, culture, international development, aid, urban planning, and much more—often going through controversy, always requiring an intense effort from citizens, researchers, policy makers, and all of us. We were asking ourselves: how should governments and international institutions (such as the UN, for example) react to these changes? How do citizens and civil society organizations turn data into accountability and into change? How should businesses take advantage of new opportunities and contribute to the open data economy?
The event also tried to answer: How do we broaden open data? How do we deepen open data? How do we ensure the open data ecosystem is connected? What are your opinions on these questions?
The first question, "How do we broaden open data?" was focusing on the idea of broadening geographically, across countries and regions and also across domains and institutions. I think that we would all learn a lot from growing our understanding of challenges and constraints as well as the opportunities and triumphs of people living in other countries around the world. At the same time I encourage people working on specific domains to look outside and beyond their field's bubble and gather and exchange knowledge with other fields, fields that may have gone through the necessary steps to grow their open practices and policies. To pick some examples, we see open data becoming a popular topic on government agendas but it is often still a relatively new concept for businesses; some fields of scientific research, such as genomics, adopt open data prominently in their work, but this is not the case in many other research areas.
The second question, "How do we deepen open data?", was inspired by one of the core challenges faced by organisations like the Open Knowledge (and many others in the open space): how can we (help to) ensure a commitment not only for today but for the long term, how to make sure that open data is fully embedded into processes and policies? How will open become the default setting? We see many governments proclaiming their commitment to open government data initiatives for example, but what's the amount of data actually released, and are these data machine readable, available for free, openly licensed? The challenge is open and we're in for the game.
The third question, "How do we ensure the open data ecosystem is connected?" was driven by feeling the need to break down the silos that risks making our efforts fruitless. If open data ends up locked into isolated (legal, technical, or socio-demographical) silos, its value will be lost. This wouldn't make any sense. We need data extending across communities, countries, and institutions; data easy to interconnect thanks to common standards, practices, and interoperable infrastructure.
Can you give us a taste of OKFestival 2014?
The Open Knowledge Festival is our major global event, run with and for the whole open movement; it's a space where all elements of open knowledge are welcome. It gathers open movement makers, thinkers, activists, and researchers to enable them to work together to co-create the future of open. Join us! More than 90% of the programme is crowdsourced and is curated by a team of respected leaders and members of the open community with deep understanding of one or more open knowledge practices and who will advise and provide input on the programme and contribute to diversify the cultural, geographic, and disciplinary lenses of the curatorial work.
Compared to the Conference, the Festival has a broader interest, both topic-wise (the whole open knowledge space and not only specific topics) and country-wise (instead of focusing on the hosting country, it aims to represent the current global picture). Spirit-wise, it's more hands-on, participatory, and informal and focuses on tangible building and making together, on the spot.
First OpenTechSchool workshop in Stockholm, Sweden
This year, the Open Knowledge Festival is fuelled by our theory that change happens when you bring together knowledge (which informs change), tools (which enables change), and society (which effects change). As such, Knowledge, Tools and Society will be the three streams that form the architecture of the programme.
Knowledge means unlocking, expanding, and sharing knowledge through open access, open research data, open educational resources, open science, data journalism, campaigning, data visualisation, and literacy.
Tools are needed to facilitate the flow of knowledge through non profit technology, open source software, open hardware, design, architecture, and urban planning.
Society are the groups who effect change. Topics of this stream may include designing institutions, building communities, and protecting environments. Additionally, powering economies through open government, transparency, open tech businesses, open development, open education, open culture, open sustainability, and open economy will feature on the programme.
Security and privacy-related topics also fit into this stream.The festival will weave together these three streams of open knowledge innovation and impact. Each session will go deep within its realm as well as identifying interdisciplinary features that span different domains or disciplines.
Any last words, or advise, that you want to share?
Sometimes discussions about improving diversity in technology and in the open space make some people roll their eyes. So, I'd like to take the opportunity to share a couple of thoughts about this.
Diversity is not a problem—it's an opportunity. By definition, open knowledge and open source express the potential of universal access, and I think we'll be able to be universally accessible only when we'll be truly global and embracing diversity, at all its intersections of age, gender, wealth (or lack of), education, and language. By welcoming more voices to the global discussion, we'll be able to learn from each other, team up, and ultimately be stronger in achieving the positive change we all believe in. And we shouldn't just expect people to join our projects and initiatives: achieving diversity requires action and effort, time and work. We have to do research, reach out to new people and realities, mentor and support each other, and create pathways for diverse talent to enter, stay, and thrive, together.
I also think that the people representing minorities shouldn't always be expected to be the ones fighting inequality, by default. Anyone willing to research and learn more about diversity might find her/himself interested in taking action to make the world a better place for everyone and actually start working on fighting for it.

This work is licensed under a Creative Commons Attribution-Share Alike 4.0 International License.