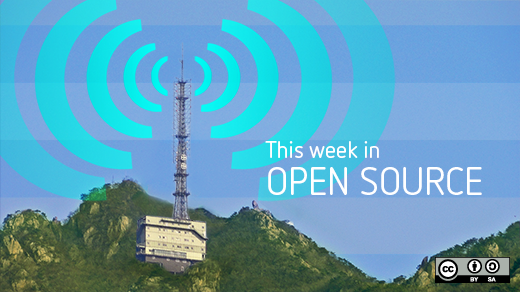 Open source news for your reading pleasure.
April 5-11, 2014, 2014
In this week's edition of our open source news roundup, we look at the new OpenDaylight internship, National Robotics Week, and more.
OpenDaylight announces summer internship
The OpenDaylight community, made up of developers collaborating on an open Software-Defined Networking (SDN) and Network Functions Virtualization (NFV) platform, revealed a summer internship program that will allow five student developers to work on new projects. The interns will work remotely and will receive a stipend. The deadline to apply is April 25, 2014 and the program runs from May 19 to August 22, 2014.
National Robotics Week kicks off with events around the U.S.
The 5th annual National Robotics Week started on April 5, 2014 and runs until Sunday, April 13, 2014. This celebration of robots and technology was launched by the U.S. Congress in 2010 and aims to increase awareness and inspiration for careers in robotics and STEM fields. Check out their interactive map to find events near you or host one yourself.
NASA to release source code for software projects
While most people know the space agency for its massive hardware projects, yesterday the space agency unveiled a huge list of software projects ranging from internal project management tools to image and data processors. "NASA is committed to the principles of open government," NASA's deputy chief technologist, Jim Adams, said in a statement. "By making NASA resources more accessible and usable by the public, we are encouraging innovation and entrepreneurship."
New Raspberry Pi Compute Module opens up a world of custom hardware hacking
The tiny single-board computer that hardware hackers love to embed in their projects is getting even more... embeddable? The Compute Module, designed for business and industrial uses, has the standard Pi processor and 512MB of RAM, a 4GB eMMC Flash device, and fits on a tiny 67.6x30mm that slots into a standard DDR2 SODIMM connector. Yeah, you heard right. This Raspberry Pi fits into a laptop memory slot. We can't wait to see the awesome embedded hardware created with this little dude.
Hat tip to Opensource.com moderator Robin Muilwijk for sharing some of these news articles with me this week.
Michael an unrepentant geek with a love for games, the social web, and open source projects to share with his kids. He writes about raising geek children at GeekDad and records a podcast about games called The Dice Section. You can follow him on Twitter at @oldbie.

This work is licensed under a Creative Commons Attribution-Share Alike 4.0 International License.