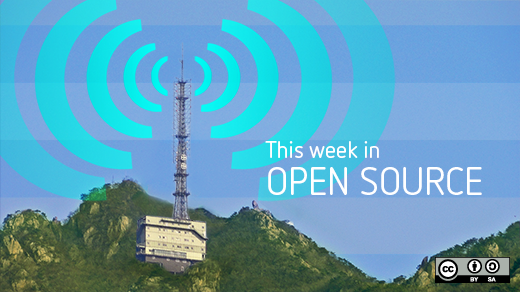 Open source news for your reading pleasure.
July 12 - 18, 2014
In this week's edition of our open source news roundup, we take a look at how LinkedIn uses open source, Google's new container project Kubernetes, Raspberry Pi B+, more!

Open source transformed LinkedIn
Josh Ong, author at The Next Web, writes about how LinkedIn uses open source in a series of three articles. In one of the articles, he covers his visit to LinkedIn headquarters in Mountain View where he sat down with company engineers and discussed LinkedIn's contribution to the open source community. According to Alex Vauthey, LinkedIn has three key dimensions: the transformation of the self, the company, and the world. Open source is applied to accomplish all three of these dimensions. Infrastructure that has been released as open source by LinkedIn, are, for example: Kafka, Helix, and Voldemort. Read more about how LinkedIn decides what to open source and what they think their role is in the open source community in the series on The Next Web.
Support for Google's orchestration tool for Docker
As it's only been a few weeks since Google revealed their new product Kubernetes, an open source orchestration tool for managing Docker containers at scale. Now, companies like IBM, Red Hat, and Docker are jumping "on board to contribute to this project." As the article states, "this quick collaboration demonstrates the serious momentum of Linux containers" and Google looks at containers as "a disruptive technology that needs broad investment." So, will we see a shift from the server virtualization model to containerization? Read more on ComputerWeekly.com and ZDNet.
Raspberry Pi Model B+
Packed with improvements, we saw the release of the Raspberry Pi B+ model this week. As Raspberry Pi quoted, this is not a version 2, but 'rather the final evolution of the original Raspberry Pi'. Where the community asked for improvements, Raspberry Pi listened and released this hardware revision. Some of the improvements are more USB, lower power consumption, better audio and lot's more. Read the blog post at Raspberry Pi to get the full list of improvements, first reviews through video and more. At LinuxVoice.com you can read about a detailed look at the new Raspberry Pi.
Importance of open access science
In an article on Wired.com, Jeffrey Marlow emphasises the importance of open access in science research. Marlow points out that Academia.edu is "a key player in the movement toward open access scientific publishing." One of the two key properties of open science, he says, could be the last obstacle towards open access science. He refers to the need for a new peer review system and claims that if governments and universities push for it, the open access movement will continue to grow. A good example of this is the Technical University of Delft that now shares over 40,000 publications.
Free and open source software education in Bombay
'Catch them young' is the motto at Free and Open Source Software for Education (FOSSEE) project at the Indian Institute for Technology (IIT) in Bombay, India. The FOSSEE project is involved in developing and promoting open source such as Scilab, OpenFOAM, Phyton, and Oscad. The FOSSEE project "is part of the National Mission on Education through ICT" and funded by the Indian ministry of Human Resource Development. Their goal is to lower the cost of development of software and make Indian companies competitive in the global market place. Read the full story at Informationweek.in.
Open source news break
Want to take our open source news on the go? Check out Bryan Behrenshausen's podcast, Weekly Open Source News Break, on Hacker Public Radio. This week's guest host is Jen Wike.

A big thanks, as always, to Opensource.com summer intern Bryan Behrenshausen and moderator Scott Nesbitt for their help this week.

This work is licensed under a Creative Commons Attribution-Share Alike 4.0 International License.