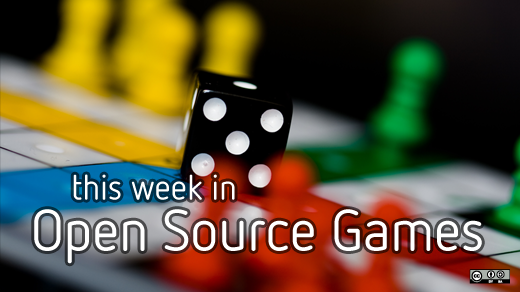 Open source games roundup
Week of August 3 - 9, 2014
This week's edition of our open source games news roundup comes to you from the gorgeous countryside of the Bécancour region in Québec, where I'm striving to introduce my in-laws to board games other than Scrabble and Scattergories. And failing, mostly due to my abysmal French.
In this week's edition of our open source games news roundup, we take a look at some fun retro operating systems you can install on your Raspberry Pi, the new Ouya program that aims to make a games developer out of everyone, and our new "What is open gaming?" resource.
Emulating retro OSs on Raspberry Pi
We've talked before about playing video games on your Raspberry Pi, but what about replacing the stock Raspbian operating system with something a little more classic. This guide from Make Magazine teaches you how to blast yourself into the past with Macintosh System 7 and Windows 3.0. If you're looking to get your game on, check out the video on installing PiPlay and emulating consoles like Playstation, Genesis, SNES, NES, Gameboy, and Atari 2600. Or install Commodore Pi and see what Zak McKracken has been up to for the past 26 years.
Ouya wants players to become makers
Most gamers play, but the folks who make the open source Ouya gaming console want them to start making games, too. The latest over-the-air update to the Ouya includes the Developing Developers initiative, a complete overhaul of the console's "Make" section. According to the blog post over on the Ouya site, they "want this to be a space where you can learn more about how to create games, and we've kicked it off with a step-by-step, 20-minute tutorial ... covering the basics of developing and publishing on Ouya." There's also a new on-console app, AIDE for Android, that helps new developers through the basics of Java and Android programming. For more information, budding game developers can join the Ouya Office Hours on Google Plus once a week or send in their questions via email.
What is open gaming?
Unsure of what this open gaming thing is all about? A few weeks ago, we released a new resource page on the site that answers the question: What is open gaming? It covers everything from video games and gaming hardware to tabletop games and open game design. Head over to the page, give it a look, and let us know in the comments if we left anything out.
---
Got something to add to our open source games coverage? Follow Opensource.com on Twitter for up-to-the-minute news on everything open source. If you have any news you'd like to submit, shoot us an email through our contact form or reach out to me directly on my personal Twitter account.
Big thanks to Opensource.com staffer Jason Baker for his help in gathering stories this week. And a fond farewell to Opensource.com intern Bryan Behrenshausen, who left the Red Hat Tower yesterday to head back to school in the fall. There's always a spot at our gaming table for semioticrobotic.
Michael an unrepentant geek with a love for games, the social web, and open source projects to share with his kids. He writes about raising geek children at GeekDad and records a podcast about games called The Dice Section. You can follow him on Twitter at @oldbie.

This work is licensed under a Creative Commons Attribution-Share Alike 4.0 International License.