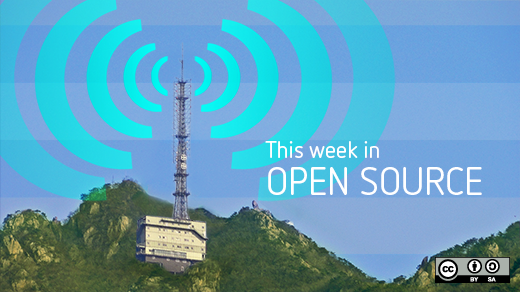 In this week's edition of our open source news roundup, we take a look at new leadership at Docker, Microsoft acquires Revolution Analytics, the Ghost security hole, and more!
Open source news for your reading pleasure.
January 24 - 30, 2015
Microsoft acquires open source data analysis company
Microsoft announced on Friday, January 23, that it has acquired Revolution Analytics, an open source analytics company with a focus on the popular R programming language. Microsoft's goal with this acquisition is "to help more companies use the power of R and data science to unlock big data insights with advanced analytics," according to TechCrunch.
Revolution Analytics offers a few tools based on the R programming language, and like many open source companies, its business model is based on providing consultancy, technical support, training, and more. They say they will continue to provide customers with the current products, and it is likely they will continue to open source projects, like ParallelR and RHadoop.
Read more: Why now is the time to learn R by David Smith, and an Opensource.com interview with David Smith.
Ghost, security, and the efficiency of open source
We've seen Heartbleed, Shellshock, and now Ghost—a critical hole in the GNU C (glibc) Linux library. When the hole was found, a quick analysis revealed which versions were safe or not, and a patch was rolled out within a week! Holes like this are, of course serious, but they will always exist. That highlights the importance of patch efficiency. And, as Jack Wallen writes, "patching is superior within the open-source community."
He also refers to transparency and says, "Found, announced, fixed, released - it doesn't get much more efficient and transparent than that."
New leadership at Docker
With the success and growth of a project comes growing pains. This is why Docker is adding more leadership roles to help oversee the gigantic project. These roles include a chief architect, chief maintainer, and chief operator. As Jonathan Vanian from Gigaom writes, "Docker claims it has roughly 740 project contributors, that the open-source project has generated 85,000 Docker-specific applications and more than 20,000 projects." Vanian also touches on the subject of a Code of Conduct for the community; they only currently have "some guidelines."
Making open source communities better
On Fortune, Michal Lev-Ram writes about Square, a startup that publishes a new code of conduct (CoC) for open source developers. With a goal to make the open source community more welcoming and inspiring to women. As Lev-Ram writes, it is estimated that only 1.5% of open source developers are female. And Square wants to change that.
Some of the guidelines include "be respectful," "be considerate," and "be collaborative." Though basic, Square's diversity programs lead, Vanessa Slavich, says "having general guidelines can go a long way in making women feel more comfortable in open source circles."
5 reasons to open source more code
Matt Asay writes about why companies should open source more code. Why lock it behind proprietary licenses? If you don't sell software, you should contribute a lot more as open source, says Asay.
For companies selling services, it should be profitable to open source almost everything. Asay refers to Preston-Werner, who offers "several reasons to open source code." Some of these reasons are: great advertising, force multipliers, attracting talent, best technical interviews possible, and retaining talent. Asay concludes, "stop hoarding software and start sharing, it will help you attract and retain talent, which in turn helps your company."
In other news
Thanks, as always, to Opensource.com staff members and moderators for their help this week. Make sure to check out our event calendar, to see what's happening next week in open source.

This work is licensed under a Creative Commons Attribution-Share Alike 4.0 International License.