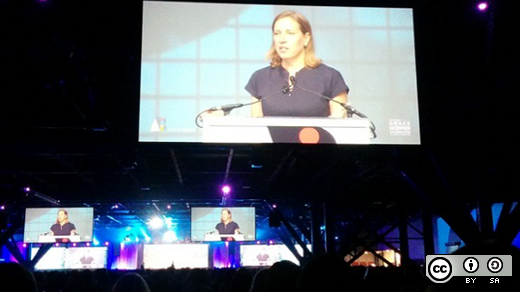 YouTube's CEO Susan Wojcicki delivered a powerful keynote this morning to thousands of attendees at the Grace Hopper Celebration of Women in Computing, which is being held this week in Houston. She started with, "My daughter told me she doesn't like computers."
Three misperceptions Wojcicki identifies that women have about the field of computer science are:
It's boring.
I wouldn't be good at it.
I wouldn't be caught dead hanging out with people in computer science.
That last one stings a little. 
Wojcicki (pronounced vui-chit-skee) says there are things we can and must do to change these misperceptions. She talked about why the world needs women to be involved in computer science. She explained that problems need our ideas and solutions, communities need our ability to connect and bring people together, and, without us in larger numbers participating in the computer science field, humanity will suffer. She then talked about the three misperceptions: 
1. Computer science is boring
Women and girls need to experience computer science before they can know what a creative, innovative, and interesting field of work and study it is. Wojcicki thinks school curriculum should teach computer science like they do all other sciences. Computer science won't be the right fit for everyone, but everyone should at least get a taste of it.
2. I wouldn't be good at computer science
Top of mind are Anita Borg and Grace Hopper, but there are countless others who have brought great progress to computer science and have proven this perception wrong. The key is for society to highlight these women. All of us can do our part to share the great stories about what women are doing in computer science and technology with our friends and colleagues. In fact, some of these success stories are about our friends and colleagues. (After you read this, share it.)
3. I wouldn't be caught dead hanging out with people in computer science
Wojcicki asks, "Is the media to blame for this misperception?" As the CEO of YouTube, she takes this one personally, so she teamed up with Grammy award winner Leslie Chilcott to make a documentary about girls who are coding and love it. Wojcicki's announced the CODEGIRL documentary today in her keynote, and then we watched the official teaser.

CODEGIRL will premiere on YouTube November 1-5. The teaser is inspiring and drives home that one big way we can help more women get into computer science is simply by showing us women and girls in the field. Coding. Solving problems. And talking about the projects women are working on.
GHC 2015
Series
This article is part of the Grace Hopper Celebration of Women in Computing series for GHC 2015. The annual Grace Hopper Celebration of Women in Computing is designed to bring the research and career interests of women in computing to the forefront. GHC 2015 will be held October 14-16, 2015, in Houston, Texas.
Jen leads a team of community managers for the Digital Communities team at Red Hat. She lives in Raleigh with her husband and daughters, June and Jewel.

This work is licensed under a Creative Commons Attribution-Share Alike 4.0 International License.