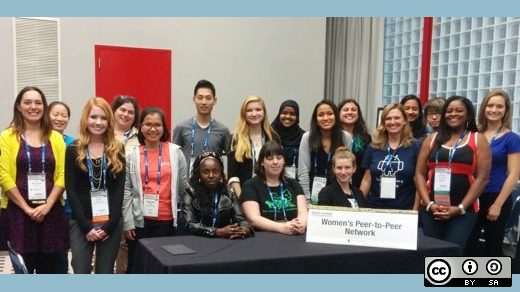 The 2015 Grace Hopper Celebration of Women in Computing (GHC) started out like any other, with a giant room filled with thousands of women with a passion for technology and computing. This year's welcome keynote opened with green lights strobing over a dark room. What a way to highlight the rows and rows of women ready to learn, connect, and join new communities. Telle Whitney, founder of GHC, was first to the podium and offered a heartfelt and sincere welcome message that brought a tear to my eye. She spoke of the women who built GHC from their vision of a better future, where women and men take equal part in technology, and of her diagnosis of an auto immune disease. But she's doing well she says, and thanked everyone for their thoughts and concern.
Open Source Day
For the past five GHC conferences, Open Source Day has been held to bring together programmers, writers, and organizations, such as Mozilla and Cloudera, to work through some of the problems facing open source projects. The main goal of the 5-6 hours they have together is to get a solid chunk of work done and, for cool—yet scrappy—projects such as Women's P2P Network, that's what's needed to take progress to the next level.
"It can take 20 years or five years, depending on who and how many people you can get involved," says Rachel Leventhal, founder of Women's P2P Network, a project started to connect women with the tools and people they need to help them get elected. In Kenya, this is especially important because women are up against government corruption, such as voting bribes, and generally have fewer civil rights than men.
As I help her set up a brand new blog to share these women's stories, Rachel tells me that she is actively looking for people to help build this idea of a connected world for women around the globe. Specifically, Women's P2P Network needs Ruby developers, web designers, and database maintainers.
"When a group of technical women come together to share the load, it helps our mission, and it also gives them a chance to make new connections with people who have similar interests," Rachel says.
That sentiment is what Open Source Day at Grace Hopper is all about. And, it's another one in the books.
See the interviews I did with other projects participating in the GHC Open Source Day.
Jen leads a team of community managers for the Digital Communities team at Red Hat. She lives in Raleigh with her husband and daughters, June and Jewel.

This work is licensed under a Creative Commons Attribution-Share Alike 4.0 International License.