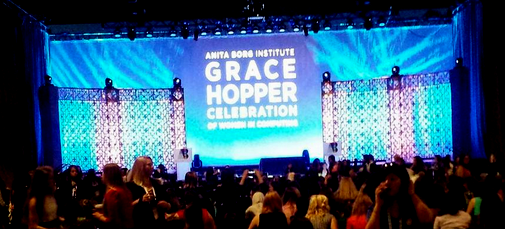 The annual Grace Hopper Celebration of Women in Computing is designed to bring the research and career interests of women in computing to the forefront. GHC 2015 will be held October 14-16, 2015, in Houston, Texas. Open Source Day 2015 will be held Wednesday, October 14. Follow along on Twitter with #GHC15 and #GHC15OSD hashtags.
Reports from the event
Interviews with speakers
Coding in a safe place—Python Software Foundation's (PSF) Director Carol Willing will be mentoring coders for OpenHatch and the Systers' Volunteer Management System.
Cloudera's open source codeathon project with Bay Area Discovery Museum—We interview Alison Yu, who helps lead Cloudera Cares and the Bay Area Discovery Museum partnership, a project attendess will be able to contribute to while at Grace Hopper's Open Source Day codeathon this year.
Why you should share your Internet connection—uProxy is a browser extension that lets you share your Internet connection with people living in repressive societies. In this interview, Lucy He, Raymond Cheng, and Salome Vakhtangadze explain how uProxy works.
Largest email group for women in tech teams up with Peace Corps—In this interview, Rose Robinson, moderator of Systers, is the world's largest email community of women in tech, talks about Systers' participation in the Open Source Day Codeathon.
Mozilla pays it forward—Emma Irwin is a Community Education Lead with Mozilla and explains why Mozilla is involved in the Open Source Day codethon and what attendees can expect to learn.
Past GHC events

This work is licensed under a Creative Commons Attribution-Share Alike 4.0 International License.