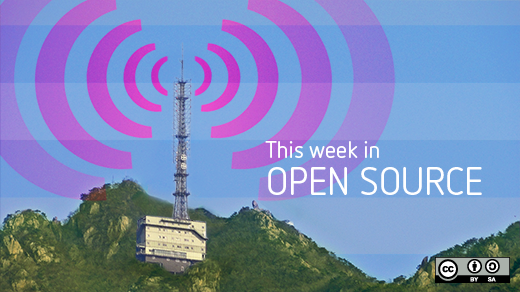 In this week's edition of our open source news roundup, we take a look at the nine dollar computer, Snappy Ubuntu, the Robot Operating System, and more! Open source news: May 9 - 15, 2015
Open source news: May 9 - 15, 2015
The nine dollar computer
In hardware news this week, CHIP is causing a lot of buzz. CHIP is a $9 USD computer, about the size of a credit card, with WiFi and Bluetooth capabilities as well as VGA and HDMI ports. On board, you'll find a 1Ghz processor, 512MB RAM, and 4GB storage. CHIP runs on Linux (Debian), and you can code on Scratch, play games, and more on this tiny computer. The latest news tells us CHIP has already passed the million-dollar mark on Kickstarter.
Snappy Ubuntu + Robots
Snappy Ubuntu Core is a minimal server image, for clouds and devices. eWeek tells of it's growing use, and how it's coming to network swtiches and refrigerators. Ars Technica has an article about the Erle-Copter, a drone that runs Ubuntu Snappy, making it the first drone with apps. "The combination of Snappy Ubuntu and the Robot Operating System is a good example of the power of open systems to work together."
Community / Code
Carla Schroder answers what it takes to be, and why one should be, a Linux contributor in this article on Linux.com. The first aspect she covers is the community itself, saying there is always a good fit for anyone, in any community. Second, she explains how communities can be a space to grow, where you can meet people with mixed experience and skills sets. Third and last, Schroder includes how working on FOSS projects can be career boosters.
The Vatican uses FITS format
The Vatican wants to preserve human history, and it thinks the best way to do so is with open source. The Vatican Library CIO Luciano Ammenti argued his case at the EMC World conference, saying open source will help history be more easily accessible and usable 50 years from now. The Vatican Library digitized 82,000 manuscripts as images instead of text, using the FITS format—an open source, 64-bit, 3D-ready format.
Get your Open Data Handbook
Open Knowledge has announced that the Open Data Handbook has been updated. The new version has over 80 new terms and concepts with easy to understand definitions. Written by expert members of the open data community, and available in over 18 languages, this handbook targets an audience of civil servants, journalists, activists, developers, and more.
In other news
Thanks, as always, to Opensource.com staff members and moderators for their help this week. Make sure to check out our event calendar, to see what's happening next week in open source.

This work is licensed under a Creative Commons Attribution-Share Alike 4.0 International License.