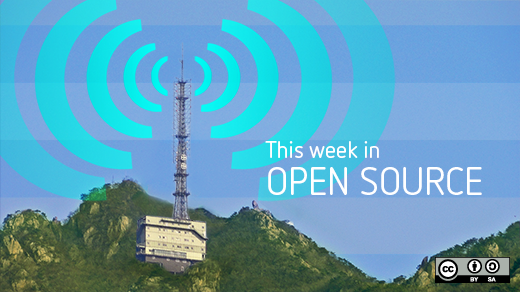 In this week's edition of our open source news roundup, we take a look at the funding of three new projects by the Linux Foundation, a new container coalition started by 21 industry leaders called Open Container Project, and more open source news.
Open source news roundup for June 20 - 26, 2015
Container coalition seeks common standard
On the opening day of DockerCon this week, the launch of the Open Container Project (OCP) was announced. Twenty-one industry leaders will take part in this non-profit organization that has set out to create common standards for software containers and cloud storage. Docker will donate its technology, including the container format and more, to OCP, which will run under a vendor-neutral, open source, and open governance model. Stephen R. Walli reports on the Open Container Project for Opensource.com, explaining what it means for the industry.
Linux Foundation funds three new projects
Founded in 2014, the Linux Foundation's Core Infrastructure Initiative (CII), is on a mission to improve open source code security. This week, it announced financial support of nearly $500,000 for three new projects:
The Reproducible Builds initiative to reproduce every build of every package in Debian
TIS Interpreter, a translating and interpreting service that provides access to phone and on-site services in 160+ languages
The Fuzzing Project, to find bugs in software, spearheaded by security researcher Hanno Böck
The Linux Foundation also announced that Emily Ratliff will be joining CII as Director of Infrastructure Security.
Open sources provides freedom to farmers
The Open Source Seeds Initiative follows the same principles and key values as open source (software) projects do. It allows people to modify and distribute. But, instead of software it's seeds, and instead of software developers it's breeders and farmers.
Jane Fyksen writes about how plant genetics, and its control, has changed dramatically over the past 100 years. Today, patents can prevent the use and research of seeds, which some say could decrease crop diversity. This is where open source, and the Open Source Seed Initiative, provides freedom to plant breeders and farmers. In 2014, the initiative released 37 cultivars and 14 crops under its open source pledge.
Facebook open sources Nuclide IDE
Jordan Novet reports for VentureBeat on Facebook's launch of Nuclide as open source, an integrated development environment. Designed for engineers at Facebook, Nuclide IDE offers a unified experience for web and native mobile development. The IDE exists of a series of packages on top of the GitHub's Atom text editor. According to Facebook engineer Michael Bolin, the IDE is still a work in progress. You can find its source code on GitHub.
Google pulls audio code from Chromium
Concerned developers found that Chromium—the open source browser by Google—was downloading the "Chrome hotword share module," which lead to the removal of the feature. Although Google had explained this module is not activated, nor used for eavesdropping, it removed it because, "as it is not open source, it does not belong in the open source browser."
In other news
Thanks, as always, to Opensource.com staff members and moderators for their help this week. Make sure to check out our event calendar, to see what's happening next week in open source.

This work is licensed under a Creative Commons Attribution-Share Alike 4.0 International License.