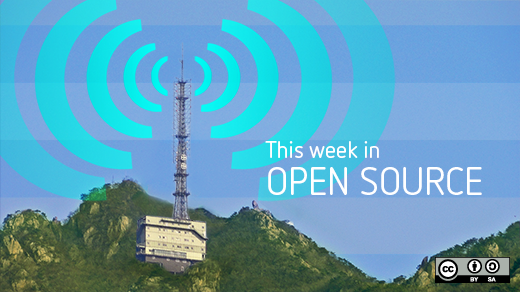 In this week's edition of our open source news roundup, we take a look at Atom 1.0 from GitHub, the new R consortium, and more!
Open source news: June 27 - July 3, 2015
GitHub's Atom editor reaches version 1.0
After a year in public beta status, GitHub has released version 1.0 of their Atom text editor. This new stable release features increased performance, removes files size limitations, adds support for ES6 language features, and stabilizes Atom's API for add-on packages.
Atom's extensiblity is one of its greatest strengths; there are already more than 600 themes and 2,000 addon packages for Atom. In fact, Facebook's Nuclide IDE is actually a set of add-on packages for Atom. According to the Atom 1.0 press release, pre-1.0 releases of Atom have been downloaded more than 1.3 million times and there is currently a more than 350,000 people using Atom every month. Atom already has a solid community built up around it, and the stable 1.0 release should help that community expand.
Atom began as a personal project of GitHub co-founder and CEO Chris Wanstrath. Wired published an excellent article detailing Wanstrath's love of Emacs and the events that lead to the development of Atom. Wired's article also explores Facebook's Nuclide and how sharing Atom and Nuclide as free, open source software benefits GitHub and Facebook.
And for a fun introduction to Atom, be sure to check out GitHub's retro-style video, which highlights several of the editor's key features.
The Linux Foundation announces the R Consortium
The Linux Foundation announced the creation of the R Consortium to support and foster development of the R language. R is an open source language used by statisticians, data scientists, and the like, for performing complex calculations and analyzing large datasets. The consortium will "promote the sharing of ideas and accelerate findings that make R even better for business, research and academic purposes," according to Linux Foundation Executive Director, Jim Zemlin.
The Linux Foundation's press release lists a diverse collection of companies and organizations as the founding members of the R Consortium, including the R Foundation, the organization resposible for developing R. The founding platinum members are RStudio and Microsoft, which recently acquired Revolution Analytics, a major provider of commercial R support and services. Rounding out the founding members are TIBCO Software Inc., Alteryx, Google, HP, Mango Solutions, Ketchum Trading, and Oracle.
Responsibility for developing the R language remains with the the R Foundation. The new R Consortium will support and collaborate with the R Foundation in advancing and advocating for R in the user and developer communities.
U.S. House of Representatives approves use of open source software
The Huffington Post reported that the U.S. House of Representatives has approved the use of open source software. It is now officially permitted to use open source software in the House of Representatives, and open source software developed using public funds will become available to the general public. This is not the first time the House of Representatives has used open source software—it started using Drupal four years ago—but this new policy greatly enhances the role open source software in federal law making. The OpenGov Foundation states that there will soon be an Open Source Caucus in Congress, and both the Huffington Post article and the OpenGov Foundation announcement report that Congressional representatives from both sides of the aisle (i.e., Democrats and Republicans) are enthusiastic supporters of this new policy and what it could potentially mean for interacting with their constituents and developing legislation.
In other news
Thanks, as always, to Opensource.com staff members and moderators for their help this week. Make sure to check out our event calendar, to see what's happening next week in open source.

This work is licensed under a Creative Commons Attribution-Share Alike 4.0 International License.