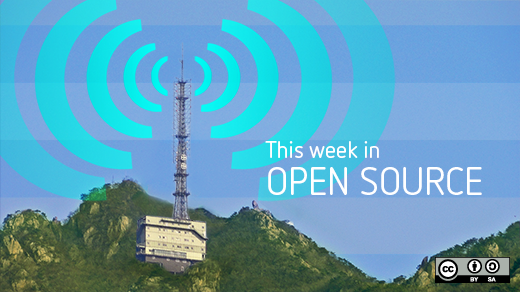 In this week's edition of our open source news roundup, we take a look at KDE Plasma Mobile, a secure video conferencing platform, open source tools for newsrooms, and more.
Open source news for your reading pleasure.
July 25 - 31, 2015
KDE launches Plasma Mobile
Does the world need another mobile operating system? The folks behind KDE, a popular Linux desktop environment, think so. At the recent Akademy event, the KDE community has announced the Plasma Mobile project.
Plasma Mobile is "a Free (as in Freedom and beer), user-friendly, privacy-enabling and customizable platform for mobile devices." There's a heavy emphasis on security, and the platform will be able to run Android and Ubuntu Phone apps, as well as native QT apps and ones written using GTK.
Right now, Plasma Mobile is just a prototype but one that runs on Nexus 5 phones. You can download an image for the Nexus 5.
Spreedbox promises secure open source videoconference
With Edward Snowden's revelations about various three- and four-letter government agencies spying on video conferencing services like Skype, more than a few people have been looking for a secure alternative. If the Kickstarter campaign for a service called Spreedbox succeeds, they might get their wish.
IT Week talked to Niels Mache, head of the project who said, "With the Spreedbox we focus on 'private' communication and the user's privacy. Information is the new Gold." Mache stated that the service will be built on top of open technologies—both open source software and open (or, at the very least, well-documented) hardware. Mache added "the Spreedbox is a design object too. Its Bauhaus design is virtually timeless and of high-value."
Spreedbox is looking to raise 23,000 euros. The campaign ends on August 23, 2015.
NPR releases open source social media tool for newsrooms
One profession that's embraced open source is journalism. Newsrooms have been adopting open source for a number of years now, with a number of excellent data journalism tools being developed and shared among news organizations.
National Public Radio (NPR) in the US is no exception. This week, NPR released a set of apps that helps create images for use with social media. According to NPR's Brian Boyer, the apps are an easy way for newsroom social media teams "to create those fashionable social graphics for your news organisation."
The apps, available on GitHub, let newsroom teams highlight punchy quotes, quickly display key facts, and watermark your images. Best of all, you don't need any graphic design skills to use these tools.
Mozilla launching a new feature testing program
While Firefox is a solid piece of software, it has been plagued by more than a few bugs. Mozilla has tried to squash as many of those bugs as it can, but hasn't always been successful. Next month, according to InfoWorld, "Mozilla plans to launch a new testing program next month that will let Firefox users try out potential changes to the browser." The idea is to get users, not just software developers and designers, choose which features are ready for prime time.
Capital One launches new DevOps dashboard
When major financial institution Capital One needed a dashboard to monitor its engineering pipeline, it didn't turn to commercial tools. Instead, it developed an application called Hygieia. And rather than keep it to themselves, Capital One released it as open source. Tapabrata Pal, Capital One's director of Next Generation Infrastructure, told eWeek that "since we knew it would be useful to others, we built it with the intention of sharing it with the world and offering an open source version."
In other news
A big thanks, as always, to the Opensource.com moderators and staff for their help this week.
I'm a long-time user of free/open source software, and write various things for both fun and profit. I don't take myself all that seriously and I do all of my own stunts.

This work is licensed under a Creative Commons Attribution-Share Alike 4.0 International License.