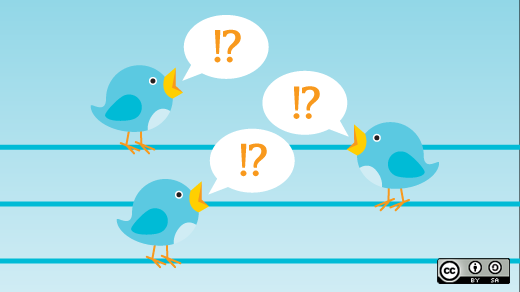 Working on the Open Web is a niche area of the greater open source community. Usually the work does not get the same level of fanfare of other areas of open source, but the work is very important.
Here, I've compiled a list of 15 people helping move the Open Web forward you should follow on Twitter. All of them are doing amazing work and have great content to share and will help keep you up to date on important things happening on the Open Web.
---
@mleibovic | Margaret Leibovic
Firefox engineering manager at Mozilla. I like the web, running, and food.
@mattsmcnulty | Matthew McNulty
Work @Google leading the @polymer team @GoogleChrome, formerly @EnyoJS & @palm. JS Dev, Web Standards, making fun of people, politics.
@codepo8 | Christian Heilmann
Developer Evangelist - all things open web, HTML5, writing and working together. #nofilter
@codinghorror | Jeff Atwood
Indoor enthusiast. Co-founder of stackexchange.com and discourse.org . Disclaimer: I have no idea what I'm talking about.
@sverrejoh | Sverre Johansen
Software Developer.
@dolske | Justin Dolske
Firefox engineering manager, bacon enthusiast, and snuggler of kittens. Did I mention beer? Oh, god, the beer. Mmmmm.
@dietrich | Dietrich Ayala
Working on Firefox OS so the next billions coming online have freedom and choice. metafluff.com noms.in meatclub.in
@sil | Stuart Langridge
Web consultant and custom developer. Opinionated. Believer in the mobile web. Like a misanthropic Father Christmas, apparently
@saambarati | Saam Barati
Conductor of computations. Work on JavaScriptCore/@webkit at Apple.
@xeenon | Timothy Hatcher
WebKit Developer Experience Manager at Apple. Creator of Web Inspector and Colloquy.
@ELV1S | Nikita Vasilyev
Developer Tools developer. Work on WebKit Inspector at . UI design, photography, tea.
@mmayo | Mark Mayo
VP Firefox @Mozilla. Helped make node.js and SmartOS happen as former CTO of Joyent. Yes, I've still got the vmunix blues.
@BrendanEich | Brendan Eich
Brendan Eich invented JavaScript, co-founded mozilla.org , and served as CTO, SVP Eng, and CEO, Mozilla.
@aimee_maree | Aimee Maree
Problem Solver! Open Source Enabler, Web Focused Software Engineer, Polygot Programmer, EDU Research, Teach Kids 2 Code, a11y, DevOps, PaaS, Linux, Fedora
@andreasbovens | Andreas Bovens
Opera for Android Product Manager & Dev Relations lead at Opera Software. Interests: CSS3, typography, mobile, Japan & Latin dance.
Open Web

This article is part of Benjamin Kerensa's Open Web column, where he delivers the latest on what is happening in the open web, interviews with contributors to projects working on the open web, and his own perspectives on current open web news and events.
Benjamin Kerensa is an internationally recognized open source evangelist, community manager, author and speaker with experience in systems administration, project management and open source development that spans a decade.

This work is licensed under a Creative Commons Attribution-Share Alike 4.0 International License.