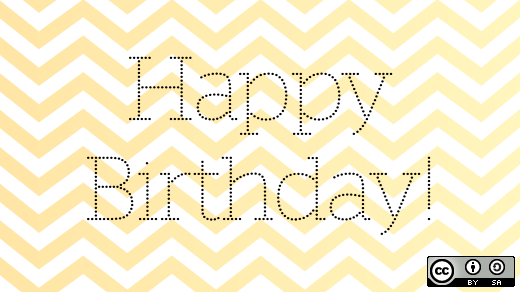 LibreOffice was launched as a fork of OpenOffice.org on September 28, 2010, by a tiny group of people representing the community in their capacity as community project leaders. At the time, forking the office suite was a brave—and necessary—decision, because the open source community did not expect OpenOffice.org to survive for long under Oracle stewardship.
In fact, the group of 16 founders launched an independent free software project under the stewardship of The Document Foundation, to fulfill the promise made by Sun 10 years before—with the first announcement of OpenOffice.org—of an independent free software foundation capable of pushing forward the free office suite to the next level.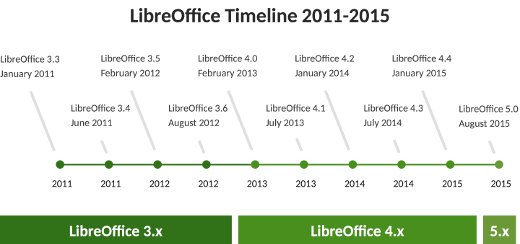 LibreOffice timeline by Italo Vignoli. CC0 1.0
After five years, LibreOffice is recognized as a major Microsoft Office contender, based on a sheer feature by feature comparison, and on the number of successful migrations. The Future of Open Source Survey 2015 (slides) even included LibreOffice in its list of seven most valuable open source projects, based on the answers provided by more than 1,300 professionals worldwide. And migrating to LibreOffice has never been easier, thanks to the Migration Protocol (PDF) drafted by the most experienced people at The Document Foundation, which outlines the best practices adopted by several large projects worldwide.
The LibreOffice journey has been amazing. In five years, LibreOffice developers have not missed a single time-based release—with major announcements in late January and late July, and minor announcements on a monthly basis. Thanks to this sustained pace, LibreOffice has reached a richness of features and a level of interoperability that are second to none.
LibreOffice 5.0, launched in early August, has been the most successful major release ever, triggering an unprecedented 8,000 donations in 30 days. Of course, the success has been reflected in the number of adoptions, which has soared. The icing on the cake was the announcement by the Italian Defense Organization saying that it will migrate some 150,000 PCs to LibreOffice starting in October 2015.
Join the LibreOffice community to improve documentation, help with translations, file a bug, and more.
Italo Vignoli is a founding member of The Document Foundation. He handles PR and media relations, coordinates the certification program, and is an international spokesman for the project. He has supervised the largest migration projects to LibreOffice in Italy, and is a LibreOffice trainer. From 2004 to 2010 he has been involved in the OOo project.

This work is licensed under a Creative Commons Attribution-Share Alike 4.0 International License.