My Linux Story: Ashutosh Narayan
A love for technology leads to Linux and open source
Subscribe now
Get the highlights in your inbox every week.
I've loved computing since my school days. I started learning on BBC Micro computers in the mid-'90s, but I didn't have the luxury of owning a computer until I was 22. Today, Linux and open source software are my primary passions.
Discovering Linux
It was in 2003—during my engineering college days—when my Linux journey began. I saw a Linux operating system boot on a 32-bit machine with 128MB RAM. The first OS I installed in my college's computer lab was Fedora Core 1, after burning images onto a stack of CDs. With my eyes wide open, I watched as text scrolled across the monitor followed by green (meaning OK), along with a bunch of things beyond my level of understanding.
After failing my engineering semester exams, I received some game-changing advice from department head Sridhar Murthy to undergo training for Red Hat Linux certification until my next semester began. I spent hours in the college computer lab setting up a network of three old desktops and learning Linux through a series of reinstalls. It crashed on me constantly, but I dealt with it because I cared about to making this old hardware run better.
When classes ended and the labs closed in the evening, I would run to an Internet cafe near our hostel. From there, I'd connect (via SSH) to computers inside our lab to continue with my learning. By doing everything from ejecting the CD tray to burning file images on the command line, my passion for Linux grew.
After taking a UNIX course, I decided to take the Red Hat System Administration exam and passed on my very first attempt. By my third year of engineering school, I had decided to pursue a career in Linux.
Getting involved in the community
I started meeting people in my city who were involved in open source communities and attended my first open source conference in Bangalore, India. I attended tech talks, asked questions, and collected CDs of different distributions to try out. I met Linux Kernel maintainer Alan Cox and Canonical founder Mark Shuttleworth, who gave me an autographed Ubuntu 6.04 CD during a Linux user group meeting at a Yahoo! office. It reads: "Chase your dreams."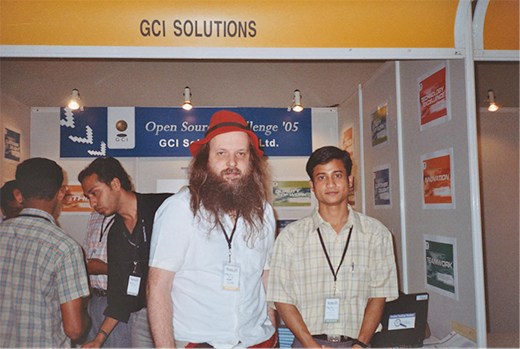 A photo of me and Alan Cox at FOSS.IN 2005.
FOSS.IN was the event that helped me find my calling. I did my final engineering degree project at Sun Microsystems in 2007, working on an operating system called Belenix. I visited the Sun Microsystems office and spent time with Belenix developers Moinak Ghosh and Sriram Narayanan learning and developing code in Perl. It was at Sun Microsystems where I learned about open source licenses, code distribution, and processes.
After graduating from college, my first job was with a startup called Atlantis Computing as a Linux system administrator, where I saw the power of Linux in virtualization technology. I started to realize the many applications of Linux in large-scale infrastructure. As I moved on to different organizations, I saw it more as a platform. Today it's hard to imagine a world without Linux.
Today
Presently, I support about 200 Linux virtual machines at work in a private cloud and am delighted to write software on my operating system of choice.
More than a decade after my first Linux experience, all my computers at home now run it. I use GIMP to edit photographs I capture, listen to songs and watch movies on MPlayer, create and edit documents in LibreOffice, and use KVM and VirtualBox to run other Linux distros in virtualized environments.
I'm happy to see today's college students using and learning about Linux and open source technology. I attend community meetups and events in and around my city and enjoy hearing what folks have to share.