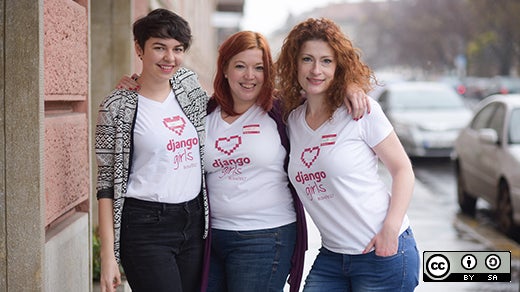 Szilvi Kádár, Daniella Kőrössy, and I are the organizers of Django Girls Budapest, a free workshop that teaches women how to code. We held our first Django Girls workshop in December 2014, and we're currently planning our fourth event. We'd like to share some bits and pieces of event organizing advice, and we hope you'll find some useful ideas for your next event.
The third Django Girls Budapest workshop took place in November 2015, and we had big plans for it. We wanted to organize two workshops for 30 people on the weekend, plus a warm-up party. Little did we know this was going to require a lot of effort. All of us work full-time jobs and organize Django Girls in our free time, so we had to be extra efficient to manage it all.
We're proud to say our event was amazing. It was inspiring and professional down to the last detail—something to be remembered. We had a difficult time making it work, but we have learned so much in the process. It's important to note that the first workshop had two organizers (one local and one remote), the second had three, and this one had four. With that many organizers, things can start to get tricky and the flow of information is not always smooth.
Distribution of tasks
In the beginning we assigned each organizer a big issue (applicants, coaches, sponsors, food, etc.). It's important that there is no overlap between organizers' responsibilities. It's easy to create chaos when one of us answers emails assigned to someone else. We can reassign things and ask for help, but respecting boundaries is the number one rule.
Communication
At first, we only used email (and sometimes Facebook chat). We tried to make separate threads for different topics every now and then, but we'd often get lost in a flood of emails trying to find pieces of information.
This time we decided to try Slack. Best decision ever! We made channels for each issue, like #coach, #teams, #venue, #sponsors, #website, and #presentation. We have a total of 20 channels now, and it works. We recently started playing around with Slack's more interesting features. Slackbot now reminds us if we're talking about something random outside of the #random channel, sends motivational one-liners when mentioning someone's name, and is full of inside jokes.
As an added bonus, Slack supports emojis!
Project management
Instead of keeping half-updated to-do lists in our heads or in Google Docs, we gave Asana a try. This was the perfect tool for managing everything around the event. We can break down a Django Girls workshop into sections (venue, sponsors, website, etc.), tasks (decorations), and subtasks (order balloons, bring party lights, assemble decorations). We can assign each of these to someone and set a deadline.
Using Asana is so much better than constantly reminding each other of what has to be done. Plus, a rainbow unicorn flies over your screen every time a task is completed. Isn't it the best thing ever? (Confession: we sometimes add already-done tasks to Asana and click "complete" just to see the unicorn again.)
While planning our fourth Django Girls workshop, we connected Asana to Slack. Now we see new and completed tasks in the #asana channel right away. We've tried Slack's own Asana integration as well as Zapier, but we haven't decided on one yet. We'll let you know after the workshop!
Planning
When people ask us about our plans and upcoming events, we have to be well prepared. So, we hold planning meetings every few weeks to set our goals, deadlines, and important dates.
These meetings are longer than the standard ones: the entire day is about talking, thinking, and planning. If we have a clear goal and review important deadlines, it's harder to lose focus. Being conscious of our tasks makes them easier to get done.
Organizing our documents
When we emailed documents (like contracts and invoices) in the past, we didn't really care much about them. Naturally, we'd pull our hair out when we had to find them. This is over!
We now have a super detailed, organized folder system on Google Drive, and we upload everything that comes over email or in paper form. We also use it to store things like financial calculations, scoring of applications and teams, shopping lists, and email templates.
Email templates are especially important. If you organize more than one event, sometimes you have to send the same emails (like a "Meet your team" email or acceptance/rejection letters) multiple times. You don't want to have to recreate them every time, right? Keeping your email templates solves this.
Workflow
We try to have a meeting every other week. These are great for giving us an extra motivation and energy boost. Sometimes we spend these events sipping rozéfröccs (a Hungarian specialty made of wine and sparkling water) and trash talking, and other times we're super productive.
We agreed to check all the Slack channels at least once a day and notify the others if we can't do it for some reason.
Before sending an email, we ask each other to proofread and correct it.
We try to get everyone's input when making decisions, but if we're pressed for time or the issue isn't super important, we'll go with the opinion of whoever's available.
Be professional
At our first events we didn't really pay much attention to the public image we were creating for ourselves, but we're now famous enough in Hungary that we need to.
No more "hiya thx for the $$$ cheers" emails to sponsors! We're lucky to have Szilvi, who knows that communication is key and pressures everyone to send emails that are well-written, informative, and professional. It's really embarrassing to send a million "Oh, and I forgot to mention..." emails. To avoid turning totally corporate, I always have a light-hearted and goofy speech to deliver.
All in all, we're trying to embrace the original, cheerful, and kind Django Girls image while also thinking about scaling. In our opinion, we're doing pretty good so far.
Team health
When things start to get serious, it's natural to see some tension emerge inside the team. We always have to communicate our concerns, goals, and visions clearly, because not doing it can lead to huge misunderstandings and hard feelings. It's important to keep in mind that we are doing this as a passion, not as some compulsory thing.
Of course, sometimes a team member just doesn't work out. We shouldn't blame each other at times like this—we should analyze the causes and acknowledge the state of things without letting our emotions take over. We had to part ways with one of our organizers and are a three-person team again, but we've learned a lot from it. We won't treat agreement and equal passion inside the team as a given anymore—we know that we actively have to work on making things run smoothly on an interpersonal level.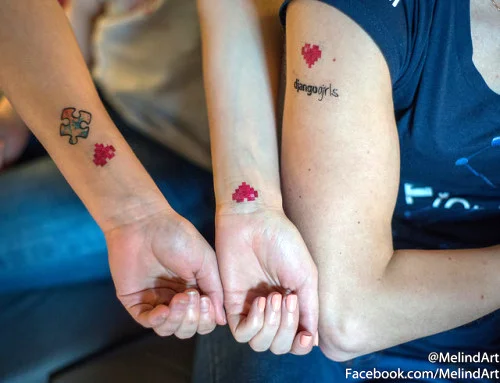 Feedback
The work isn't over when the event ends. It's very important to gather and give feedback. We send out evaluation forms to our attendees and coaches so that we can have a clearer idea of what was good about the workshop and what could be improved. Never forget to check the feedback when you start to organize the next one!
We also take time to thank the sponsors for their help. We send a thank you brochure with photos and some stats about the event. (95% of our participants want to continue coding. Isn't that amazing?) It's also useful to have an organizers' meeting afterward so that we can talk about our experiences, take note of any new ideas, review feedback, and cry with joy (well, at least some of us). There meetings are also a good time to give feedback to each other. What went well? What can you improve on personally? What have you learned about yourself? Thinking about these questions helps you develop yourself without realizing it.
We hope this was helpful to our fellow event organizers! If you'd like more details about something or need advice, feel free to ping us at budapest@djangogirls.org. Happy organizing!
Reposted with permission from the Django Girls blog.
Dori is a self-taught software developer with a background in philosophy and psychology, and an organizer of Django Girls Budapest. <3 Python&Django!

This work is licensed under a Creative Commons Attribution-Share Alike 4.0 International License.