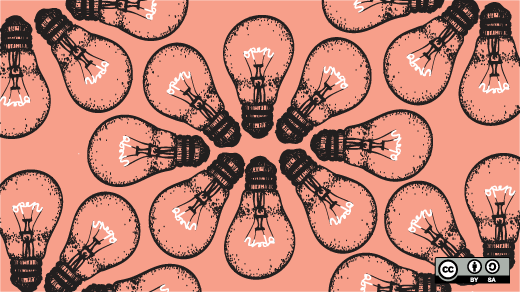 You'd be hard pressed to find someone who wouldn't agree that design for open source projects in a broad sense (websites, materials, logos, and so on) couldn't use a bit of... finesse. Or perhaps, just a touch more forethought and a good designer on hand. Bermon Painter and his collegues in the field of design and user experience know this all too well and are trying to change the way designers contribute to and participate in open source projects. 
I asked Bermon a few questions prior to his talk at Great Wide Open this year about Modular Front-End Architectures with Pattern Libraries. I wanted to know what ideas he has for how to get more designers to connect with the open source community—whether that's contributing to it or just using some open source software to get familar with it, like Blender. He also talked with me about what it was like to put on BlendConf, an event he purposefully disconnected from WiFi and smartphones, then took the brave step to shut down last year.
Let's jump in.
What is your biggest pain point as a user experience (UX) expert and designer working on open source projects?
It's not a pain point for me personally because I do a good bit of development, but for other designers a big question mark they may have is: "How do I contribute to an open source project?" Most open source projects are using some sort of version control like Git and often are hosted on GitHub. It can be intimidating if you've never used a platform like that before.
If you could say one thing to open source projects about design, what would it be?
Make it easy for designers to contribute to your open source project by putting the landing pages and documentation on your repository. Then, then link to that repository from your main site with messaging catered to designers that encourages contributions.
Do most designers know how to contribute to open source? Is it a black box or common knowledge?
I'd say some designer do, some designers don't, and it can feel like a black box for some. Garth Braithwaite speaks about how Designers Can Open Source (YouTube) and Jina Bolton has a great article on Why You Should Design for Open Source. I recommend you check these out. It might help contributing feel less intimidating and more exciting.
BlendConf in Charlotte, North Carolina (USA) was a unique experience. No WiFi? No smartphones! What did people love about it and why did you shut it down?
BlendConf was pretty great. It focused on human connection, diversity, and inclusion.
WiFi wasn't provided during the conference, and devices (phones, tablets, computers) weren't allowed during sessions. And, an amazing thing happened. People talked to each other face-to-face. Custom notebooks were provided so attendees could take notes. I didn't have an open call for proposals, so I spent months curating the speaker list to make sure there was a diverse group of individuals that would help encourage and foster inclusion. Another amazing thing happened. The attendees were also diverse and inclusive.
A conference of this size is a lot of work and expensive. The putting the conference on side of things is tons of fun, but the how much money will the conference loose when it's over? part is not very fun. I wanted to put on a conference that was affordable but also provided a lot of value to the speakers, attendees, and our community. I think we did that.
So, there are two big things that contributed to shutting it down.
Cost. The conference covered airfare + hotel + taxis + food for 50-60 speakers and provided food and other goodies for about 350 attendees each year. It never earned enough to cover expenses. 
Conference Overload. In 2015, as a Blender community, I think we hit a peak number of conferences. There were so many to choose from in 2015 that attendance dropped for conferences overall. Many conferences that used to sell out didn't. And, for a small conference like BlendConf, fewer attendees = death. About a month before the conference, we saw that only about 60 people had purchased tickets, and even with sponsorship support we had much less than 1/2 of what would be needed to cover costs. Financially the conference was already in the red by a sizable chunk and there are up-front costs that can't be recovered. The conference refunded all ticket sales at a loss, and worked with the hotel and sponsors. I have to give kudos to the sponsors. Most were understanding of the situation and easy to work with. Especially MailChimp and Lending Tree, who are always incredibly supportive.
Ultimately, it was a very difficult decision. I was pretty bummed. Jared Spool was a big help and let me vent for a bit, shared some of his experiences, and gave me helpful advice on how to handle shutting down the conference. 
We've archived the conferences sites and you can view all 160 speakers at blendconf.com. The recorded sessions are also available for viewing for 2013 and 2014.
Meetings in real life seem very important. Why should developers and designers make a point to go to community events?
Events are one way you can give back to your community with your time and/or your talent. Events are what you make of them, and can be a great way to make new friends, keep up with where the industry is going, and learn something new.
As you might imagine, I'm taking a break from running any conferences for now. But, I'll still be attending and speaking at them. In Charlotte, I organize some of the largest community events that continue to be well attended:
Charlotte UX: I founded this with Maria Frey back in 2010. It's the largest community event that we organize and one of the largest in Charlotte. It's focus is user experience.
Charlotte Front-End Developers: I co-organize this with Sarah Hudson. It's focus is front-end development.
Charlotte Design: This is the newest community group that I've founded, with Ashley Bennet who also organizes a local Dine and Draw event. We're just getting started and our first event focusing on designers will be in April 2016.
You designed the Sass logo. What was it like to work on branding for a programming language?
It was an amazing experience. I had the pleasure of working with Jina Bolton and Michael Parenteau on the Sass brand and website. Jina and Michael are both 10 kinds of talented, and I'd been an admirer of theirs for the better part of a decade. And, this was my first time contributing to such a large open source project.
I live in Charlotte (NC), Michael lived in Raleigh (NC), and Jina lived in San Francisco (CA). So, it was an interesting challenge coordinating everything, but we had the Internet. I would take the Amtrak out to Raleigh and work with Michael, and he took a trip or two out to San Francisco to work with Jina, and then we coordinated online. I had the specific task of redesigning the logo. I have terrible handwriting, and we had decided to do a custom handwritten looking logo, so I channeled my best Jessica Hische, though I'm sure she would have a large number of fixes to what I ended up with. It turned out... not terrible.
Then, there was a frantic dash to launch the website at SassConf—to much rejoicing and high-fives.
Thanks for connecting with us.
Come find me at Great Wide Open. We can share a tasty root beer together. I recommend the Salted Caramel Root Beer from Cicero Beverage Co.
Jen leads a team of community managers for the Digital Communities team at Red Hat. She lives in Raleigh with her husband and daughters, June and Jewel.

This work is licensed under a Creative Commons Attribution-Share Alike 4.0 International License.