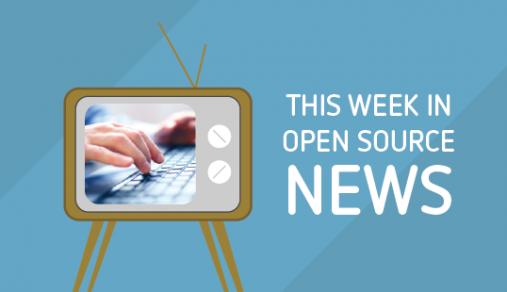 In this week's edition of our open source news roundup, we highlight The Opportunity launched by The White House, a call for public comment on a draft of Federal Source Code policy, the new Open Data Button, and more.
Open source news roundup for March 5 - 11, 2016
The White House launches The Opportunity Project
The White House announced the launch of The Opportunity Project, an effort to leverage open data to increase economic mobility and help citizens find services and jobs in their communities. The new Opportunity.Census.gov site provides access to The Opportunity Project tools and data sets. The Census Bureau has created an Opportunity Module for CitySDK, a software development kit designed to help developers make use of open government data.
Several private sector projects have already been released in conjunction with The Opportunity Project, including Redfin's Opportunity Score, which helps users find jobs located within 30 minutes walking distance of their house or apartment, and GreatSchools' Opportunity Badge, which helps locate "high-performing schools given the cost of living in the neighborhood."
Call for public comment on draft of Federal Source Code policy
Tony Scott, Chief Information Officer of the United States, announced that a draft of a Federal Source Code policy document is now available for public comment. According to the annoucement, the "policy will require new software developed specifically for or by the Federal Government to be made available for sharing and re-use across Federal agencies." In addition, it "includes a pilot program that will result in a portion of that new federally-funded custom code being released to the public." Interested parties can comment on the policy proposal on the Source Code Policy website.
Open Data Button provides tool to encourage researchers to share their data
Nature covered the release of the Open Data Button, a new tool from the makers of the Open Access Button. The Open Access Button is a browser extension designed to help people gain access to scholarly articles stuck behind pay walls. The Open Data Button goes one step beyond that by making it possible to send requests to researchers asking them to provide the data used in their research as open data. Both tools list all the requests made using the buttons on their respective websites so that everyone can see the requests. This makes the buttons not just tools to gain access to knowledge, but a method for advocating for open access and open data by showcasing just how many requests are made using the buttons.
Open Education Week around the globe
This week was Open Education Week, and event coordinated by The Open Education Consortium. Around the globe, educators came together in person and online to collaborate, discuss, and share the need for and benefits of open education. In their own words, "Open Education Week's goal is to raise awareness about free and open educational opportunities that exist for everyone, everywhere, right now."
By highlighting open educational resources, Open Education Week helps students and educators learn how to meet educational goals with resources that are free and open. The Open Education Week Projects and Resources page provides a large number of contributions making it an excellent place to learn more about open education. One beginner-friendly resource is a brief video from Robin DeRosa, a professor at Plymouth State University, which provides an introduction to open educational resources, open pedagogy, and open access in less than 5 minutes.
In other news
Thanks, as always, to Opensource.com staff members and moderators for their help this week. Make sure to check out our event calendar, to see what's happening next week in open source.

This work is licensed under a Creative Commons Attribution-Share Alike 4.0 International License.