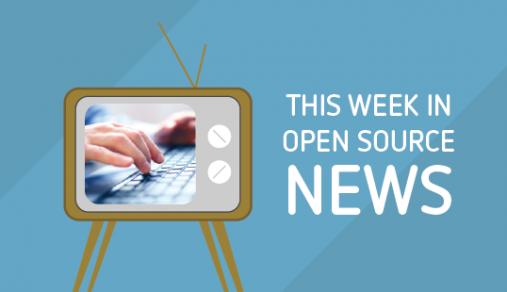 In this week's edition of our open source news roundup, we take a look at open source news from Google and Microsoft, the US publishes a draft of new source code policy, and more.
Open source news roundup for March 12 - 18, 2016
Google and Microsoft announce more open source
Google announced this week they will be open sourcing the design of their Maglev load balancing tool. According to Networking World, "Maglev runs on commodity Linux servers and does not require any specialized rack deployment." This will make it easier and cheaper for organizations to deploy and use Maglev in their environments.
And Microsoft announced they are "just looking to see" whether SONiC can learn anything new that would allow Microsoft to do a better job of crafting its NOS [network operating system] for networking in Azure data centers (according to analyst Brad Casemore). SONiC is short for Software for Open Networking in the Cloud and "is meant to be a software platform that can run across multiple hardware devices to create networking equipment." However, Microsoft doesn't intend to sell or support SONiC.
White House publishes Federal Source Code policy draft
The US government takes a cue from the private sector and governments in Europe this week by opening up a draft of the Federal Source Code policy for public comment. The idea behind the draft policy, according to the White House, is to "save taxpayer dollars by avoiding duplicative custom software purchases and promote innovation and collaboration across Federal agencies." As well, the US hopes developers inside and outside government walls will contribute to improve and secure the code.
You can read the policy at CIO.gov and comment on it at GitHub.
TP-Link blocks open source firmware from routers
In 2015, the FCC issued a ruling that states makers of RF devices (like wireless routers) must "prevent users from changing any parameters to implement software security to ensure that the devices operate as authorized and cannot be modified." Device maker TP-Link was one of the first manufacturers to comply with that rule. According to the company, changes have been made to the devices it sells in the United States to ensure "users are not able to flash the current generation of open-source, third-party firmware." Essentially, TP-Link is blocking users from replacing the stock firmware in their routers with popular open source alternatives like OpenWRT and DD-WRT. The changes only apply to TP-Link routers sold in the US and will only apply to routers manufactured after June 2, 2016.
In other news
A big thanks, as always, to the Opensource.com moderators and staff for their help this week.
I'm a long-time user of free/open source software, and write various things for both fun and profit. I don't take myself all that seriously and I do all of my own stunts.

This work is licensed under a Creative Commons Attribution-Share Alike 4.0 International License.