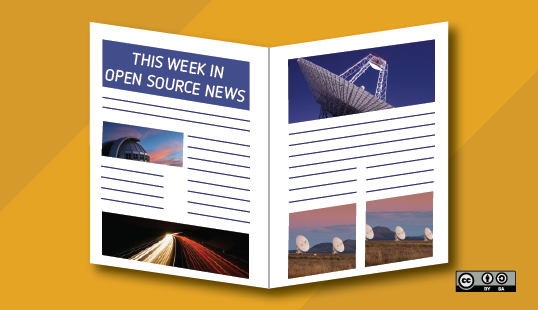 In this edition of our open source news roundup, we take a look at Raspberry Pi's 10 million unit milestone, the launch of the Open Library Foundation, and more.
Open source news roundup for September 4-17, 2016
Raspberry Pi ships 10 million units
In just four years, 10 million Raspberry Pi computers have been sold. The popularity of the budget-priced Raspberry Pi extends far beyond the device's original educational target audience, which has contributed significantly to the Raspberry Pi's success. A plethora of add-ons, including bundles designed to jump start projects, gives the Raspberry Pi an incredible range of uses. SlashGear summarized how these two factors contributed to the Raspberry Pi's overwhelming success despite strong competition from a variety of comparable projects.
In related Raspberry Pi news, the Raspberry Pi Foundation has released an official starter kit that comes with almost everything necessary to use the Raspberry Pi as a desktop computer (you'll just need to add a monitor). The bundle, which retails for £99, includes:
Raspberry Pi 3 Model B
8GB NOOBS SD Card
Official Raspberry Pi case
Official multi-region power supply
Official HDMI cable
Optical mouse and keyboard
A copy of the book Adventures in Raspberry Pi
Already available in the UK, the official Raspberry Pi bundle should be available in the United States and other countries in the near future.
Open Library Foundation established
The Open Library Foundation, a new foundation dedicated to supporting and maintaining open source software projects for libraries, officially launched September 9. According to the announcement, "the foundation provides the infrastructure for librarians, developers, designers, service providers, and vendors to collaborate with innovative open source technologies and develop transformative solutions for libraries." The foundation will serve as a "safe haven" for projects and "ensure that the code is freely available under an Apache v2 license."
GitHub's CEO on Microsoft and Apple open source endeavors
Fortune interviewed GitHub's CEO, Chris Wanstrath, about recent moves made by Microsoft and Apple to embrace open source. Wanstrath explains his views on both companies' open source efforts. In regards to Microsoft, Wanstrath acknowledges that "a lot of people were skeptical of Microsoft at first," but thinks that Microsoft's efforts are "real." Apple's Swift is another project that has caused Wanstrath to change his perspective on a company that he describes as "famously opaque." According to Wanstrath, Apple, with Swift, has become "a lot more involved with helping people to code and getting kids involved with coding." The interview also discusses GitHub as a company and diversity in the tech industry.
NetBeans IDE could become an Apache Incubator project
A post on the NetBeans site explains why the project is considering a move to the Apache Software Foundation. The idea is that moving NetBeans to the Apache Foundation would increase the amount of community contributions by providing a neutral venue for development. According to InfoWorld, Java founder James Gosling is supportive of the decision to move NetBeans to the Apache foundation. Gosling believes the move "makes it much easier for people outside Oracle to contribute to NetBeans."
In other news
Thanks, as always, to Opensource.com staff members and moderators for their help this week. Make sure to check out our event calendar to see what's happening next week in open source.

This work is licensed under a Creative Commons Attribution-Share Alike 4.0 International License.