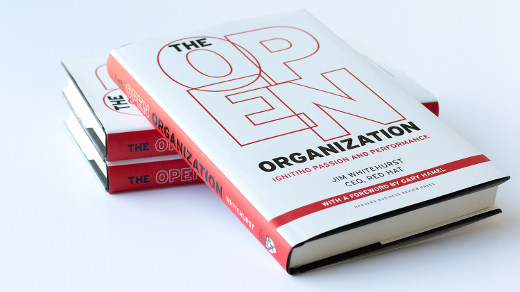 In 2015, Opensource.com featured nearly 100 stories about the ways open source values are changing organizations. Today, we're looking back on the five most popular articles of the year.
If you enjoy revisiting these, then don't forget to pick up your copy of the community-produced Open Organization Field Guide, which is chock full of the year's best writing on topics like open leadership, meritocracy, change management, employee engagement—and much more.
5. How to earn respect as a leader
In open organizations, leaders need to earn respect; their titles don't simply command it. In this popular adaptation from The Open Organization, Red Hat President and CEO Jim Whitehurst explains how meritocracies (like the one at Red Hat) function. "When people respect you only because of your authority, they will give you the minimum effort," Jim wrote. "Some incredibly brilliant people have earned respect because they are so smart, but most people aren't incredibly brilliant. So how do you go about it?" He offers five tips for garnering respect for bolstering your reputation as a trusted leader.
4. When my open source intern project went global
In October, intern Mike Stowell told us how working in an open organization dramatically increased the impact of his summer project. As a member of the Red Hat Kernel Quality Engineering team, Stowell composed a Continuous Integration guide that saw rapid adoption in Red Hat offices all over the world. "How many people can come out of an internship saying they got to define their own work, engage in it passionately, and add this much marketability to their overall experience?" he wrote in one of the year's most-read articles.
3. There's a better way to run a company
"This place is chaos." That was Jim Whitehurst's first impression of Red Hat, the open organization he'd eventually come to lead. In a video interview with theCUBE at Red Hat Summit 2015, Jim explained how this impressed changed—and quickly. "It was such a gift given to me, having a chance to see that there's a better way to run a company," he told the audience. "I thought it was important for me to tell that story." Half a year later, he's still telling it.
2. The rise of Red Hat and the open organization
One week after the June 2, 2015 launch of The Open Organization, GitHub's Jono Bacon sat down with Jim Whitehurst to discuss the way open source values are changing management today. Their conversation culminated in one of the year's hottest reads. "Cynics may argue that Whitehurst will tell me anything to shill his book," Bacon wrote in his typical, candid style, "but I have spent the majority of my career working for similar organizations and working with execs in those organizations and my bullshit radar had barely a flicker on it."
1. What value do you bring to your company?
In 2015, Open Organization ambassador Sam Knuth published a series of extraordinarily popular ruminations on the nature of his role as a leader in an open organization. He penned pieces on critical issues like employee passion and radical transparency. But his most popular story was also 2015's most-read article about open organizations. In it, Knuth discusses the importance of ensuring employees understand an open organization's mission—and how their work supports it. "Ultimately, my most important goal is to make sure each person on the team understands why we are doing what we do," he said, "as well as the value of their personal contributions."
Bryan formerly managed the Open Organization section of Opensource.com, which features stories about the ways open values and principles are changing how we think about organizational culture and design. He's worked on Opensource.com since 2011. Find him online as semioticrobotic.

This work is licensed under a Creative Commons Attribution-Share Alike 4.0 International License.