An open world: Stories from the open source community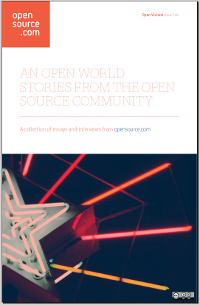 At opensource.com, our mission is to shine a light on the places where the open source way is magnifying ideas and multiplying effort. And we remain especially interested in topics beyond technology—developments in areas like business, education, government, health, law, and everyday life.
This collection offers some of our most empowering stories. From the trenches. From the library. From the cubicle. From the capitol. From the classroom and the boardroom and the courtroom. These are our community members—and perhaps you could be in the next edition.
Download this free eBook
License
Copyright © 2013 Red Hat, Inc. All written content licensed under a Creative Commons Attribution-ShareAlike 3.0 Unported License.
Articles in this eBook
Create your own eBook using open source tools. Just follow our eBook creation guide.

This work is licensed under a Creative Commons Attribution-Share Alike 4.0 International License.