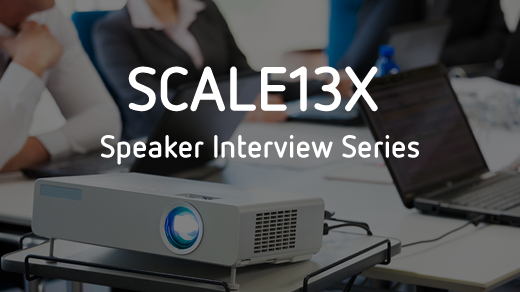 Speaker Interview Series: SCALE 13X
This is a collection of interviews of speakers at SCALE 13X. The Southern California Linux Expo brings together Linux and open source users, developers, companies, and enthusiasts.
Puppet Labs community manager on setting expectations by Matt Micene, an interview with Kara Sowles, Community Manager of Pupper Labs
Oregon State University Open Source Lab hosts 160 projects by Nitish Tiwari, an interview with Emily Dunham, student systems engineer at the OSU Open Source Lab.
Listen up! It's not all code and content by Jen Wike Huger, an interview with Robyn Bergeron, Operations Advocate for Elasticsearch.
Rocket and the application container spec by Jason Baker, an interview with Jonathan Boulle, engineer at CoreOS on Rocket.
Redesigning the Linux video system from the ground up by Jason Hibbets, an interview with Jon Cruz, Samsung Open Source Group.
Where do we stand after 30 years after the founding of the Free Software Foundation? by Don Watkins, an interview with John Sullivan, Executive Director of the Free Software Foundation.
NGINX: The secret heart of the modern web by Jason Hibbets, an interview with Sarah Novotny, technology evangelist and community leader at NGINX..

This work is licensed under a Creative Commons Attribution-Share Alike 4.0 International License.