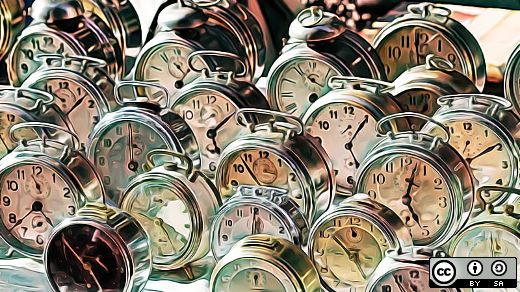 The demands of modern life can, at times, be overwhelming. Even a super organized person probably needs digital tools to keep track of personal and professional meetings and deadlines. If you were at All Things Open this year, you might have seen Opensource.com's own Jason Baker and Jen Wike Huger talk about open source productivity hacks, which was an excellent primer on open source tools and tips for optimizing your productivity. To add to the conversation Jason and Jen started, I would like to share with you 10 apps for your Android phone that can help you get organized, keep track of the time you have spent on a task, and make sure you meet your deadlines. All of the apps are open source and available from the F-Droid repository, so give them a try and see if any of them meet your needs.
Mirakel
Mirakel is a task management app with a modern user interface and support for just about every format you might want in such a program. At Mirakel's basic level, it supports multiple lists, which are referred to as "meta lists." Creating an individual task has a plethora of options with deadlines, reminders, progress tracking, tags, notes, sub-tasks, and file attachments, all comprising a part of a task's entry. On the project's F-Droid page, syncing with Taskwarrior and CalDAV are predominately listed as key features, but in the app itself the sync features are marked as buggy, so if syncing is important to you, be aware that this experience might not work all that well.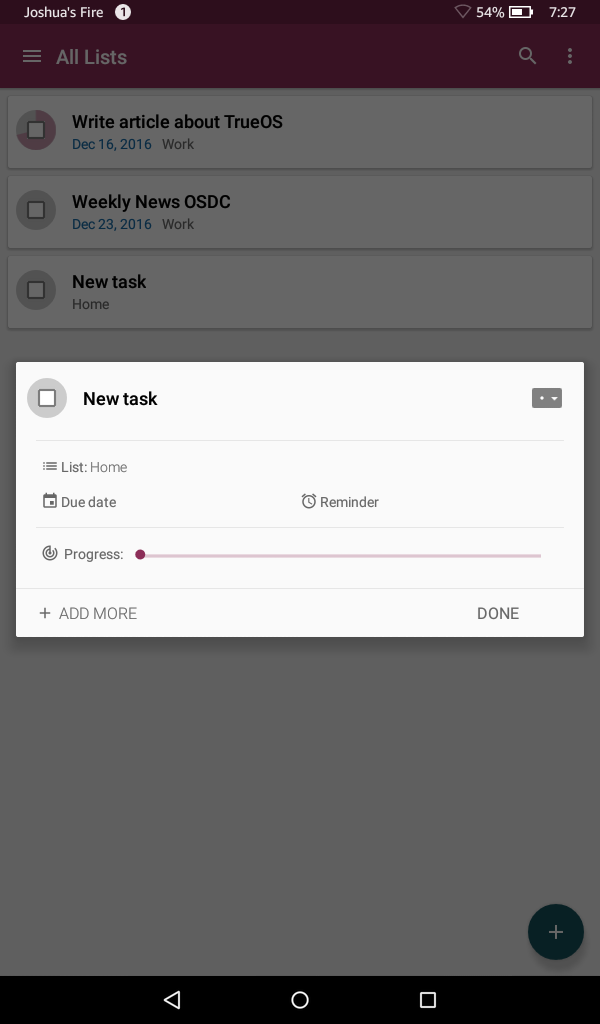 OpenTasks
OpenTasks, like many of the other entries on this list, is an excellent task management tool for creating individual tasks with a wide variety of settings. It supports a wide range of fields when creating a task, ranging from basic things, such as name and description, to more complex items, such as choosing if the task is private, public, or confidential. The biggest thing that sets OpenTasks apart from the alternatives is its use of tabs on the app's main screen. These tabs quickly allow you to see the tasks due, tasks starting soon, tasks sorted by priority, and tasks sorted by current progress towards completion. Many of the other apps support doing things like these, but with OpenTasks quickly easily accesses these lists.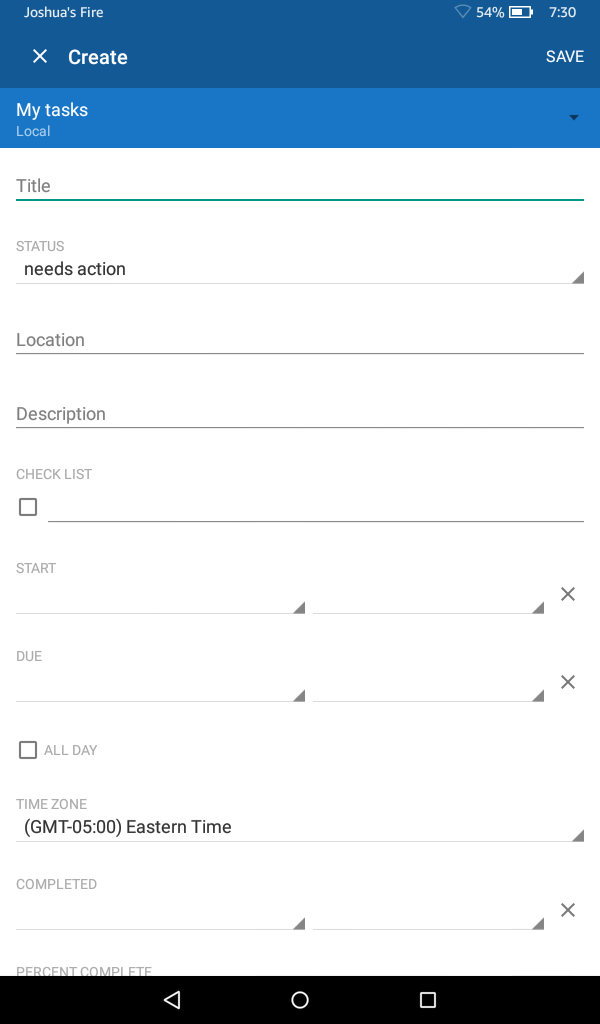 Pomodoro Tasks
If you are a fan of the Pomodoro Technique, or wish to try it out, Pomodoro Tasks is the app for you. Of the two Pomodoro apps in the F-Droid repository, it is the one with the better user experience and design. However, it is still an older app, so its design is a little dated compared to many modern Android applications. Despite that, it functions well, allowing the user to turn their phone into a Pomodoro timer.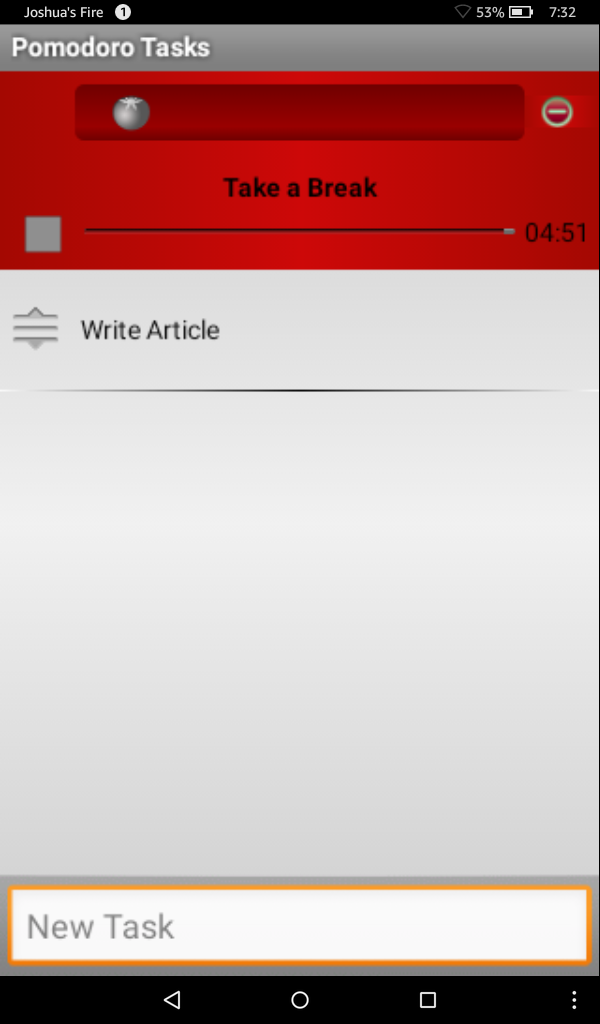 Simple Deadlines
Simple Deadlines focuses task completion. The fields available for creating a task are very spartan, just "label," "group," and a deadline. One major advantage this app has is the clear deadline countdown on the overview screen. This countdown displays the number of days until an item is due and the days left is displayed in a box that changes color as the deadline gets closer. Tasks due today or tomorrow are red and tasks due later are orange, yellow, green, or blue, depending on how far away the deadline is.
Simpletask Cloudless
For the more text-focused users, Simpletask Cloudless uses the todo.txt format for creating entries. Lists are created by prefixing words in tasks with the @ sign and tags are made by using the + sign as a prefix. Due dates are set using due: YYYY-MM-DD. Because the underlying data is stored in a simple text file, sharing your task list with other todo.txt-compatible apps is easy.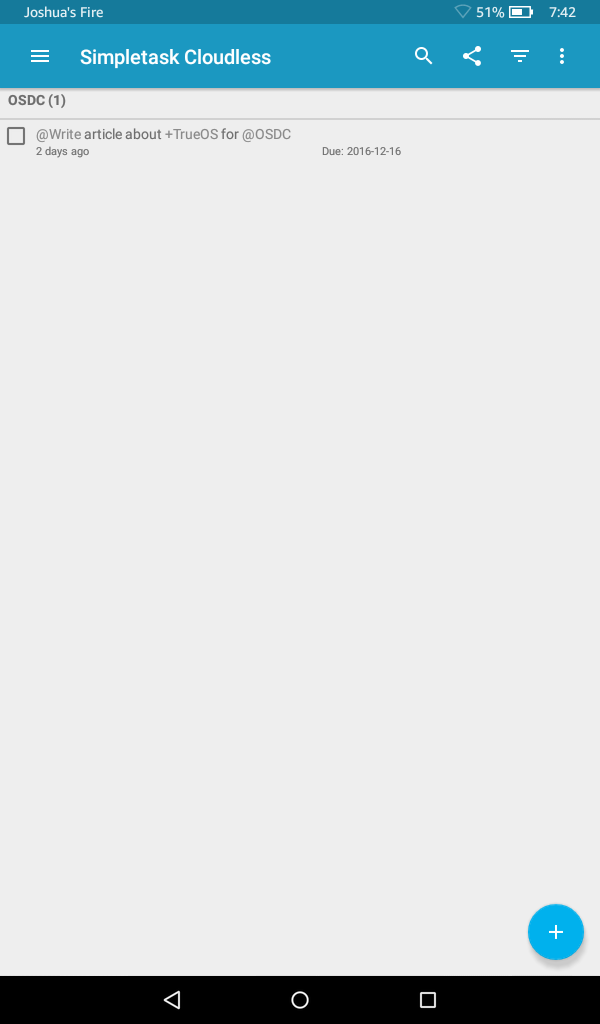 Simply Do
Simply Do is the most basic app on this list. It supports the creation of lists and list items. You enter a name for the item and nothing more. Each list item is either in progress or crossed off as finished. Long-pressing on an item brings up the option to add a star for high-priority tasks, but beyond that Simply Do is very simple (as advertised). For users looking for a bare-bones to-do list, this app is probably the right choice.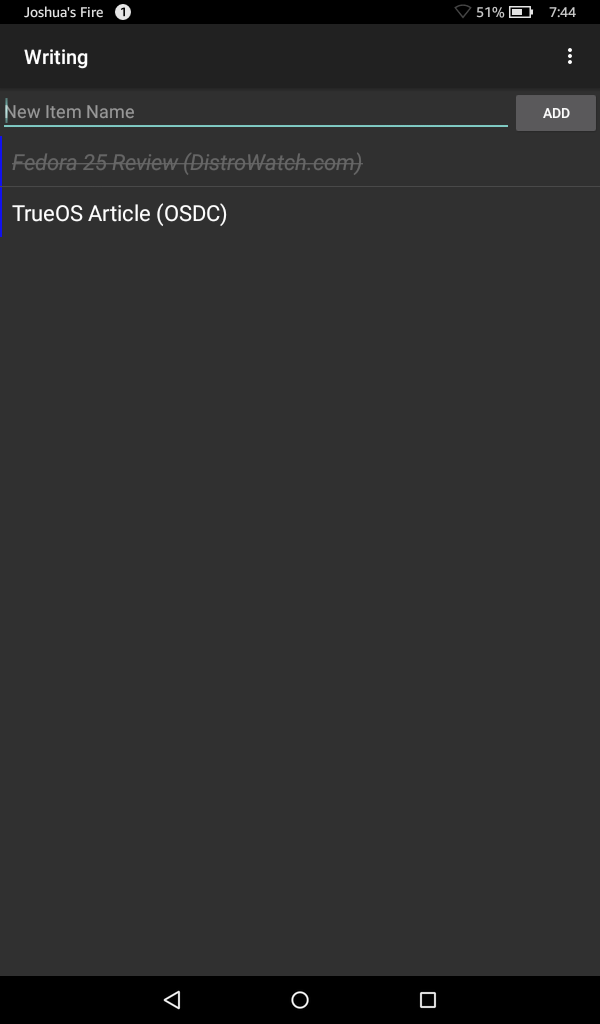 TasClock
A simple timer app, TasClock provides a way to keep track of how much time has been spent working on a task. Each task only has a name, so a task cannot contain extra descriptive data, but for basic tasks TasClocks is good enough. Having the timer running for multiple items at the same time is possible, but the app does not provide a detailed report for all time spent on tasks. The closest thing TasClock has is a detailed view for each individual task, which you can access by long-pressing on the task in the list.
Tasks
Another solid task manager, Tasks has an excellent feature set. You can assign to each individual task a deadline and priority. Also possible is hiding tasks until a certain date, so that tasks in the far future do not overwhelm you by showing up in the task list far in advance. Tasks has a simple timer option for adding to a task's entry its expected duration and how long you have already spent on it.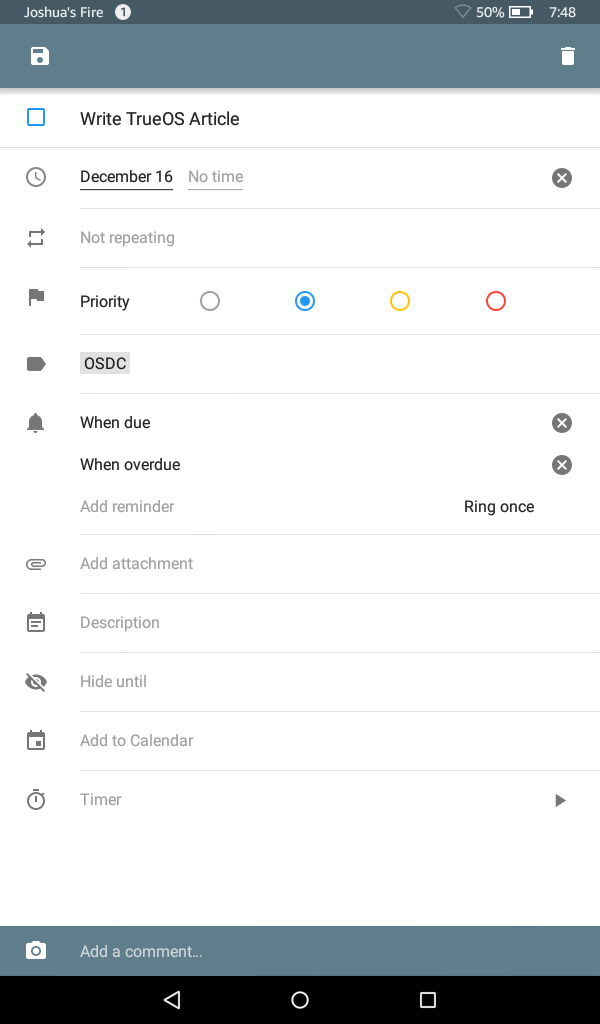 Timesheet
Timesheet can track the time spent working on various tasks. You can slot individual tasks as billable or non-billable. Selecting a task from the task list starts Timesheet's time tracking tool. You can have only one task active a time, so you need to take that into account when setting up your tasks. The app has daily and weekly overview modes, which show the amount of time spent on each task. You can export data from Timesheet to a CSV file for use in other programs.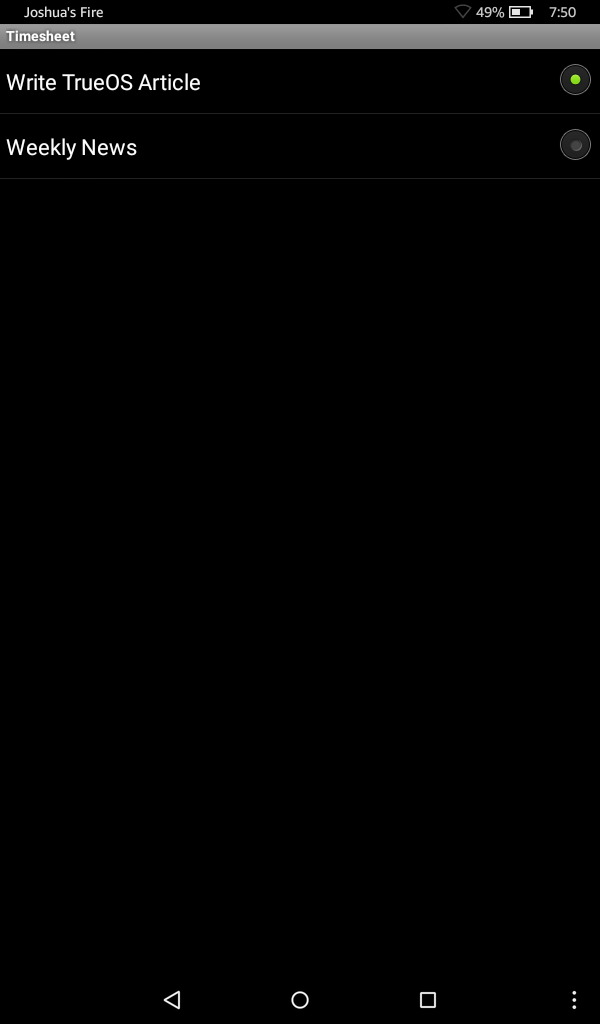 To-Do List
One of the apps developed as part of the Privacy Friendly Apps Project, To-Do List features a modern design while focusing on respecting your privacy. The app requires only the absolute minimal permissions needed to function, which in this case is the ability to run automatically when your phone boots. To-Do List supports multiple to-do lists, assigning deadlines to individual to-do items, and enabling reminders. The app has a calendar view, which provides a nice way to get an overview of upcoming deadlines.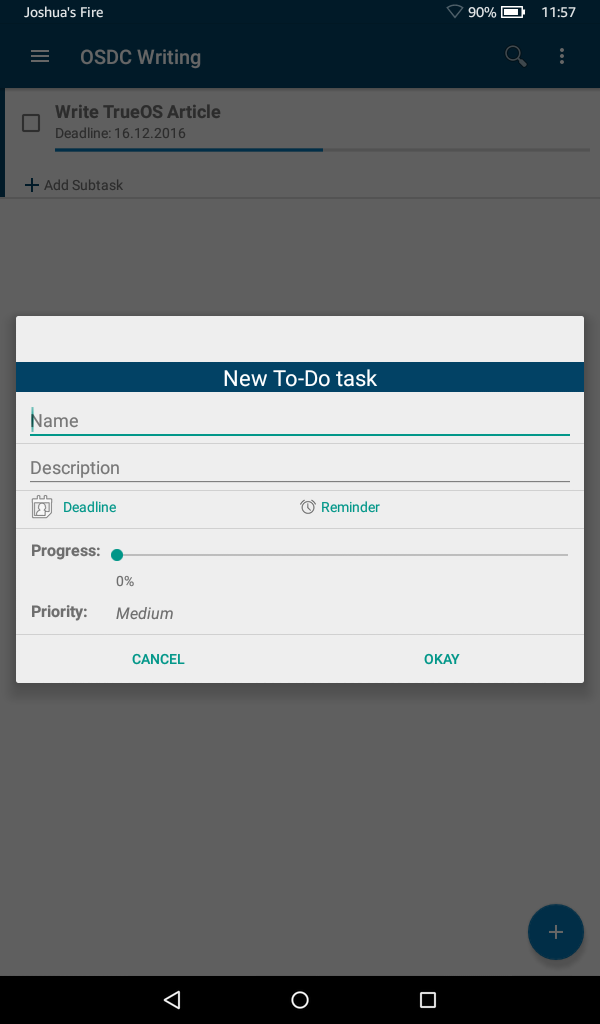 This work is licensed under a Creative Commons Attribution-Share Alike 4.0 International License.