Makerspaces aren't just a place to learn and build. More importantly, they remind us what community fellowship is all about.
In recent years, we've seen the rise of makerspaces, a new social invention where people with shared interests, especially in STEAM (science, technology, engineering, art, and math), gather to work on projects and share ideas.
I was intrigued when I learned about a makerspace in my community, because I had never heard of such a concept before. I've since learned that makerspaces offer so much more than just a place to learn and build. A well-run makerspace also knits together a community and its social fabric—and, most importantly, invites in people who might otherwise be marginalized.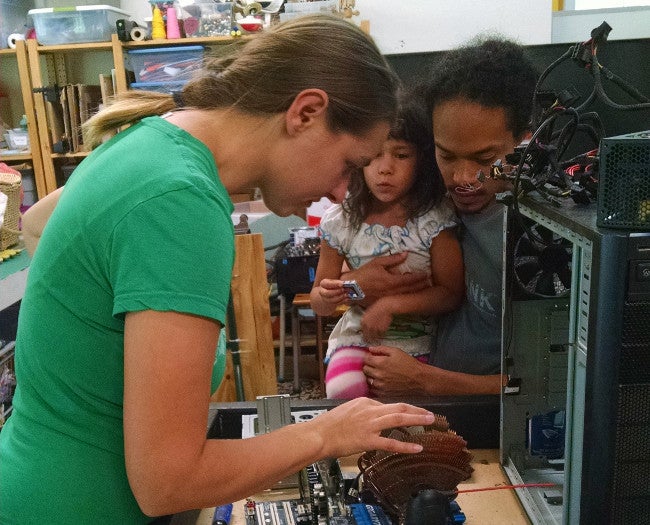 How my makerspace is helping the community
I'm fairly new to Linux, but I already understand how Linux and makerspaces fit together like peanut butter and jelly. In May I attended "Build a PC and Linux Install Workshop," a free event at Makerspace 125, a nonprofit, cooperatively owned STEM center in Greenbelt, Maryland, a suburb of Washington, D.C. Workshop participants earned a free PC loaded with Linux by learning how to refurbish a computer, thanks to the numerous computers and computer parts (such as hard drives and monitors) donated to Makerspace 125 throughout the year. 
Workshop volunteers helped the participants assemble their computers and install Linux. It warms my heart to see community members helping each other in this way, especially since many were strangers before the workshop.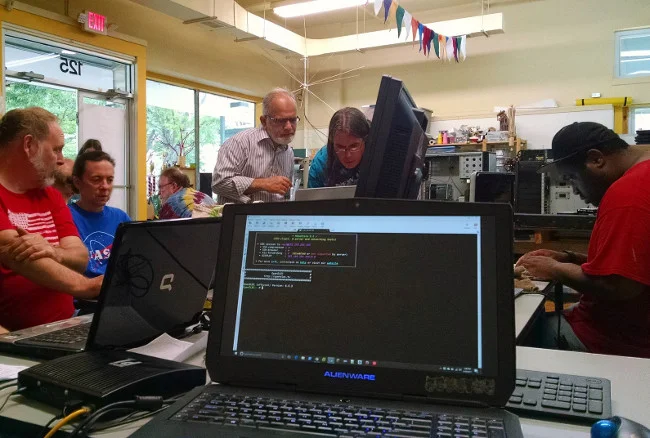 The workshop provides a great opportunity for cash-strapped folks to get a working computer. As you can see in my photos of the workshop, participants range from parents whose children need a computer to retired folks on fixed incomes.
Here's one example. My friend Ola Betiku brought his old Windows XP laptop to this event because the operating system wouldn't allow him to access his old files. He tried getting tech support, but Microsoft no longer supports Windows XP and wouldn't help him. But our local makerspace was happy to lend a helping hand. He walked in with an outdated Windows laptop and walked out with a smoothly running Linux laptop. He said he is thrilled to be able to access his old files and continue using his laptop.
How the makerspace is helping me
I feel uplifted whenever I walk into Makerspace 125. Its visionary founders are George Boyce, a retired computer-networking expert, and Eva Fallon, a retired NASA scientist. Their community spirit is exemplary.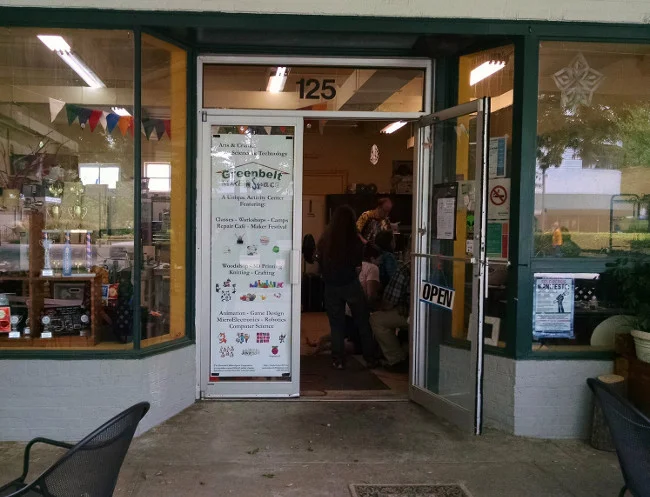 While I was slightly interested in Linux before, now I'm very eager to learn about it. As a technologist and artist/designer, I quickly fell in love with the white tiger that appears on the Ubuntu desktop. Now I'm curious about what kinds of animation I can do on Linux.
I started attending my friend Ola's weekly Sunday animation meetups at Makerspace 125, where we view various animations (ranging from Walt Disney to Japanese anime) while working on our own animation projects and trying to figure out OpenToonz, free open source animation software based on the high-end software that Studio Ghibli used in films like Spirited Away and Ponyo.
In April, The March of Liberty, an animation I created with Ola's coaching at Makerspace 125, was shown on the outdoor big screen at the Light City creative festival in Baltimore. I also shot a short reaction video at Light City when my animation was shown.
Weaving together our social fabric
In a society that seems to have lost track of what it means to be a community, makerspaces help remind us of what fellowship is about. I see now that Linux is the most logical way for makerspaces to weave together our social fabric, whether that be through Raspberry Pi, Arduino, or refurbished computer projects; Scratch training, Python classes; or any of an endless list of opportunities.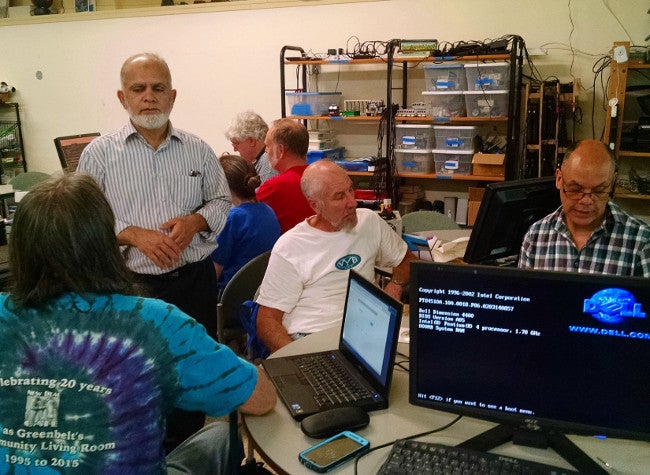 If your makerspace is not doing open source, it is time to start moving in that direction. You'll be helping your community and your makerspace, but the real rewards will be the smiling faces on the people walking in and out of your doors.
Kimberly Keyes | I am an artist and writer with a B.S. degree in Journalism from the University of Maryland at College Park. I am also well-versed in a variety of operating systems including Mac, Windows, Linux, iOS, and Droid who's always willing to learn new things.

This work is licensed under a Creative Commons Attribution-Share Alike 4.0 International License.