In the first installment in a three-part series, learn about the hardware you need to record or live stream speakers at meetings and conferences.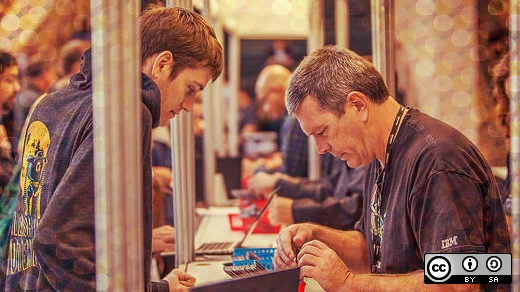 It's almost mandatory now for conference organizers to live stream and/or post speakers' recorded presentations on the internet. The good news is that, as we learned in June at EclipseCon France 2017, open source software and affordable technology make it easy to publish videos on YouTube or other video-sharing services without doing any post-editing or rendering—both of which can take a lot of time.
This tutorial on recording and publishing live presentations is based on our experience covering more than 50 talks over two days in four rooms at EclipseCon France 2017. We've split it into three parts:
part 1 will cover the equipment and venue information you need;
part 2 will explain how to set up your software before the conference; and
part 3 will explain how to record and troubleshoot any problems you may have.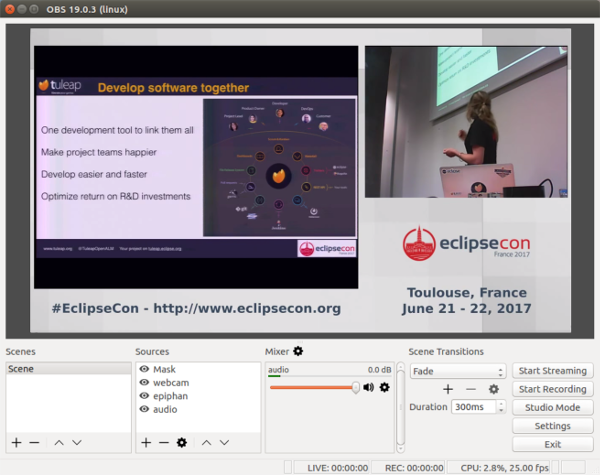 With this tutorial, you'll be able to produce a good 720p recording, which is high enough resolution for a basic conference presentation—and much better than a bad 1080p recording. You can also use these instructions to stream talks live, if there is enough internet bandwidth at the venue.
Keep in mind that the most important thing is the sound quality; it's essential for the viewer to clearly understand the speaker.
Prerequisites:
Core i5 PC (minimum) laptop with three USB 2.0 ports and a good hard drive
USB webcam
USB video acquisition device
USB sound card
Headset speakers
Microphone
Linux (in our case, Ubuntu) has been our most stable operating system, but Windows or Mac are OK if drivers are available for your equipment
Open Broadcaster Software (OBS) video-recording software
Inkscape vector graphics editor
Venue and presenter checklist
Before you get started buying or borrowing equipment, check with the venue to learn:
What kind of video device is available (projector, large screen, VGA, HDMI, etc.)?
What is the projector's form factor and resolution (e.g., 4:3, 16:9, 720p, or 1080p)?
What kind of adapters they can provide?
Is any A/V equipment included with the room or available to rent or borrow?
If there is a control room with a technician in the presentation room, can you get video and sound outputs from their system?
As early as possible, provide the following setup information to the speakers:
Explain the format and resolution in which to prepare their slides (based on the projector information from the venue).
They must bring a projector adapter for their laptop (you cannot provide adapters for all brands and models).
Have them tell you in advance if they will have a live demo and ask them to prepare it.
Equipment and devices
Following are the types of equipment you'll need, including, in some cases, options for specific models to consider.
Computer and operating system
In order to produce a 720p live video recording, a Core i5 or equivalent processor is a minimum, but there's no need for a separate graphics card. So, a laptop is enough.
If you are using Windows (preferably Windows 7 or 10), create a dedicated session and use it only for recording the presentations. Shut down (or at least restart) a Windows computer when you can, like at lunchtime or long breaks. Linux and Mac are usually stable for an entire recording day.
Whatever operating system you use, before you begin, check for and install any software updates. Updates consume a lot of resources and could kill your recording if the computer started updating in the middle of a presentation.
Also, if you are just recording and not live streaming, disable the network while you're recording. If you are streaming live, use Ethernet when possible; it is more stable than WiFi.
Webcam
We can't use the laptop's webcam because it's not turned on the right side; you would see the recording technician, not the speaker. That's why we need an external USB webcam. Any driverless USB webcam will work. Based on my experience, Logitech webcams are a good choice, as they work with Windows, Mac, and Linux out of the box. You don't need to buy the most expensive webcam, as a 640x480 resolution is good, but if you can, choose one with an automatic light control.
Video capture
The speakers will bring their laptops, and the venue has its own devices. You need to be sure that your equipment will fit in the middle. Look for a USB 2.0 video adapter device. Some are driverless and detected like a webcam, and some require a driver. If possible, test them with your laptop before ordering or purchasing.
Here are some vendors that provide cross-platform equipment and drivers. All are either driverless or have Linux drivers available:
Epiphan: Although Epiphan no longer makes its VGA2USB devices, it still provides updated drivers for Linux and Windows (but not Mac). The red model, VGA2USB, can record most resolutions. The orange one, VGA2USB LR, can do the job for most projectors. You can find the old Epiphan devices and cables on eBay or similar sites; make sure they come with the VGA splitter, cables, and adapters. Epiphan's new models should work without drivers and be recognized like a webcam. They accept both VGA and HDMI via a DVI input and all resolutions, including HD.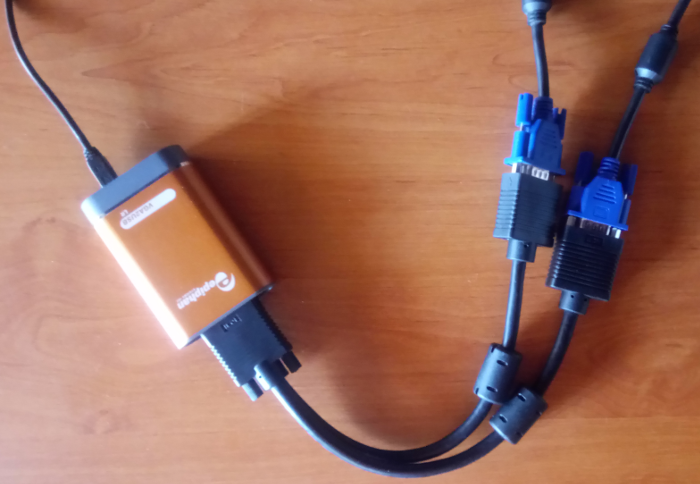 Blackmagic Design: Blackmagic's devices are either driverless or have cross-platform drivers (including Linux). Most of its equipment is designed for professional use. Consider Blackmagic's Web Presenter device. It is USB, driverless, and transforms HDMI or professional SDI input into a high-quality 720p for your computer. It includes a microphone input, so it's a perfect device for this use case. However, it doesn't work easily with VGA projectors, so check with your venue about its projectors before considering this device.
Game recording devices: There a lot of game recording devices on the web, most with HDMI inputs or specific analog inputs for old game consoles. Some are cheap, but take great care with their requirements and drivers, as most have been designed for Windows gamers.
Points to note:
If you need VGA (still used at a lot of venues), think Epiphan.
If you can use HDMI, then you have more options.
Brand-new devices are expensive, so if you are on a tight budget, consider a secondhand device. Check that all the original cables and adapters are included, or you will have to buy new ones.
Sound card
Because sound is the most important consideration when recording a video for the web, invest in a USB class compliant (i.e., plug and play) sound card. Like a webcam, it is driverless, so it works on any computer (including Linux) by just plugging it in. It doesn't have to be expensive, but there are some criteria you should look for before buying:
Be sure that it has good microphone pre-amps. If not, the sound will be bad or have a lot of background noise.
A trick to know whether a sound card is USB class compliant is to check to see whether it is compatible with an iPad. The iPad can only accept class compliant devices.
Make sure it has at least one microphone input and a jack output to plug in your headset for monitoring. Sound cards usually have a standard stereo jack output, so you might need to buy a jack-to-mini-jack adapter.
You can find a lot of cheap USB devices on the web, like so-called "audiophile" USB sticks. They can be good to listen to music, but not at all to record audio. If your aim is to share videos on the web, you need to have a good sound card in order to have a good speaker voice on the recording.
Here are sound cards to consider:
Presonus: Not all its devices are driverless, but the old Audiobox USB is. You can find on the secondhand market.
Behringer: This is the least expensive manufacturer, but its devices are very noisy. If you are on a very tight budget, the UM2 is your choice, but try to get the UMC22 with a better microphone pre-amp for a very little more money. We used a few of them to record speakers at EclipseCon France.
Focusrite: The entire range of Scarlett USB2 sound cards are driverless and cross-platform. The Scarlett Solo or Scarlett 2i2 are very good choices. You can find the first generation on the secondhand market, or buy a brand-new, second generation device, as it has better pre-amps. This is my favorite choice. It's reliable, with a strong box and good sound, and it's easy to use on Linux, Mac, and Windows. The peak meter around the gain knob is a top feature.
Arturia: Arturia is new in the sound card world, but it is a recognized digital audio vendor and musicians love its keyboards and synthesizers. Its Audiofuse sound card has drivers for Mac, Linux, Windows, iOS, and Android. It's a bit more expensive, but the sound is wonderful, and all the inputs and outputs let you work on other projects, too.
Blackmagic Design: While the vendor doesn't have a sound card, its Web Presenter video capture device includes one microphone pre-amp and it is detected as an USB sound card by the computer. That's why it fits on this list.
Microphones and cables
Depending of the context, you might want a wired or a wireless microphone. In both case, you need one that lets the speaker be "hands free," is easy to use, and provides good sound.
For this reason, lavalier (a.k.a., "tie" or "lapel") microphones are a good choice. They're pinned on the speaker's shirt or tie, 10cm to 15cm below the face. It's easy to share a microphone if there are multiple speakers, and if you need to record the sound of a video playing during a presentation, you can put the microphone near the laptop's speaker. You can also set it on a table, pin it to a laptop screen, plug it into a camera for an interview, or even record a music instrument. Lavalier microphones are very versatile. Just make sure you check the input level before you start to record.
Headset microphones (worn on the speaker's head) are another option, but they are more difficult to use. You have to check that the microphone is not too close or too far from the speaker's mouth and you can't use them in other applications. 
You also need professional microphone cables with XLR connectors. Don't buy the cheapest cables—they will break at first use—whereas reliable cables will last for years and are not that expensive (EUR 15 is a good price for a 3-meter cable). 
Wired microphones are less expensive than wireless, as they don't require a transmitter and receiver. You can find good ones between EUR 100 and EUR 150. Most of them need phantom power. If you use your microphone with a USB sound card, that will work, as they have this feature. However, if you plan to use it with a consumer camera, you will need a power adapter (usually a small box that holds a battery).
Three ready-to-use wired tie microphones that I've worked well with are:
Audio-Technica Pro 70, with the power adapter and XLR output, works very well. Be careful with the microphone's thin cable, because you can't change it. 
AKG C417 PP is also ready to use. You can also consider the C417 L and its adapter, AKG MPA VL.
Audix ADX-10 FLP is a full, ready-to-use set, and you can also unplug the microphone from the adapter and use it with a wireless system.
Some of these offer equivalents in headset mode, and there are many other vendors manufacturing very good microphones. Be very careful when buying or borrowing to make sure you find their dedicated power and XLR adapters.
Many wireless microphones are expensive, although you can find good ones between EUR 200 and EUR 600. Sometimes venues offer them to rent or borrow, saving you the cost of purchasing them.
If you really want to buy a wireless microphone, here are things to consider.
Countries and frequencies: Different countries require specific frequency ranges, which may mean you need location-specific transmitters and receivers. Be very careful about this. Some models are area-specific (e.g., only usable in the European Union or North America), while others can be used everywhere—but are generally more expensive. Take the time to read the documentation before ordering anything to make sure you can use the mic in the country (or countries) where you'll be working.
Number of wireless microphones: If you're recording in only one room, that's easy: you need one microphone transmitter and one receiver. But, if you're recording in four or eight rooms in the same venue, you need to ensure your transmitters and receivers are paired and will not create interferences with one another. In this case, you will need devices that can handle many transmitters/receivers in the same area.
Here the wireless microphone setups we used at EclipseCon:
AKG WMS 420 Presenter Set is simple to use, not expensive, and has very good sound to record a talk. The receiver has an XLR output. You can select among eight channels for simultaneous use of eight sets at the same venue. It is available in many frequency bands, depending of your area, so choose the right one carefully. 
Sennheiser EW 112 G3 set is a serious device. It has more than 12 channels, presets, and is available in various frequency bands to cover the most possible areas (check which one you need). You will find it at a lot of venues, shows, and events.
Other manufacturers make very good devices, too; have a look at Shure or Audix for an equivalent of the Sennheiser set. The RodeLink Filmmaker Kit is interesting if you want to use it with a camera, too.
Receiver outputs
You may find three different types of receiver outputs:
XLR output is the preference for this use case. A classic microphone cable plugs into the sound card input; easy and simple.
Mini-jack output is used with consumer cameras. You will need a specific adapter to use it with the USB sound card (mini-jack-to-XLR); check if it is included in the set. The receiver is usually small and requires batteries too.
Jack output is designed for instruments like electric guitars to plug it into an amplifier. If your sound card has a jack input (or a mixed XLR/jack input), it will work, but the sound quality might be poorer.
Batteries
The microphone transmitters (and some receivers) need batteries. A good practice is to check the battery level before each talk. If you have any doubt, change the batteries so you are sure that they will last the entire talk. It also means that you need a plentiful battery stock, ready, right next to you.
Put it all together
Now that we've assembled our hardware, it's time to plug it all together. When you finish, it should look something like this:

Here are specific things to keep in mind, depending on which video equipment you're using:
The Blackmagic Design Web presenter has video and audio in one USB box and includes the HDMI loop, so you don't need a splitter.
The Epiphan VGA2USB must be used with a VGA splitter cable, which is usually included in the device box.
If you have an Epiphan with a DVI input, don't forget to buy VGA or HDMI splitters. It's easy to order them on the web.
Coming next
Part 2 of this series describes how to use Open Broadcaster Software and Inkscape to prepare for recording, and on Friday part 3 will explain how to record a presentation and troubleshoot anything that goes wrong.
Community manager at Hyland. Founder of Une Jolie Musique, a not for profit studio using open source and open source based software only to record music and produce videos. I also teach and advise on open source, and write tutorials. Involved in various Open Source and Free Software projects and communities for many years.

This work is licensed under a Creative Commons Attribution-Share Alike 4.0 International License.
Find the perfect open source tool
Project management, business intelligence, reporting, and more. Check these popular projects.