Learn advanced SSH commands with the new cheat sheet
Learn advanced SSH commands with this cheat sheet
We round up handy SSH commands to help you connect to remote servers.
Subscribe now
Get the highlights in your inbox every week.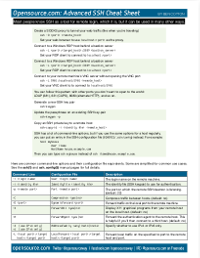 Secure Shell (SSH) is a powerful tool for connecting to remote servers. But with all that power comes a dizzying array of options and flags. The ssh client command has many options—some for daily use and some arcane. I put together a cheat sheet for some common SSH uses. It doesn't begin to cover all the possible options, but I hope you find it useful for your remote access needs.