Get caught up on the latest open source headlines.
273 readers like this
273 readers like this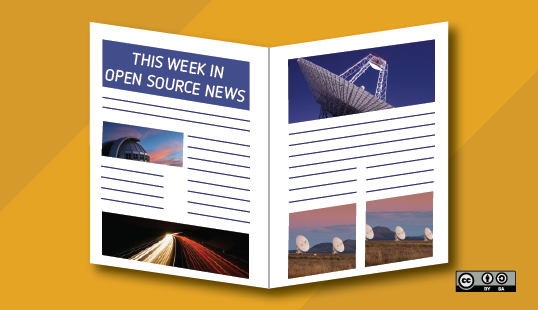 In this edition of our open source news roundup, we take a look three governments turning to open source, open sourcing driverless car safety practices, a school district developing an open source curriculum, and more.
Three governments turn to open source
It's no secret that governments around the globe are moving to open source, both to cut costs and to better protect their data. Recently, three national governments have made significant strides into the open world.
First up, the German government announced it's shifting 300,000 employees to Nextcloud, the popular open source file storage and collaboration platform. The government chose Nextcloud because it was the best option to build a private cloud it can control, one that "would not allow access to data by any third party" and would comply with the GDPR.
Next, Israel is starting down the path to making the code crafted by government departments open source. The code for the government's web portal gov.il will be the first to be released to the public, with other services being encouraged to follow suit. The Israeli government states, "the code was developed at public expense and should therefore be accessible to members of the public."
Finally, the UK's Ministry of Justice has just released an open source data analysis platform. The platform, built on Amazon Web Services and Kubernetes, supports "secure environments running analytical software such as R Studio and Jupyter Lab." The tools built on the platform include a machine learning suite to analyze text and a statistical package.
Open sourcing safety practices for driverless cars
There's a lot of skepticism about their safety of driverless cars, especially in light of several highly publicized accidents. A startup called Voyage wants to change that by open sourcing its "safety procedures, documents, and code in the hope of avoiding future deaths."
These materials, dubbed Open Autonomous Safety (OAS), are "step-by-step scenarios that detail how its cars should respond to hundreds of situations, primarily focused on suburban environments." Oliver Cameron, Voyage's CEO, says that "because OAS scenarios are written from the viewpoint of how a car should ultimately behave, they should be applicable regardless of the vehicle being developed or the technology it uses."
Tennessee school district to develop open source curriculum
When you think of open source education materials, you probably think of university textbooks. Williamson County Schools in Tennessee is bringing that ethos to primary and secondary education by an open source social studies curriculum. The curriculum "helps tailor educational material to the district's learning objectives," and will be "implemented in the 2019-20 school year."
This is the second open source curriculum the district has developed. In 2017, it created a science curriculum that saved the district $3.3 million. Tim Gaddis, the district's assistant superintendent for teaching, learning and assessment, estimates the social studies curriculum will save $3.5-4 million.
FOSSology celebrates 10 years
An open source project you've probably never heard of has hit a significant milestone. FOSSology, an open source license compliance toolkit, has turned 10.
In its first 10 years, the FOSSology project "has been more successful than anticipated, because license compliance was a very special topic, and running it as an open source project is also difficult," say project participant Michael C. Jaeger of Siemens AG. There's still a lot of work to do, says Jaeger, who points out that "FOSSology needs to shift its focus from correcting scan results of not-well-formed licensing to licensing analysis and license problems on the component level."
In other news
Thanks, as always, to Opensource.com staff members and moderators for their help this week. Make sure to check out our event calendar to see what's happening next week in open source.
I'm a long-time user of free/open source software, and write various things for both fun and profit. I don't take myself all that seriously and I do all of my own stunts.

This work is licensed under a Creative Commons Attribution-Share Alike 4.0 International License.