The team at French non-profit Framasoft reflects on where the company is today and its vision for the future.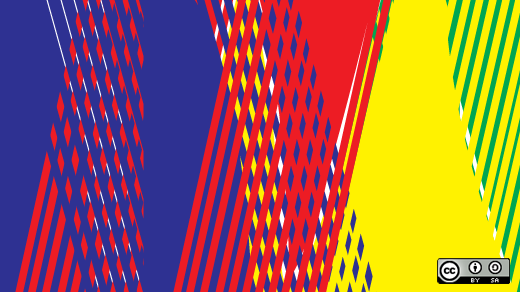 In an earlier article, the crew from French non-profit Framasoft discussed their mission to help people slip the bonds of internet giants and take control of their own data. While promoting free and open source software is at the core of Framasoft's mission, the group is also dedicated to educating people about both free software and free culture. What's refreshing is that the group's approach isn't steeped in ideology. Instead, they're more concerned with helping people take back their privacy and digital freedom.
Here, the team discusses how people have reacted to their work and where they plan to go from here.
Scott Nesbitt: What has the reaction been to your efforts?
Framasoft: Not to pat ourselves in the back, but Framasoft is quite popular in France. Most of our financial resources come from donations. So we can get a feel, almost in real time thanks to some dashboards, of how people are satisfied with our work. At this time, people are reacting very positively to our message and feel more and more affected by data privacy and sovereignty issues.
We present Framasoft at many events across France. Many people come to us just to say thank you. It's a great feeling and [gives] a sense that we're doing the right things.
SN: Why did you choose the particular applications that make up Framasoft's suite?
Framasoft: First, it has to be a free and open source software. Choosing closed source software would be contrary to our principles.
Then, the software must be mature enough to be used by an average user (not a geek). A set of minimal features has to be there, as well as a user experience that makes usage simple.
The quality of the documentation is also important, from the point of view of the end user as well as the developer.
SN: How do you support the projects that you use?
Framasoft: We always give credit to the project behind a particular Frama tool. As I mentioned earlier, we always explain how anybody can use the software, or even how they could install the software on their own hardware.
We try to support the development of the application we've chosen. Sometimes we bring some new functionalities to the application and we contribute them back to the project. Since we host the software ourselves, we'll often contribute maintenance patches to these projects. We even pay some developers so they take time to work on the project, be it on features or maintenance.
SN: What do you think is missing from the set of tools that Framasoft offers? Do you plan to add those missing tools if possible?
Framasoft: Framamail, which would host email for crowds, would be very useful since email is one of the greatest powers of Google. However, we've decided that we will not propose it because email server maintenance is hard. It is very complicated to maintain; it needs a lot of money, expertise, and time.
The big players have so much power on the network that they can define their own rules for handling emails not coming from one of them. For instance, some will decide that if they don't know your domain name, they will just put your emails in the spam folder by default. Or you could get blocked by one provider and have your emails bounced with no explanations. So we prefer to let entities entirely dedicated to this take care of email.
SN: Do you plan to add or remove applications from the suite?
Framasoft: We can never promise that any suggested application will be online tomorrow. We are not a software development company, nor are we a SaaS provider. [We are] just a group of friends making a demo and showing that it's possible. Sometimes it's a huge demo.
Our goal with the Frama tools is a proof of concept: See for yourself that it works; it is not expensive; it is free (as in free speech); you can do it as well. So let's do it!
We would like to propose alternatives to giant services that have no viable alternatives, going to places where no one has been. For instance, we'd like to propose an alternative to YouTube that is economically viable for small hosts, and we've decided to fund it, if not host one instance in the future.
SN: Do you know what the most popular application is?
Framasoft: One of our most popular applications is Framapad, an instance of Etherpad, which is a collaborative notebook. Anyone can show up without subscribing, write up stuff, and see what everybody has been writing in real time.
[Another popular application] is Framadate, an alternative to Doodle. It allows you to propose a basic poll to people to agree on dates, times, or any other topic.
SN: Who uses Framasoft?
Framasoft: Both individuals and organizations use it. Friends use Framadate to know who brings the pizza and who brings the chocolate cake. Organizations use Framapad to write documents as a group.
Most of the people who use the tools are average users. We try hard to make the tools easy to use. Technical users can install the tools on their own servers. However, they often use ours because it is simpler; [they are] already up and running.
SN: Do you know how many people use Framasoft?
Framasoft: No, because we do not track people who are using our services we have the drawback of not knowing how many different users we have. We have a few other interesting metrics, like the number of visits on each service (in French only).
SN: Do you know why they use Framasoft's tools?
Framasoft: Some of them do not use the tools because they are convinced of the value of free software (at least, not yet)—they use the tools because they are useful and convenient and because they trust us. And therefore, if they read about who we are, why we do it, they might be convinced and become promoters of free software. It is a good idea to talk to people. It is not enough to change their habits.
SN: How do you protect the data and privacy of the people who use the hosted version of Framasoft?
Framasoft: Our technical team implements security practices recommended by many organizations. We update software as soon as security flaws have been found and patched, propose two-factor authentication and use zero-knowledge applications as often as possible, use monitoring and banning against attackers, set up multiple backups in different geographical locations, and so on.
There are also a few human factors involved. Only a very small number of people have access to the server on which the data is stored, with strong passwords automatically generated. Although we're a French nonprofit and must respect French law, our servers are not located in France, thus escaping the U.S. law and making it harder to the French government to seize and inspect hardware.
Also, the best way to protect the data of the users is to just not take too much of it. For a lot of services, we don't need any authentication at all. When we do, we just require the minimum amount of personal information—email, login, and password—when you're signing up. Passwords are then hashed so they are not stored in clear text.
SN: Where do you see Framasoft in two years? In five years?
Framasoft: We do not want to get bigger. Framasoft will definitely stay an actor of the free software community.
We recently decided to give a bigger part to our political influence. We wanted to stay as neutral as possible because freedom has no political colors. But we are now aware that our actions are not only a question of software. Free software is politic in itself. Now we're trying to focus more on activist groups that help us move toward this ideal world vision by providing tools and support for their missions.
In the past, as a joke, we often said that we were about to change the world. Actually, we are.
SN: How can people support Framasoft?
Framasoft: The simplest way for people to support Framasoft is by making a donation (either at the Framasoft website or via Liberapay) so we can work and devote resources on the issues that matter.
Our tools are free software. Anyone can help by writing code, offering translation services, giving feedback about user experience or user design, and proposing new projects.
Thanks again to the Framasoft team for taking the time to participate in this interview, and especially to Jean-Bernard Marcon, who coordinated between the team and me.
I'm a long-time user of free/open source software, and write various things for both fun and profit. I don't take myself all that seriously and I do all of my own stunts.

This work is licensed under a Creative Commons Attribution-Share Alike 4.0 International License.