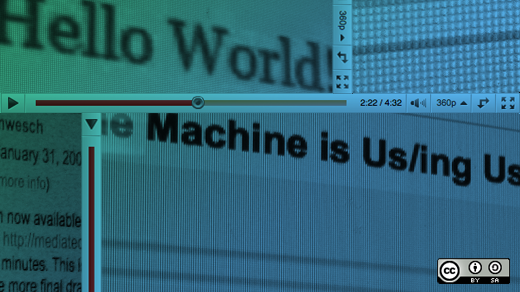 So, how does an unknown anthropology professor from Kansas make a home movie on a "cheap computer" in his basement that beats out all the $3.6 million Super Bowl ads and transforms him into a Web 2.0 rock star? This story begins and ends with the free and open user-generated media-scape.
Michael Wesch is practically a household name these days--at least for those who explore the impact of emerging technology and media on business and society. His YouTube video The Machine is Us/ing Us has garnered almost 11 million views since its release on January 31, 2007.
I use a follow-up video (see below) in the classes I teach because Dr. Wesch does an excellent job of describing how the various components of this evolving media-scape coalesced around his video to propel it to the top of the YouTube charts during Super Bowl weekend.
In his address Wesch describes how web services such as Digg, Del.icio.us, RSS, blogs, Technorati, Facebook, and MySpace have created an open and free user-generated alternative to the traditional broadcast media channels. He further argues that the collective tuning and syncopation of this open and free network by its users is what propelled his oeuvre ahead of the multi-million dollar commercials from the likes of Bud Light and Doritos on Super Bowl Sunday.
In essence, Wesch's experience with his video allowed him to understand firsthand that the IP Network had become an alternative to the Broadcast Network. YouTube is essentially a platform that provides a user-generated alternative to enterprise studio and broadcast approaches for media access and distribution. Each day about 9,000 hours of video content is uploaded to YouTube.
To put this in context, aggregating all the programming of the three primary networks (ABC, NBC, and CBS) for the past sixty years would result in a total of 1.5 million hours of video programming. Those 1.5 million hours are equivalent to less than 6 months of the content submitted to YouTube.
With the arrival of Web 2.0 technologies that enable users to share, participate, and collaborate in the co-creation and distribution of their own media, the Media and Entertainment industry is being challenged on multiple fronts as it seeks to redefine its structure and business models to address the threat of user-generated content creation and distribution.
The web may be us/ing us, but there are certainly many of us using Creative Commons licenses to open up the web as a platform for new forms of creative expression and wealth creation.
What opportunities and threats does this new free and open user-generated media-scape present to your industry and your enterprise. And how might it change the way you will live, work, and learn in the future?
Tony O'Driscoll Ed.D. is a Professor of the Practice at Duke University's Fuqua School of Business where he also serves as Executive Director of Fuqua's Center for IT and Media; a research center dedicated to understanding the strategic, structural, operational and business model issues associated with these vibrant and volatile sectors.

This work is licensed under a Creative Commons Attribution-Share Alike 3.0 Unported License.