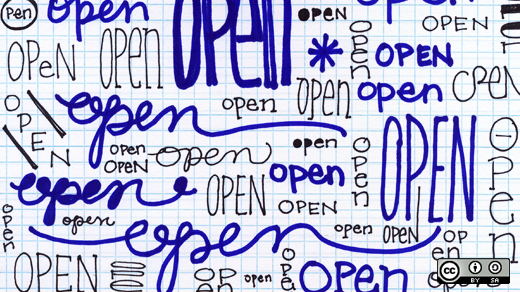 More than ever, companies are embracing the principles of open source to make major improvements, both internally and externally. Openness, transparency, democratization, and collaboration can be used to make your business a better place to work and create a better culture.
Be transparent 
Encourage employees to provide candid feedback. Have a review process with frequent C-level updates on how the feedback is being acted upon. Asking questions and providing the means for open communication between employees and customers makes identifying issues and making improvements much easier. Be clear about company goals, financials, and how individual performance is measured. A great discussion of the trust that can be built by corporate transparency was hosted in this open thread. 
A culture of openness (including doors)
The days of all the "important" people sitting behind closed doors should be long gone. Honestly, most of the companies applauded for innovation or creativity have open cultures and office setups. Tony Hseih, CEO of Zappos.com, sits in a cube like all the rest of the Zappos team. The only offices in their entire building are for jobs that need privacy--like legal and finance. Foregoing secrets for openness helps ensure that everyone is on the same page and working towards the same goals. About.com has a great guide to how an open door policy should work. It could get you headed in the right direction. 
Every idea is equal
 Ideally, interns should have the same level of influence as the C-suite. Embracing this mentality and giving everyone equal opportunity to make an impact is extremely important. Many companies have a review process that rewards great ideas, process improvements, or innovations. These sorts of behaviors encourage participation and incremental advancement.
Host and foster collaboration
When was the last time you had a great brainstorming session with your colleagues? Disney has multiple 'professional brainstormers' who foster innovation sessions to keep everyone involved and thinking creatively. Gert Garman, one of Disney's Creative Directors, recently discussed an example of a Magic Kingdom employee who raised concerns about the stroller rental process and proposed a new solution. Now, every single stroller rented in a Disney park runs through the streamlined process proposed in an innovation session by someone who many companies wouldn't take the time to listen to. Dedicate time to collaborating and working together to make your business better.
How is open source making your company a better place to be?
Chris is a marketing and branding dork currently leading the marketing efforts for Phonebooth.com. Follow him on Twitter @cnmoody or connect on LinkedIn at linkedin.com/in/chrismoody.

This work is licensed under a Creative Commons Attribution-Share Alike 3.0 Unported License.