Almost every time I've turned on the television in the past week, I've seen an ad for Google Chrome. What started earlier this year as a sprinkling of ads here in the United States has become a torrential downpour.
For me, Google has long been one of the poster children for a new breed of company born in the age of the Internet that doesn't need to rely on traditional advertising to build its brand.
So, as I'm sure many of you have, I started asking myself, why exactly is Google doing so much television advertising?
It's no secret that Google has historically not been a fan of traditional advertising. In fact, it wasn't so long ago (2006) that Google Chairman Eric Schmidt called advertising "the last bastion of unaccountable spending in corporate America."
And Google is certainly an interesting paradox: a company that historically does little paid advertising itself, yet makes billions of dollars selling advertising to others.
I did a little research and pieced together some history about Google and television ads.
In May, 2009, the first ad for Google Chrome appeared on television in the United States. In the blog post announcing the new spot, Google sounded almost apologetic, saying the ad was originally just developed in Japan as a web video, but it sparked a conversation and received good feedback. So Google decided to run it as a TV ad, in part as a test of the new Google TV Ads program.
The next year you may recall that Google actually bought an ad on the Super Bowl, which they called Parisian Love.
Eric Schmidt announced the spot on the Google blog, justifying it by saying "we liked this video so much, and it's had such a positive reaction on YouTube, that we decided to share it with a wider audience." But his Twitter announcement of the ad acknowledged that this was quite a unlikely strategy for Google:
Earlier this year, Google began developing the current set of ads for Google Chrome in partnership with advertising agency BBH.
The work is compelling, as advertising goes (here's a link to all of the spots on YouTube, if you want to check them out). Perhaps the most thoughtful one highlights the It Gets Better Project, which has resulted in thousands of videos being created for YouTube that are intended to give hope to LGBT youths.
The Dear Sophie spot has been viewed on YouTube over 3 million times, and there are ads featuring Lady Gaga (4 million page views) and Justin Bieber (almost 2 million pages views) as well. The newest pieces highlight The Johnny Cash Project (where artists are collaboratively developing a tribute music video for Cash's song "Ain't No Grave"), Frank Restaurant in Austin, TX (mmm…. so delicious… don't pass up the waffle fries), and Angry Birds.
From a branding perspective, the ads make sense–as stories. By telling these stories, Google and BBH are invoking the transitive property of branding to associate Google Chrome with some incredibly innovative collaborative efforts. The math looks something like this:
Lady Gaga = open, collaborative, innovative.
Google Chrome = open, collaborative, innovative.
Therefore, if you like Lady Gaga, you'll like Google Chrome.
Certainly getting ten million combined pageviews on YouTube for the campaign is pretty awesome—and free—so why spend the big money to put these ads on television too? Isn't the beauty of the Google / YouTube model that it can be effective at eliminating the need for traditional advertising?
Perhaps Google is trying to expand its brand awareness with people it can't reach via YouTube? But why spend the money on Google Chrome, a web browser (and a term Google itself has shown that almost no one understands), rather than the Google brand itself?
My first thought was that perhaps Chrome was losing the browser wars and the television ads were a desperate attempt to keep the Chrome ship afloat.
It turns out that is about as far from true as you can get. Chrome is killing it. According to StatCounter, Chrome is rapidly gaining new users at the expense of Internet Explorer and Firefox both.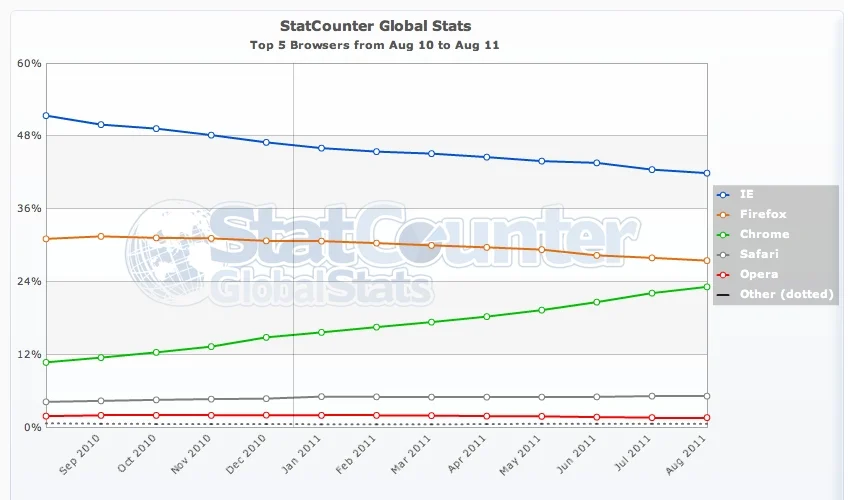 In fact, some predict Chrome usage will actually exceed Firefox usage by the end of this year.
A victory for traditional advertising?
Not so fast. Here's a good post from late this summer highlighting Chrome's rapid ascent and documenting the reasons for it. From the post:
"Online, Google of course has a huge marketing advantage over basically everyone else since it can recommend its Chrome browser on its web properties such as Google Search, YouTube, etc. Not even Facebook can compare with Google when it comes to sheer web presence, reaching over a billion users.
That said, Google has clearly built a very good and highly popular product. If people didn't like Chrome, the browser wouldn't be able to retain users to the extent it seems to be doing."
So the two reasons for Chrome's success come down to:
1) the browser is good
2) it can leverage the power of Google's online advertising engine (yes, the same engine that millions of companies have raided their traditional media advertising budgets to spend more on, causing the rise of Google in the first place).
But I didn't see Google's television advertising strategy mentioned here, or in any other article I read, as an explanation for Chrome's rapid ascent.
Let me sum things up:
I get why Google is making the effort to create stories like these and share them with the world. Storytelling is an extremely powerful tool for building brands the open source way. 
And overall, I like the approach Google is taking—many of the stories are really well told, and the focus on open, collaborative projects and artists (not to mention tasty hot dogs) sits well with me.
But I can't for the life of me figure out why Google spending so much of its shareholders' money putting these ads on TV.
If you have the answer, I'd love to hear it.
Chris Grams is the Head of Marketing at Tidelift and author of The Ad-Free Brand: Secrets to Building Successful Brands in a Digital World. Twitter LinkedIn Email: chris(at)tidelift.com

This work is licensed under a Creative Commons Attribution-Share Alike 3.0 Unported License.