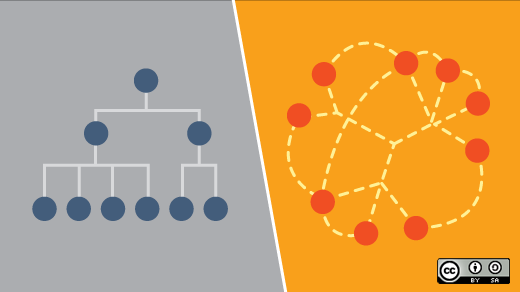 In October 1969, when experts at the US Department of Defense Advanced Research Projects Agency (DARPA) connected the first two nodes of what has now become the Internet, they probably weren't considering the ramifications of their actions on future organizational cultures. But while these DARPA folks likely wouldn't have considered themselves management innovators, the Internet they created has rocked the traditional management science to its core.
Sure, organizations have embraced the technological changes that have come with the Internet (or they have not, and have since disappeared). But fewer organizations have truly embraced or even begun to understand the cultural changes that the Internet has ushered in.
We may live in 2011, but given how many of our organizations are structured, we might just as well be working in 1911.
Fundamentally, traditional management and the Internet are at odds over one simple thing:
Traditional management is designed for control. The Internet is designed for freedom.
That's why the principles used to manage assembly line workers in 1911 are often rejected in 2011 by a new generation of employees who have grown up enveloped in the freedom of the Internet. To them, the old management model is an anachronism; a legacy system held onto by an aging generation of leaders who are unwilling to give up control because they see freedom as a threat.
In volunteer-based community settings, efforts to exert control are often poisonous. Volunteers will simply quit before being forced to do something they don't believe in or value. Yet in traditional organizational settings, control—over people, resources, and information—is a fundamental lever.
If you'd like to see your organization become more aligned with the spirit of the Internet than the legacy of traditional management, consider looking for places to replace control-based practices with freedom-based practices.
If you manage people, start thinking of your staff members as volunteers in a community. By giving them more freedom to choose things they'd like to work on while giving them additional say in their own futures, you stand a better chance of keeping them feeling like... well... paid volunteers.
When employees are forced to work on projects they haven't chosen, and don't believe in or value, they may not actually quit their jobs, but they will often quit in every other way—doing just enough to get by and keep their job safe, or in some cases even undermining the effort.
Often this is a fate worse than having them quit. They become organizational drones, complacent, indifferent, and dispassionate. They'll stop contributing ideas because they think no one cares. They'll stop giving full effort because they think it doesn't matter.
Replacing control with freedom is a great way to inspire your employees to view themselves as volunteers, deeply engaged in achieving the organization's goals, rather than drones or mercenaries, who seek only safety and a regular paycheck.
Moving from control to freedom is one of the most difficult transitions an organization (or even just a manager) can make. This transition requires much more than simply a good strategy for change—it requires a will to change. Those in charge—the very people who have the most to lose by giving up control—must make a decision that granting freedom is a strategic imperative. The competitive landscape is littered with the carcasses of formerly successful organizations whose management team did not know how—or didn't have the will—to make the leap.
The strategic decision to change a control-based culture into a freedom-based culture is not one that leaders should take lightly, and it is not necessarily right for every organization in every situation. But in order to compete with companies born in the age of the Internet, employing the children of the Internet, and built in the spirit of the Internet, in the long term there may be few other options.
Chris Grams is the Head of Marketing at Tidelift and author of The Ad-Free Brand: Secrets to Building Successful Brands in a Digital World. Twitter LinkedIn Email: chris(at)tidelift.com

This work is licensed under a Creative Commons Attribution-Share Alike 3.0 Unported License.