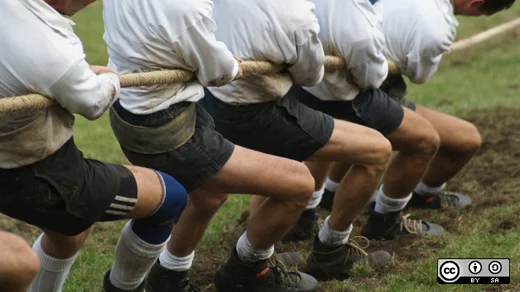 The life of a community manager is challenging and rewarding. Building systematic ways to engage a community and understanding why they value being part of the group they've chosen is what I find most challenging. Celebrating the successes of the community is what I've found most rewarding.
Since the very beginning, I knew that we wanted to build a community around the philosophy of the open source way at Opensource.com. That would be easy because once people understood the benefits of open source, they'd be onboard, right? But, what would be the best way to reach new people? Who would participate? How and why would they want to? All of these questions were swimming around in my head. When I set out to find the answers, I could tell it wouldn't be easy. Understanding group dynamics is a complex beast, but one that comes with satisfying rewards.
Engaging our Opensource.com community
At Opensource.com, we've tested and tried many different tactics to foster community engagement. Lucky for us, many of them have been successful. Here I'd like to share several lessons I've learned as the community manager at Opensource.com as well as lessons our whole team has learned in the process. I think you can apply to your community, team, or organization.
Lesson 1: Celebrate your community and recognize their efforts
The one year anniversary of the publication website being live was fast-approaching, and we wanted to do something special for the community, but we weren't sure what. Instead of congratulating only our internal team and giving out high-fives in the office, we decided to celebrate our community. We sent out Tshirts and launched a yearly award system. It was a success... My staff and I felt proud, and our community felt valued. Every year since then, we've recognized the efforts of our community with accolades like the People's Choice Award and the Moderator's Choice Award. Over the years, we've extended these honors to include awards like Social Sharer, Conversation Starter, and the Reader's Choice Award.
Lesson 2: Find the stars in your community and help them shine
In January 2013, Opensource.com launched a Community Moderator program with four volunteers from the community. Since then, we have grown the program to include 10 volunteers; they contribute at least one new article a month and support the community by sharing their favorite content on social media. Requirements and perks for those who volunteer with the Community Moderator program have evolved over time, but one thing has remained consistent: these volunteers are highly engaged.
Lesson 3: Provide your community with opportunities and see what ideas spark
We get a lot of one-time contributions to the site. Usually someone will stumble upon a story we've published and realize they have something they could share too. Often, they contact us through our webform or via email and pitch their idea. If the editorial staff thinks their idea or article draft could be a good fit for our readers, we work to revise, edit, and publish the article on the site. Most of the time, these authors see their work perform well on the site and resonate with our readers. However, we've struggled with a way to keep these one-time guest authors engaged longterm.
In July 2014, we launched a new program focused on our writers—both one-time authors and those who have contributed articles more often. The goal is to communicate ways they can easily contribute again. So, we created a mailing list using Mailman called the Writer's List. We invited previous authors of Opensource.com to join the list, and our strategy is to send topic ideas and other writing opportunities on a regular basis to those who accept our invitation. We're just getting going with the program and have high hopes that we'll be able to turn many of our one-time authors into regular contributors.
Lesson 4: In-person meetings strengthen the community, helping them grow personally and professionally
In September 2013, the Opensource.com team gathered in-person with our volunteer Community Moderators for a strategy meeting. I have spent a lot of time coordinating travel arrangements and planning logistics for events, so I can say for sure that that experience paid off when planning this meeting. When we got everyone together, face-to-face, we discussed the website, the content, our community, and our plans for growing Opensource.com. We made connections and bonds that have changed the dynamics of our internal team, and thus have improved our greater community. By having everyone together in one room, we strengthened the team, formed valuable, professional relationships, and forged new friendships.
Make it a goal to get your community members together, in-person, at events like user conferences and meetups. I'm excited to have everyone together again for the All Things Open conference coming up in Raleigh, NC. In fact, some of the Opensource.com moderators were accepted as speakers this year and will be sharing their open source expertise and experience at the conference.
---
With some experience under my belt, I've tried to capture some of the successes from growing the Opensource.com community. While I've detailed some of the specific programs and techniques we've used, your mileage may vary. Communities are always evolving. Don't let a past success become a failure because you weren't able to pivot with the changing needs of your community.
View the complete collection of articles from Careers in Open Source Week.
Jason Hibbets is a Community Director at Red Hat with the Digital Communities team. He works with the Enable Architect, Enable Sysadmin, Enterprisers Project, and Opensource.com community publications.

This work is licensed under a Creative Commons Attribution-Share Alike 4.0 International License.