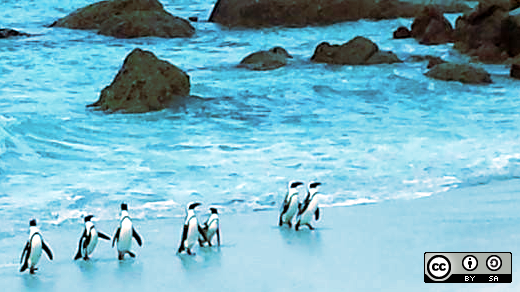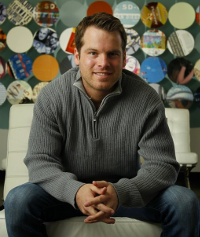 This is Part 2 in a two-part series about when selling a site means selling a community. (Read Part 1: When selling a site means selling a community.)
The SourceForge and Slashdot communities have had a much bumpier ride than the opendesktop.org communities over the years. I won't go into detail about the ownership changes, but here's the tl;dr: The founders of Slashdot, Rob 'CmdrTaco' Malda and Jeff Bates, sold the site in 1999, about two years after its launch, to Andover.net. Then in 2000, Andover.net merged with VA Linux, which changed its name to SourceForge, Inc. in 2007, and became Geeknet, Inc. 2009.
If you're relatively new to open source development, you're probably familiar with GitHub, but less so with SourceForge. More than a decade ago, SourceForge was the place open source projects formed, and their annual Community Choice Awards were a pretty big deal. I reported from the 2008 Community Choice Awards party at OSCON, where four tattoo artists inked out 16-hours of open source-related tattoos. (And no, I did not opt in.) And I attended the final Community Choice Awards announcement party at OSCON in 2009. I'm not sure why the Community Choice Awards ended in 2009, but I do know that SourceForge was no longer the only game in town for open source developers. Google launched the Google Code project hosting service in 2006, the same year that SourceForge started its annual Community Choice Awards. And in 2008, along came GitHub.
In 2012, Dice Holdings bought Slashdot, SourceForge, and Freecode from Geeknet (which kept ThinkGeek) for $20 million. At the time, SourceForge reportedly had 40-million unique monthly visitors. A few months later, in July 2013, SourceForge announced DevShare, which it described as "a new opt-in, revenue-sharing program aimed at giving developers a better way to monetize their projects in a transparent, honest and sustainable way."
GitHub grows, Google Code closes, SourceForge community revolts
By March 2015, Google announced that it was shutting down Google Code and moving its thousands of projects to GitHub. As a story about the announcement in Wired explained, "After just seven years on the net, GitHub now boasts almost 9 million registered users. Each month, about 20 million others visit without registering. According to web traffic monitor Alexa, GitHub is now among the top 100 most popular sites on earth."
Two months later, code-sharing controversy surfaced again—this time, thanks to a mailing list messagee from a member of the GIMP developer community (GIMP project's official statement on SourceForge's actions), which hosted its project on the venerable SourceForge. According to Schumacher, the SourceForge code-sharing platform had begun bundling unauthorized software with the GIMP installer available there.
"To us, this firmly places SourceForge among the dodgy crowd of download sites," the team said in a statement. "SourceForge are abusing the trust that we and our users had put into their service in the past."
The situation looked irredeemable.
"We don't believe that this is a fixable situation," Schumacher wrote. "Even if they promise to adhere to the set of guidelines outlined below, these promises are likely to become worthless with any upcoming management change at SourceForge."
SourceForge (as well as its sister site, Slashdot), has been in the midst of one long, bumpy ride for years, but it seemed to culminate with the GIMP incident, a compelling illustration of the ways online platforms are more than mere websites. They're communities.
And soon, the SourceForge community was up for sale.
What's next for SourceForge and Slashdot?
As of March 2016, according to Alexa, GitHub ranks as the 79th most popular site in the world, and SourceForge comes in at 302. Despite changing hands over the years—and alienating many developers with its DevShare program—SourceForge is still alive and kicking. What does the new owner have planned?
In a recent interview with FOSS Force, Logan Abbott, President at SourceForge Media, LLC. (the company that now owns SourceForge and Slashdot), said that the company does not plan any radical changes and will keep the opinions of the Slashdot user base in mind at all times. I asked him about rumors that the Slashdot staff had been let go, and how the personnel changes fit into the plans for the site.
The rumor is that the entire Slashdot staff has been let go except for the lucky few that get to train their replacements!

— Rob 'CmdrTaco' Malda (@cmdrtaco) January 28, 2016
"Well first of all I want to say I was very impressed with the level professionalism of everyone involved in Slashdot and SourceForge, and the transition process," he says. "However, whenever one company acquires assets of another company, there's always going to be some overlap because our company already has certain positions already staffed, so a combination of that and different geographic locations of offices doesn't always lend itself to being able to retain every single person." With that said, Abbott says that the entire Slashdot staff was retained except for two positions, "which is no reflection on those employees, but rather due to overlap and geography."
Abbott says that, despite personnel changes, he doesn't think SourceForge Media, LLC. has made any radical changes. "We've listened to the Slashdot user base in order to keep the editorial strategy consistent, and even improve upon it based on their feedback," he says. "We removed the 'Jobs' section of the site, which many people did not like, and we also discontinued the Slashdot Videos section by popular demand." He points to a reader poll about Slashdot videos as an example of how the new company is including and listening to users. "In addition, we fixed the long-broken search function on Slashdot," he adds. Abbott says they plan to roll out full https support to Slashdot in the next two weeks, and then they will address the lack of unicode support.
Abbott is aware that the Slashdot community might be a little wary about new owners for the site. "The Slashdot community, as you know, is very invested in the spirit and future of Slashdot," he says, "And perhaps they weren't always listened to in the past, so it's natural that the first reaction might be to assume the worst. However, I've heard from hundreds of people in Slashdot comments, personal tweets to me, and emails expressing hope for the future of Slashdot since we took over."
@Caitlin2013D That's awesome. Welcome back!

— Logan Abbott (@loganabbott) February 17, 2016
He points to a tweet from Slashdot co-founder, Jeff Bates, who expressed support for the changes already happening on SourceForge:
@hemos @sourceforge @pcworld Will do. Thanks for the support.

— Logan Abbott (@loganabbott) February 26, 2016
Abbott got off on the right foot with open source developers with his SourceForge post in early February, SourceForge Acquisition and Future Plans. "Our first order of business was to terminate the 'DevShare' program," he wrote. " ... We want to restore our reputation as a trusted home for open source software, and this was a clear first step towards that. We're more interested in doing the right thing than making extra short-term profit," he added.
I asked Abbott what he plans to do differently to monetize the sites. "The sites get a combined 40 million monthly unique visitors per month, so we don't necessarily have to do anything radically different to be able to make a profit," he answered.
He says they're currently focused on being more efficient and focusing on users. "There were a lot of manual and redundant tasks that we are able to streamline with our existing team and infrastructure, so monetizing isn't really a worry for us," Abbott says. "Focusing on the user experience is the main priority. In fact, engagement and traffic is already up on both Slashdot and SourceForge in just one month. We've had many threads like this one with over 1,000 comments on Slashdot, and we're focused on listening to users."
Abbott points out that it was no secret that people were not happy with the DevShare program that SourceForge previously had in place. "The DevShare program bundled software with open source downloads as a revenue driver for both developers and SourceForge," he explains. "We did not think the DevShare program was the 'right thing', even though it added some short-term dollars. So we scrapped the DevShare program in the first two weeks after the acquisition, and it was a universally welcomed improvement."
So what is the right thing to do for developers? "The 'right thing' to do for developers is to give them the support they need to continue to develop and distribute great open source software," he answers. "The 'right thing' for users is to not bundle any unwanted software or be deceptive in any way with our advertising."
Abbott is already taking action to attract more developers and grow the SourceForge community. "Well, the first thing we did is rolled out https across SourceForge, which is something it was desperately lacking before we acquired it," he says. And they have a lot of enhancements planned for the feature set, which they will announce in the near future. They still have a lot of work to do integrating both sites into their current organization and work flow. "We will announce certain features of our road map soon when they are solidified," he says, "But I am confident they will be welcomed changes. In broad terms, we are going to improve the site content and UX drastically, and we're also exploring integrating with other platforms."
I asked Abbot about specific plans he has to get the SourceForge developer community back to those Community Choice Award days, which was perhaps the height of the SourceForge developer community. "We're going to focus on improving SourceForge for both users and developers by being more transparent, and doing the obvious things first, like https support and eliminating DevShare, which we have already done," he answers. He emphasizes that they aren't going to resort to bundling unwanted software or any other tactics of that nature. "We'll improve the UX, feature set, and integrate with other platforms," he says, adding, "Again, it's only been one month since we've acquired SourceForge and Slashdot, and we're already well on our way to improving them, and the feedback has been tremendous."
Abbott says that they have a lot of good things planned for both sites. "The biggest thing I want to stress is that we are committed to serving our user base, which consists of the Slashdot community, and the SourceForge users and developers," he says. "We're not going to take any shortsighted approaches that may have been taken in the past. We're focused on building on and improving these two iconic sites for years to come."
Rikki Endsley is the Developer Program managing editor at Red Hat, and a former community architect and editor for Opensource.com.

This work is licensed under a Creative Commons Attribution-Share Alike 4.0 International License.