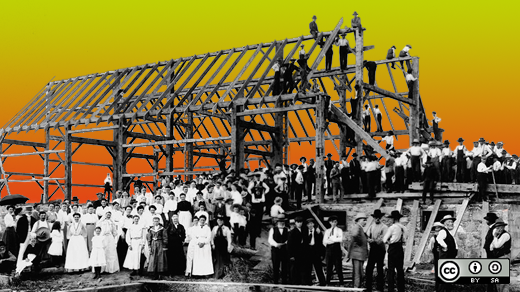 Technical discussions around OpenStack, its features, and adoption are copious. Customers, specifically their finance managers, have a bigger question: "What will OpenStack really cost me?" OpenStack is open source, but its adoption and deployment incur costs otherwise. So, what is the OpenStack TCO (total cost of ownership)? There has been no systematic answer to this question—until now. Massimo Ferrari and Erich Morisse, strategy directors at Red Hat, embarked on a project to calculate the TCO of OpenStack-based private cloud over the years of its useful life. The result was a TCO model that they share in their talk Elephant in the Room: What's the TCO for an OpenStack Cloud? at the OpenStack Summit in Austin, Texas later this month.
You have taken on a very interesting, complex, but essential topic of TCO. At the outset, are there any base criteria for an organization to decide whether to use public cloud or private cloud?
One of the interesting things we've found from talking to customers about this TCO model is the selection of public versus private cloud is no longer black and white, and the decisions may vary whether organizations are selecting a cloud for an application (such as a line of business might do) or optimizing use and cost across a wide set of application.
There are some broad categories that should be considered when selecting between a public and private cloud: latency, elasticity, third-party licensing, SLA and regulatory requirements, etc. But, the answer, from the financial perspective, has a lot has to do with the technology selection and the potential impact on the operations teams. Whatever makes it easier for your operations team to get more done will have the largest beneficial financial impact.
What are the criteria used to decide whether a hybrid cloud model works best for an organization?
Just as customers buy from more than one software provider, they're building and buying more than one cloud service. As organizations march up the cloud maturity curve, as their operations expertise increases, as they shift more development to cloud native applications, they are able to take advantage of more sophisticated technologies provided by their vendors. Since different workloads can take advantage of different technologies, organizations are not artificially limiting themselves to just one type of cloud or to just a single vendor or provider.
Hybrid is inevitable. Organizations buy lots of things from lots of vendors today. Cloud consumption, public and private, is following the same pattern.
Could you outline some of the key factors that determine the total cost of ownership of a cloud deployment?
The biggest factor driving cost is time. No matter how amazing your operations team is, they only have so many hours in a day. Nearly anything you can do to help your operations team get more done will save money as you grow your use of cloud.
We also looked at the cost of software and hardware. What software an organization selects can have a pretty big effect, but it's largely the impact of that selection on the operations staff. For example, using orchestration and automation software can really drive efficacy. Hardware was a bit of a surprise, frankly. It's clearly a lot of money, but even doubling the utilization had a tiny impact compared to helping people get work done.
In the course of your work, what are some of the cloud trends you have seen? What is the direction the cloud landscape is expected to take in the next few years?
Cloud differentiation in the market, and an increase in the number of providers used by each organization. The largest clouds are starting to shift to become more friendly to developers. Clouds built on top of clouds adding white-glove service.
When you recommend OpenStack to customers, what are the typical concerns or questions they have?
There's a lot of technology, and innovation for that matter, happening under the OpenStack umbrella. One of the big questions we get is how to take advantage of all of this great stuff, while ensuring the requirements of the enterprise: how does it fit in with my ecosystem, how do I ensure enterprise support, and how do I speed up the march up the maturity curve so I have the operational skill to take advantage of each next OpenStack technology I want to bring in-house?
Over the course of last year, we started seeing more and more customers rolling out OpenStack in production, and willing to share their experiences. This fact alone gave a huge boost in confidence in the project, and encouraging others to participate.
What are your thoughts on what more can OpenStack Community could do to increase the enterprise adoption.
One thing we'd really like to see is the community embracing financial cost as an input to project design. We can already make architectural decisions on latency, throughput, I/O, and all sort of technical inputs. Why not cost too?
With the OpenStack community redefining best practices for datacenter operations, we have this unprecedented opportunity to change the conversations we're having with our consumers. But, and there's a big 'but' here—but, we have to be able join in the financial conversation. These conversations are already happening, so if we're not helping by providing solid, cost-guided, technical advice, then either our consumers are going to make wrong decisions, or find someone else to have the conversation with. And we see this already with the uptake in public cloud consumption. Amazon's cloud revenue grew 80% last year, Microsoft's is expected to grow 60% this year—are you providing that kind of growth in service to your customers? If you're going to come close, we have to make OpenStack easier to use and easier to consume.
If you're attending the OpenStack summit in Austin, we'd love to have you join the conversation about understanding and using the cost of OpenStack in your designs and decision making. The organizers were awesome to give us a really big room, so please come and join us.
Girish has over 20 years' experience in technology and software at a global IT Services organization based in India. Girish is architect of "I Got" cloud platform to uplift the bottom of the pyramid built with open source stack and contemporary architectural patterns such as microservices, containerisation and multi tenancy. Girish writes on open source and tech topics.

This work is licensed under a Creative Commons Attribution-Share Alike 4.0 International License.