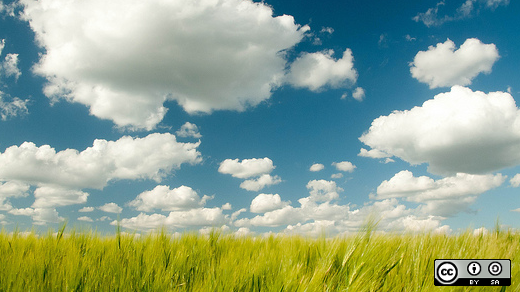 Sharone Zitzman is no stranger to community. As a lead for the Cloudify open source community at GigaSpaces, and an organizer of many local events including OpenStack Israel, DevOps Days Tel Aviv, and the DevOps Israel meetup group, she knows well what it means to be involved with bringing people together for common goals across open source projects.
At OpenStack Summit this month in Austin, TX, Sharone will be participating in a panel called Tips from Community Managers: Effective Strategies for Building a Vibrant User and Developer Community. We caught up with Sharone to learn a little bit more about some of the details of her day-to-day work organizing in open source.
How do you think the OpenStack community has evolved in the years you've been involved with the project?
It's amazing the evolution the OpenStack community has undergone in the four years or so I've been involved. I see the growth on two dimensions.
First and foremost, OpenStack has become a first-class citizen and open source project in the cloud space. If the initial perception, four years ago, when we were just attempting to bring OpenStack to the Israeli community was that it was a theoretical concept that won't hold water in production, that notion has been almost completely been dispelled. There are of course the regular dissenters, but the many battle stories coming from the largest corporations, from Walmart to eBay to major banks like TD Bank, have demonstrated that OpenStack is indeed battle-proven and production ready, and is indeed a viable option versus other leading clouds.
The other transition I've witnessed is on the community level. At the onset, the community was comprised mostly of enterprise members; we're now in the throes of an evolution on that front too. Plenty of smaller, exciting, and disruptive technologies are becoming more and more common from the Midokuras through the Stratoscales, Tesoras, and Cloudify. OpenStack is no longer just the battle of the big enterprises. It's amazing to see how these younger technologies are beginning to bring new concepts to the OpenStack community, from DevOps concepts, through IT convergence, and more. These are also often times the companies leading more and more community initiatives, bringing a new young vibe to the OpenStack community worldwide.
That said, it's not all perfect. There are a few issues that need to be addressed to ensure the OpenStack community continues to endure, and provide value to its members and users. I can say that even in the Israeli community, the startup nation, we've found it challenging to get young startups involved in the community. There are the projects and companies that provide OpenStack solutions, and their involvement is a given. But we're trying to get more young talent involved on a user and possibly developer/contributor level, and this is no easy feat. The lack of startup involvement makes it challenging to build a talent pool and reduce the skillset barrier that will ultimately enable greater startup involvement in OpenStack. This is also very critical, as there are a lot of new and disruptive forces around from containers, cluster scheduling, and virtualized networking that are doing a much better job of drawing in young talent, and the OpenStack community needs to try and learn from this in order for it to be sustainable in the long term.
How do you balance your work for a company working in the OpenStack space with the open source community needs? How can a community manager be a good resource for both?
Community building is a 24/7 job, and it's all-in, there's no halfway. This is true for the volunteer work I do and the community work I do for the Cloudify open source community as well, it goes both ways. It's often times not easy, and one community usually draws in another. From our work in the OpenStack Israel community, we then decided to take on building the DevOps community in Israel. Now what we've done in those communities we're trying to replicate to additional communities like TOSCA and NFV by being active on the TOSCA technical committee, launching our ARIA initiative, and by joining the MEF Foundation and contributing code to leading initiatives like LSO, Open-O, and Tacker.
So, on that note, community building never ends, and there is always more to do, and more places to contribute. But we make sure that all of the community work we do cross-pollinates each other. I can honestly say I'm privileged to be working for a company that really believes in the values of community and contributing time, resources, and even funds towards being part of something that is greater than us. Some of our most interesting initiatives have been born from our community building, for example, our collaboration with Metaswitch around VNF orchestration which is almost the de facto 'hello world' for NFV orchestration these days. Orange Labs did their functional testing of OPNFV on OpenStack with this example, and we didn't even know it, until we participated in the OPNFV event in November: a perfect example of one community paying it forward to additional communities. This is how one community can help drive initiatives in another community, and the list goes on.
NFV is actually a trend we've been witnessing as a company, not just on the community level. NFV is quickly becoming a dominant OpenStack use case, where this is not only noticeable in the user stories and conversations on the ground at the events, but also in what the members of the community are asking to hear about at events. This is an area that OpenStack definitely needs to highlight their value propositions, versus the new disruptive technologies previously mentioned in order to stay relevant for its users, developers, and member companies.
The important part ultimately is serving as a bridge or a voice to bring new concepts from different communities, as well as continually build relationships that diversify the community itself. These are the places I've had the opportunity to meet some of the excellent partners that have helped me lead other local events and initiatives (that I'll talk about in a bit), and then as a byproduct demonstrate the value to your company with being involved in these efforts.
How can community events foster communication between OpenStack developers and end users, to make sure the needs of both are being met?
Community, when you really go all-in, is much larger than just the events. But starting from events, which is just one channel for building communication, and being active in numerous communities allows you to take concepts from one community and apply them in other communities. An example of this is, is a concept called "open spaces" popular in DevOps Days events. They are almost like an unconference, where the participants in the event propose topics they'd like to talk about, and then they're voted on. The most important aspect is the "law of two feet"—if one discussion doesn't interest you, you are welcome to get up and join another. We applied this concept from the DevOps community in our local OpenStack community, and this just opened amazing channels of communication between the developers and users where people would come up to us and tell us that was the best part of the event.
We've been working on bringing additional channels for communication for the community, such as our OpenStack and Beyond podcast where we usually have a number of panelists, many times ones with differing opinions, from the users to the developers and even analysts to try and hash out different and sometimes controversial topics. At the last OpenStack Summit, we had three strong voices participate in our on the ground podcast: Flavio Percoco, a developer from Red Hat; Ben Kepes, a brutally honest analyst; and Florian Haas, an active organizer in the OpenStack Israel community, who is in both camps developer and user. This is just an example of the diversity of panels and perspectives we try to bring together to help bridge the communication gap. We also launched a Facebook group, and a OpenStack Slack, so everyone can communicate and learn from each other.
Event involvement can actually also influence real-life projects and code ultimately as well. A good example of this, was the response we received to one of our talks from OpenStack Vancouver, the Orchestration Tool Roundup. This talk that resonated with so many people and continues to be viewed and read a year after the event, and is what inspired us to launch our ARIA project, an open source and open governance TOSCA orchestrator that can be embedded into any project. We wanted to make this kind of real-world implementation of orchestration available to anyone looking to consume it, as we received this request from developers and users alike, which likely wouldn't have happened if we hadn't participated in the Vancouver event.
For those who can't make the Summits, what role do you think regional events are playing in bringing together users and developers? In particular, what are some important lessons other regional events might learn from your experiences with OpenStack groups locally in Israel?
Since we are aware that not everyone has the time or the resources to make it out to events around the globe, such as Tokyo and Vancouver, we schedule our event in close proximity to the North America Summit and make it a habit to bring the interesting stories from Summits to the local events for those who can't make it. An example is one of the keynotes from OpenStack Vancouver, TD Bank, was brought to the Israel event a month later, for those who weren't able to participate being able to see some of the better talks at a local event. The timing is also important, as many announcements are made at the Summit, and it enables us to aggregate some of the more interesting stories and analyze them at local events.
One thing we've attempted to do is bring these regional events to everyone. From our experience with leading the Israel event we identified that there is no OpenStack event in eastern US, and are now co-organizing the first ever OpenStack East New York City event. You'd be surprised that there was a regional event in Tel Aviv before New York City. We were throwing around the concept for some time in Tel Aviv, and at OpenStack Tokyo I found our partner to help make it happen: Tesora, who historically have led the Trove Day event, were open to getting involved and are now doing heavy lifting to take it from theory to practice. Thanks to the joint effort, it's actually happening for the first time.
So the Summits also enable you to find community partners to bring events to new communities. If there is no local OpenStack community, and you think there is a need for one, definitely seek out your audience in partner communities, for example Python and open source developers, cloud groups and more. Try and find local partners to help you lead your initiatives. It never ceases to amaze me how different the circles are among people from different organizations, and that enables you to build your reach in finding your community members. Amplify your message through local blogs and technology-partner communities in order to build it out. You can also leverage the OpenStack Foundation team, they are always willing to help with building local communities.
Are there any other sessions or other events at the Summit you're particularly interested in attending?
I'm always interested in hearing talks from the additional communities we're involved in, so I'll definitely be checking out the NFV, OPNFV, and TOSCA talks, and see what stories we can bring back to our local community. That's definitely what we strive to do at every Summit. Find the most interesting stories, and then work on bringing them to our local community. We have Tim Bell from CERN joining our OpenStack Israel event this year, who is a key figure we have been trying to bring to speak to our crowd for a while now, as well as Jesse Proudman who has been a superstar speaker at a number or events, so we're very excited about that. I'm definitely looking forward to finding more key figures who are interested in spreading the gospel around the globe.
Anything else you'd like to add?
I'm actually looking to bring more diverse stories from the Summit. I'll be doing video interviews on the ground for our OpenStack and Beyond podcast and blog, so anyone interested in telling their story is welcome to reach out, I'm happy to hear from anyone. You can find the OpenStack Global Facebook group here, and receive an auto-invite to the Slack group here.
Let's keep collaborating and make the OpenStack community even more awesome!
Jason was an Opensource.com staff member and Red Hatter from 2013 to 2022. This profile contains his work-related articles from that time. Other contributions can be found on his personal account.

This work is licensed under a Creative Commons Attribution-Share Alike 4.0 International License.