Drupal events in Siberia feature bingo and prizes.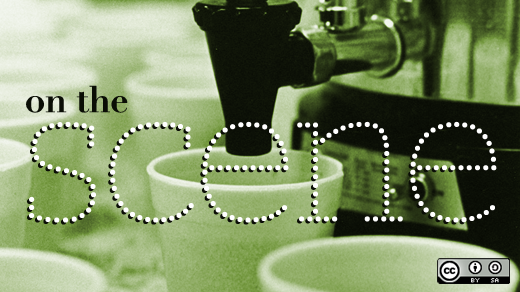 Marina Paych was a newcomer to open source software when she left a non-governmental organization for a new start in the IT sector—on her birthday, no less. But the real surprise turned out to be open source. Fast forward two years and this head of organizational development runs an entire department, complete with a promotional staff that strategically markets her employer's open source web development services on a worldwide scale.
That employer is ADCI Solutions, headquartered in Siberia—Omsk, Russia, to be exact. Their vibrant firm is anything but a newcomer to Drupal, the community-centric platform they rely upon to craft, in Marina's words, "perfectly functioning solutions," including the visual identities of DrupalCon Barcelona 2015 and DrupalCon Dublin 2016. In the spirit of the corporate philosophy that drives her co-workers to become better versions of themselves, every day, Marina keeps busy in her managerial role. That includes both educating the greater Drupal community and sustaining her local Drupal community by welcoming new contributors to the mix.
What is the preferred way to embrace her target audience? We learn it is a recurring, series of events that is the product of hard and principled work. Marina balances it all with a dash of zany, evident by the end of this very long distance interview.
Why is there a need for community events in open source projects?
Since open source technologies are being maintained and developed by amateurs, communication is the only way to keep one direction and get a tangible outcome. Of course, it's possible to communicate online but it's not in the same league with a face-to-face talk. My personal opinion is that there is nothing more motivating than being among soulmates, talking to them in person, and sharing acquired experience.
Please introduce us to "Drupal Cafes." ADCI Solutions pioneered the concept?
A Drupal Cafe is one type of Drupal event that a local community can organize. It is an educational, half-day conference that usually includes several sessions on relevant and useful Drupal topics, and informal communication between participants.
I wouldn't say that we pioneered the concept of the Drupal Cafe. Our community is more or less young; many other local communities started organizing similar meetups much earlier.
As a marketer, how would you describe the vision of this initiative?
From a marketer's point of view there is a huge outcome from such events in terms of Drupal popularization. These events kill two birds with one stone: they broaden the knowledge of current developers, and help engage more people with Drupal.
If I were to create a concrete vision statement, I would put it like this: raising awareness about Drupal while educating developers in order to improve Drupal at large.
Which analytics are most useful for gauging demand? Or do you wing it?
When you are planning your event, you better have numerical goals for the main processes, in order to understand whether you did great or need some improvements next time. The number of people you want to have at your event is one of the most important. All your promotional activities should be planned and implemented based on this goal.
You should also keep in mind that not everyone who submits a registration form will attend. That's called a conversion rate. It varies a lot in different territories. For example, if I want to have 75 people at my Drupal Cafe, the number of submitted registration forms averages out to 125, because our conversion is 60%.
After organizing a couple of your own events, you will know your approximate conversion rate and will no longer need to guess it. Once you know it, then you will to make more accurate predictions.
How do you think community fits into a newcomer's mindset, awareness, and (hopefully) heart?
Based on my experience, a newcomer's impression about a community depends very heavily on the first interaction with that community. In other words, if the first meetup is amazing and full of "wow moments," the community will fit into the newcomer's heart.
I see a lot of examples of this at our events. Developers who haven't worked with Drupal before and attend a well-organized event with an interesting agenda are most likely to come again. Otherwise, if the first interaction is bad, a newcomer will extrapolate it both to a technology and its community, which why we always have to deliver well-prepared events.
You are in Siberia. Tell us about a "wow moment" from one of your local events.
Each time we organize an event we try to include some extra agenda in it to diversify the attendees' experience. As one of our goals is to develop and strengthen our local community, those activities are aimed at encouraging either communication among participants or paying more attention to sessions' content.
One of the funniest activities we have done is an adapted "bullshit bingo" game. We call it Drupal Bingo. Before the event starts, participants get a list of random words they have to cross out when they hear them said by any speaker during the sessions. The one who crosses out all the words first stands up and shouts something funny (even in the middle of a session). The winner immediately gets a prize, everyone applauds, and the session continues.
The first time we did it the prize was a pineapple, which was also fun.
The Drupal Association is hosting the ADCI Solutions webcast, How to Grow Your Drupal Cafe from 10 People to 100. In it you will see Marina detail her strategic methods.
John P. Weiksnar, Ed.M. | Drupal™ futurist. Currently preparing an online startup based on this modern definition of Drupal—to paraphrase Jeffrey A. "jam" McGuire, "A user interface for building digital businesses."

This work is licensed under a Creative Commons Attribution-Share Alike 4.0 International License.