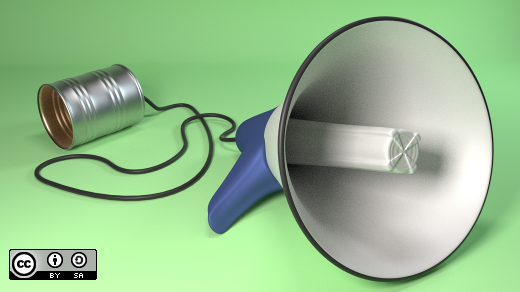 I listen to a lot of podcasts. A lot. On my phone's podcatcher, I am subscribed to around 60 podcasts... and I think that only eight of those have podfaded (died). Unsurprisingly, a fairly sizeable proportion of those remaining alive-and-well subscriptions are shows with a specific interest or relevance to open source software. As I seek to resurrect my own comatose podcast from the nebulous realm of podfadery, I thought it would be great for us as a community to share what we're listening to.
Quick digression: I understand that there are a lot of "pod"-prefixed words in that first paragraph. Furthermore, I also know that the term itself is related to a proprietary device that, by most accounts, isn't even used for listening to these web-based audio broadcasts. However, the term 'webcast' died in the nineties and 'oggcast' never gathered a substantial foothold among the listening public. As such, in order to ensure that the most people actually know what I'm referring to, I'm essentially forced to use the web-anachronistic, but publicly recognized term, podcast.
I should also mention that a number of these shows involve grown-ups using grown-up language (i.e. swearing). I've tried to indicate which shows these are by putting a red E next to their names, but please do your own due diligence if you're concerned about listening to these shows at work or with children around.
The following lists are podcasts that I keep in heavy rotation (each sublist is listed in alphabetical order). In the first list are the ones I think of as my "general coverage" shows. They tend to either discuss general topics related to free and open source software, or they give a survey of multiple open source projects from one episode to the next.
My next list of open source podcasts are a bit more specific to particular topics or software packages in the free and open source ecosystem.
This next section is what I'm going to term my "honorable mention" section. These shows are either new or have a more tangential focus on open source software and culture. In any case, I still think readers of Opensource.com would enjoy listening to these shows.
So there you go! I'm always looking for more interesting shows to listen to on my commute (as I'm sure many others are). What suggestions or recommendations do you have?
Jason van Gumster mostly makes stuff up. He writes, animates, and occasionally teaches, all using open source tools. He's run a small, independent animation studio, wrote Blender For Dummies and GIMP Bible, and continues to blurt out his experiences during a [sometimes] weekly podcast, the Open Source Creative Podcast. Adventures (and lies) at @monsterjavaguns.

This work is licensed under a Creative Commons Attribution-Share Alike 4.0 International License.