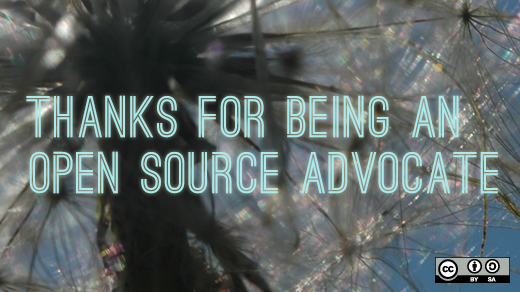 It's that time when many of us begin to reflect on what we've accomplished over the past year. It's also a great time to think about how others have helped us finish those projects and achieve our goals.
To help say "Thank You," the opensource.com team has added several new eCards to our resource section. We hope this is an easy way to thank your open source colleagues and friends—the ones that make this community so awesome.
Each eCard features a unique image from the Red Hat design team and an open source message. And in addition to the new thank-you eCards, we also have seasonal eCards available.
Update: The e-card feature has been removed from the site due to lack of use.
Jason Hibbets is a Principal Program Manager at Red Hat with the Digital Communities team. He works with the Enable Architect, Enable Sysadmin, Enterprisers Project, and Opensource.com community publications. He is the author of The foundation for an open source city and has been with Red Hat since 2003.

This work is licensed under a Creative Commons Attribution-Share Alike 3.0 Unported License.